Robb Saez wins the 27 Music City Open at J.O.B. Billiards
2014 Music City Open 9-Ball Championships
Nashville, Tennessee
by Steve McDonald, Tournament Director
 For 27 years in a row, JOB Billiards Club in Madison, TN hosted the Music City Open 9-Ball Championships held January 15-19, 2014.  Budweiser, Alex Brick Custom Cues, Diamond Billiard Products, Simonis Cloth, Nick Varner Cues and Cases, and The Bigtruck Show at poolactiontv.com sponsored the event.
This year was one of the toughest fields ever for the event.  Many jam-up players showed for the event"¦..kind of a warm up for Derby City.  Among those were road legends, "Detroit" Ronnie Wiseman, Cliff Joiner, Richie Richeson, Tony Mougey, and "Wild Man" Eric Durbin; Two Hall of Famers "The Scorpion" Johnny Archer and "The Rifleman" Buddy Hall; Touring Pros Corey Duell, Mike Dechaine, "The Machine" Larry Nevel and this year's winner Robb Saez; Young guns "The Sundancer" Shane McMinn, "Handsome" Danny Smith, "The Fox" Joey Gray, Chuck Raulston, Josh O'Neil, Nick Hickerson, Robert Frost, Bobby McGrath, and Southern Classic One Pocket Champ Justin Bergman; WPBA Players Brittney Bryant, Nicole Keeney, and "The Bullet" Liz Lovely.  This year's Champs had to top the best of the best.
Tournament Directors Steve McDonald and Bob Hunt had a busy weekend, as 105 open division players and a full field of 48 ladies division players showed up for the competition that was held on 7-foot Diamond Smart Tables with Simonis Cloth.  With 3 rooms full of Diamond Tables, JOB's provides the perfect venue for the event, as they can handle a large number of players with ease.
This year all the action was covered via live streaming by The Bigtruck Show at poolactiontv.com.  Rockin' Ray Hansen did a great job providing fans everywhere with live pool action from JOB's.  Check out poolactiontv.com.
Action got kicked-off Wednesday night with a 9-ball, race-to-7, single elimination mini tournament.  A full field of 64 players entered this event and Justin Bergman topped the field with a win, with "The Sundancer" Shane McMinn placing second.
The main tournament format was 9-ball, race-to-11, double elimination in the Open Division and race-to-7 in the Ladies Division.  This tournament has always been a full double elimination event, and this year the ladies division went the full two rounds in the finals.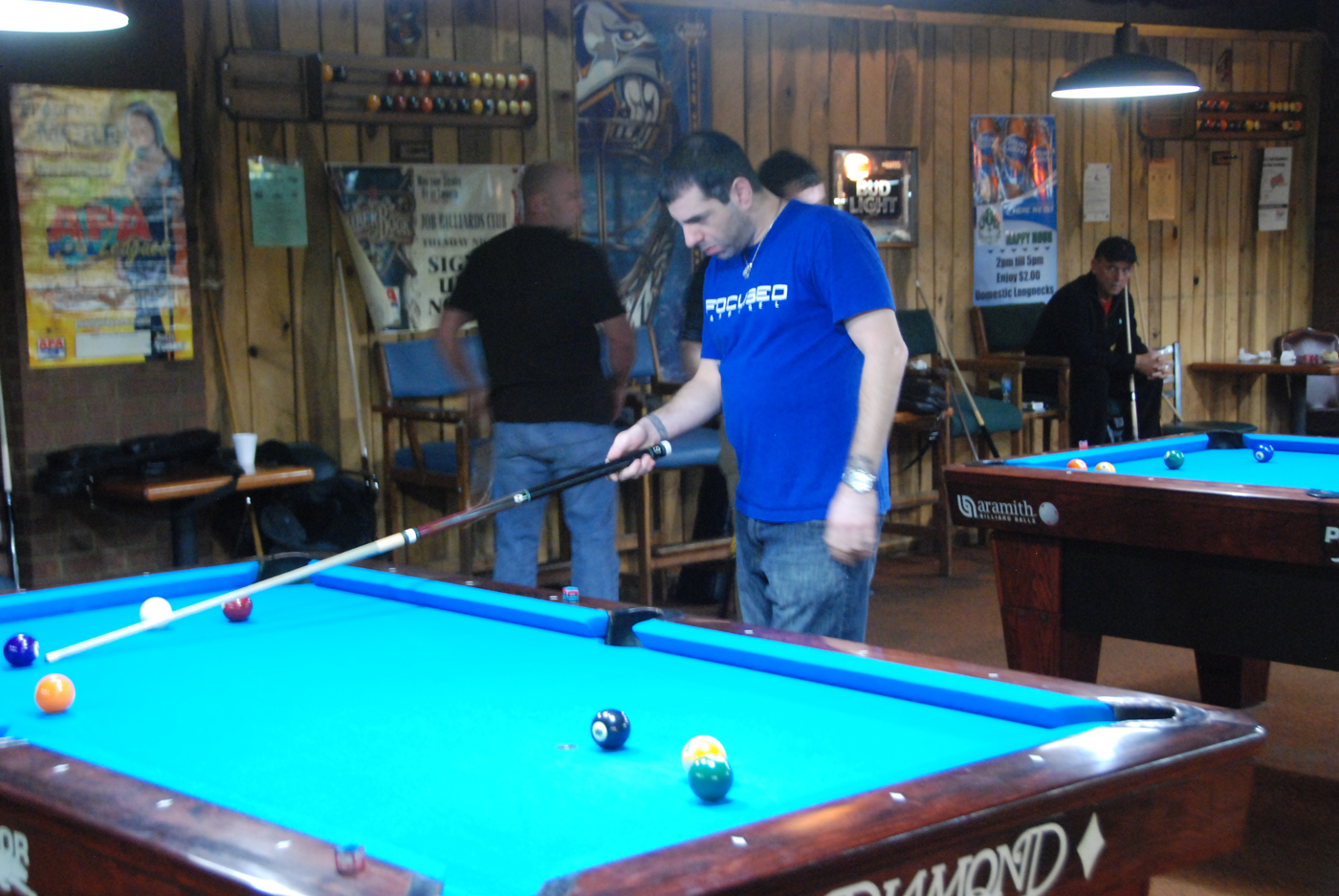 In the open division, Robb Saez went undefeated thru the entire tournament to beat Hall of Famer Johnny Archer in the finals.  "The Sundancer" Shane McMinn brought up a strong third place finish.  In the ladies division, WPBA player, Brittney Bryant, came from the one loss side to defeat Amateur Champ, Dana Aft in a two set finals and former WPBA Player Grace Nakamura took third.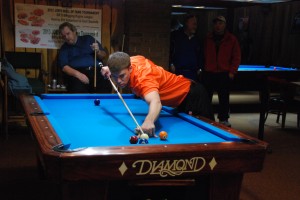 On Saturday night, it was the legendary Midnight Madness event.  This always proves to be a grand event, as it drew a strong field of 16 players in a single elimination format, race-to-11.  It was a $500 entry, so that makes $8,000 to the top two finishers.  This year Corey Duell defeated Bobby McGrath in the final.
A beautiful $1500 Alex Brick Custom Cue was raffled off and given away just before the finals.  The lucky winner was Rachael Johnston, a local JOB's regular player.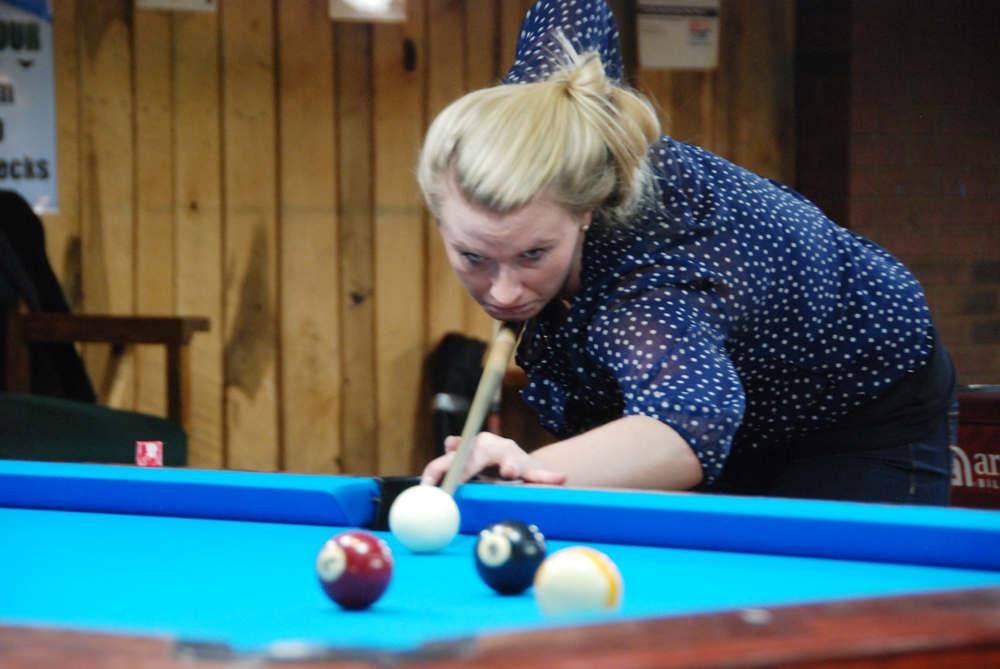 In the ladies division with 48 players Brittany Bryant now takes
home the bragging rights for 2014.
Mini Tournament was a full field of 64 players It was a 9-Ball and a race to 7 Single Elim.
And the proud winner was Justin Bergman. Coming in 2nd was Shane McMinn.
 Tournament Results:
Open Division – 105 Players – $6000 Added
1st            Robb Saez                            $3,900
2nd            Johnny Archer                  $2,300
3rd            Shane McMinn                  $1,455
4th            Josh O'Neil                          $970
5th/6th    Danny Smith /            Corey Duell          $690 ea
7th/8th  Mike Dechaine / Chuck Raulston            $415 ea
9-12                                                       $275 ea
13-16                                                    $205 ea
17-24                                                  $140 ea
Ladies Division – 48 Players – $1000 Added
1st            Brittney Bryant                                    $1,125
2nd            Dana Aft                                                $775
3rd            Grace Nakamura                                    $425
4th            Nicole Keeney                                        $305
5th/6th            Liz Lovely / Samantha Patton    $230 ea
7 th /8th  Janeen Lee / Tracie Majors                $195 ea
9-12                                                                       $100 ea
Mini Tournament – 64 players
1st            Justin Bergman                                     $550
2nd            Shane McMinn                                    $350
3rd/4th    Bobby McGrath / John Gabriel         $190 ea
5-8                                                                        $80 ea
Midnight Madness – 16 players
1st            Corey Duell                     $4800
2nd            Bobby McGrath            $3200