Darren Appleton Charges to Victory with a 131 & Out Run for the World 14.1 Title
 By NYC GRIND Alison Fischer
After grinding through five long days of straight pool, only four players moved on to the final day of the 74th World Tournament of 14.1 with hopes of making it to the championship match. With all of the former winners already eliminated, there was bound to be a new champion on that day.
To open up the final day, the first semifinal began at 11:00am, between Darren Appleton and Evgeny Stalev. Though the early half of the match was a power struggle between these two world-class players, Appleton put together a solid run of 107 to close in on the match. While he fell just short of running out for the win, making it to 192, Stalev was only able to get to finish off one rack"¦and Appleton closed out the victory at 200-132.
The second semifinal started shortly after 3:00pm and featured the final two American contenders; veteran straight pool player Max Eberle (winner of the 2013 Derby City Classic 1.41 Challenge and former World 14.1 semifinalist) and relative newcomer to the game Shane Van Boening. In Van Boening's 2013 debut in the World 14.1, he would have a strong finish in 9th place, but make major improvements for his second appearance.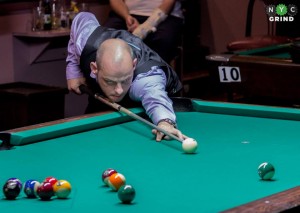 Appleton kicked it into high gear in the final. (Photo: Keith Diaz)
In that semifinal, it didn't take long for Van Boening to get into a groove, and he took an early lead of 64-7 points. After the next few innings, Van Boening extended his lead 116-40, tacking on a run of 45, and pushed ahead to 147-58 before missing. Although Van Boening was closing in, Eberle was not yet finished. He would then put together his best run of the event and make it to 111 before getting out of shape for a break shot. Eberle passed up Van Boening with his run, putting the score at 157-147 before playing safe.
Safety exchanges would result in a three-foul 15 point penalty and re-rack, and Van Boening would regain the lead at 164-137, and continue on to get within stone's throw at 182-156. A shocking miss from Van Boening put Eberle back at the table, and he executed some difficult shots to get his food back in the door. Eberle showed a lot of heart to stay in the game, but would end up having to play a side pocket break shot after making it to 179, and scratched in the corner off the shot. Van Boening ran out the final eighteen points he needed to win, and secured his spot in the final against Darren Appleton.
This would make for Appleton's second consecutive appearance in the final of the World 14.1, and most definitely a memorable one. Appleton won the lag, but Van Boening would put the first points on the board, and run two racks before missing with a 28-14 lead. However, Appleton would then establish a commanding lead, as he went on to get all the way to 70 before scratching on a break shot. While Van Boening fans had high hopes for his performance in the final, their hopes were dashed when he also scratched on his very next shot at the table.
Darren Appleton with his World 14.1 prize trophy. (Photo: Alison Fischer)
Appleton would proceed to put on a performance of a lifetime, as he ran rack after continuous rack, with the pressure of the world title on the line. With the full house of fans at Steinway at the edges of their seats, Darren "Dynamite" Appleton successfully ran out for the win, with a final (unfinished) run of 131 points"¦ending his battle to claim his first World 14.1 title. – See more at: http://www.nycgrind.com/the-latest/darren-appleton-charges-victory-131-run-world-14-1-title/#sthash.wxmf7yKw.dpuf