Trick Shot-Spinning Speed Shot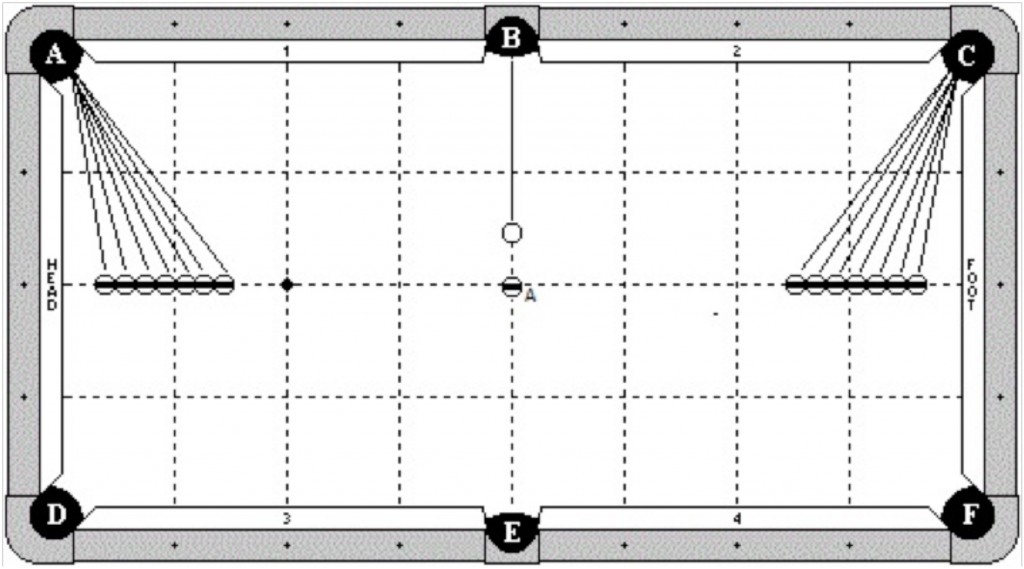 Spinning Speed Shot
By: Steve Markle (WPA Ranked 6th)
Here is a fairly simple yet entertaining shot that I recently selected on the 2013 ESPN World Cup of Trick Shots. I successfully made it on my first attempt and my opponent did as well. The object is to hit "A" ball with right or left hand english into the cue ball. The cue ball will go into pocket "B". From the use of english after contact the "A" ball will begin to spin. While it is spinning you must shoot the 7 balls into "C" pocket and the other 7 balls into "A" pocket. All 14 balls must be pocketed before the "A" ball comes to a complete stop.
Start off by placing 14 balls along the long center line of the table as shown. There must be 7 on the left and 7 on the right. Next place an object ball directly in the center of the line and a cue ball about 2 balls width away. For appearance make sure all balls are in a straight line.
When stroking "A" ball into the cue ball most tables will require at least a medium hard stroke. If you are playing on a table with fast cloth use a medium stroke. If the cloth is playing very slow use a hard stroke. Be sure to use a stop shot on the object ball so that you keep the cue ball positioned in the center. Also, I suggest using a stripe as your "A" ball to show the spinning effect more clearly. After contact you may pocket the balls starting with either the left 7 or right 7, whatever you feel more comfortable with. Enjoy this great shot!
For more information on Steve Markle visit SteveMarklePool, Facebook.com: Steve Markle Trick Shots, or contact him at SteveMarklePool@aol.com or by phone at 267-918-1284.