CUE-DEAN- TALENT SEARCH STAR PERFORMERS CROWNED!!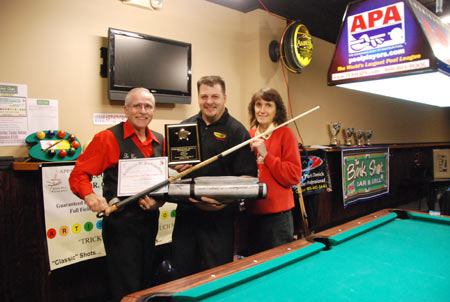 JASON -THE MICHIGAN KID LYNCH BECOMES NEXT TABLE TROTTER OF POOL!
View all performer acts and Cup III event at: www.ustream.tv/channel/drcue2009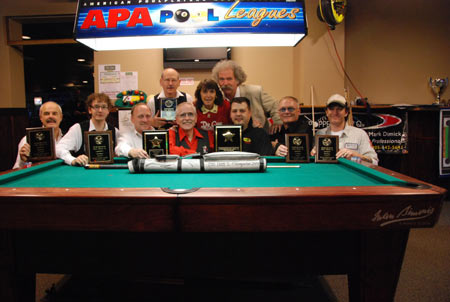 After 5 months of online and mail-in auditions from around the world the FINAL 8″ performers took stage once again to showcase their specialty talents. A random draw determined the Round 1 order of performances below. 3 primary judges (Paul Danno, Susan Shinn, and Steve Lillis) and 3 audience response judges (Maggie Mullins, Dainius Stipinas, and Gina Sharetts) reviewed each audition and awarded points on a 7-10 scale.
Steve Steller" Geller (ND) Steller Singing Attachment to Select Billiard Shots
Florian Venom Kohler (France) Awesome Billiard Shot Creations European Style
Paul Professor-Q-Ball Frankel (TN) Magic Moment Presentation with Mousetrap Prop
Bill The Mynah Bird Meima (NJ)  Comedy Around Table Like You Have Never Seen
Peyton Almost Famous Thomas (NY) Specialty Improvisation with International Flair
Charles Spitball Charlie Darling (MO) Mark Twain Improvisation with Spitball Shots
Rick The Barber Hawkinson (IN) One of a Kind Table Antics in Blues Brothers Style
Jason The Michigan Kid Lynch (MI) Unique Table Presentation with Twist of Humor
Round 1 Scores (7 minute maximum audition with 6 judges): Bill Meima (59), Jason Lynch (55), Rick Hawkinson (54), Florian Kohler (54), Paul Frankel (53), Charles Darling (53), Steve Geller (51), Peyton Thomas (48) Top 4 move to second round!
Round 2 Scores (5 minute maximum audition with 3 judges): Jason Lynch (29), Rick Hawkinson (27), Florian Kohler (25), Bill Meima (25) Top 2 move to final round!
Round 3 Scores (2 minute maximum answer with 2 judges) : Jason Lynch (10) and Rick Hawkinson (9)  Both finalists gave wonderful heartfelt answers as evidenced by all in attendance and the final judging scores!!
Note: Final Score (R2 + R3 Scores) Jason Lynch (39) and Rick Hawkinson (36)
Questions Used for Top 2 Finalists:
Rick  What do you suggest to the youth of our sport for developing their interest in artistic pool?
Jason,What does trick shots and so much more mean to you or as referenced to artistic pool?
Select Cues / Prizes / Monetary Values to Talent Performers:
Over $15,000 in prize fund value, including a McDermott Table Trotter Cue and Custom Case from Franks Center for 1st and a McDermott Table Trotter Cue for 2nd. Beautiful Cue-Dean- plaque, APPA decal, and award certificate for each position of finish were awarded. A special thanks to all players, fans, & stream/event sponsors for the Cup III event and the Cue-Dean- Talent Search!
EVENT NOTE: THIS EVENT WAS DONE IN HONOR AND MEMORY OF DR. CUES SPECIAL FRIEND FOR OVER 38 YEARS" DAVID DEAN EDWARDS. DAVE PASSED AWAY SEVERAL YEARS AGO FROM BRAIN CANCER. HE LOVED THE CUE-DEAN- MONIKER AND DR. CUES MAGNETIC TABLE TROTTER STYLE OF ENTERTAINMENT, EDUCATION, AND ENERGY AROUND THE POOL TABLE. DAVE AND DR. CUE HAD THE SAME MIDDLE NAME DEAN
SPECIAL NOTE: ANYONE WANTING TO CONTRIBUTE TO BRAIN CANCER RESEARCH ON BEHALF OF DAVE AND OTHERS STRICKEN WITH THIS DEVASTATING DISEASE MAY DO SO BY CONTACTING DR. CUE drcue@artisticpool.org or by calling 765.760.7665
Event Promoters: Tom Dr. Cue Rossman (Original Table Trotter of Pool)
Marty Ms. Cue Rossman (Gets Dr. Cue to Table on Time)