Sport9 Ladies Tour Huge Success
New Ladies Nine Ball Tour Begins
Kicking off Sept 28th, Memphis High Pockets hosted the first Sport9 Ladies Tour.  Sportsmanship ruled while thirteen women battled to secure top positions in the newly formed WPBA sanctioned tour.  The Sport9Tour allows competitors a chance to qualify professionally after collecting points and wins during future planned events.  Several women traveled long distances competing to win a share of the $650 prize fund.
Saturday morning, players are welcomed with various sponsor gifts beginning the day's agenda.  Items included Porper Chalk on a Stick, Sir Joseph gloves, and Predator and Poison products. Paul Frankel, "Professor-Q-Ball", provided Lava Chalk and dazzled competitors with a bit of magic.  Paul also provided tournament website coverage at professorqball.com. The players meeting completed as the referee reviewed the format and rules.  Race to five match play quickly began on High Pocket's beautifully manicured 9′, Simonis covered Gold Crown tables.
As with the setting of the sun, day one completes and the thirteen-player field quickly falls to eight. The remaining eight women returned Sunday racing to the finish where all but one will feel the agony of defeat.
Paragould's Lisa Porter and Jefferson City's Rhonda Moses strategically battled during the final matches. Lisa Porter; tasked with winning two sets, defeated Rhonda taking first.  Securing this win awards Lisa 500 tour points and $250 in first place prize money.
We would like to thank all the sponsors and Bob Hunt for his help and assistance in making the first tour event a great success.  A special thanks to all the women who participated in the first Sport9Tour event.
Picture courtesy of Paul Frankel "Professor-Q-Ball"
bottom left to right:
Gary Baker (TourDirector), Janeen Lee (TourDirector), Brandy Waymire, Rhonda Moses, Tammy Jolly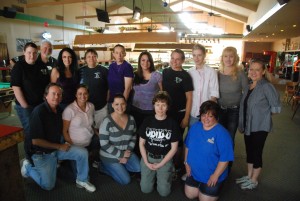 Top left to right:
Ashley Lewis, Bob Hunt (Ref), Linda Osborn, Lisa Porter, Heather Middleton, Margaret Sciolino, Mackenzie Selby, Jennifer Guyse, Shelli Edmondson, MJ Parks
EVENT SPONSORS:
Bob Hunt, Ref
Paul Frankel, "Professor-Q-Ball"
Marble Slab
High Pockets
GoPlayPool.com
13 PLAYERS:
Heather Middleton, Caruthersville, MO
Janeen Lee, Petal, MS
Margaret Mary Sciolino, Hattiesburg, MS
Tammy Jolly, Memphis, TN
Ashley Ann Lewis, Olive Branch, MS
Rhonda K Moses, Jefferson City, MO
Lisa Porter, Paragrould, AR
Mackenzie Selby, Southaven, MS
Jennifer Guyse, Memphis, TN
Shelli Edmonson, Labadie, MO
MJ Parks Dlugach, Memphis, TN
Linda Osborn, Memphis, TN
FUTURE EVENT DATES & LOCATION:
Oct. 19th, 2013 – High Pockets 5099 Old Summer, Memphis, TN (901)761-1583
Nov. 9th, 2013 – Southaven Rec Center, 983 Town and Country Dr., Southaven, MS (662) 342-0230
Dec. 7th – TBD