Seaver shoots for the Cure and FB Tour Champion title at Amy's Billiards!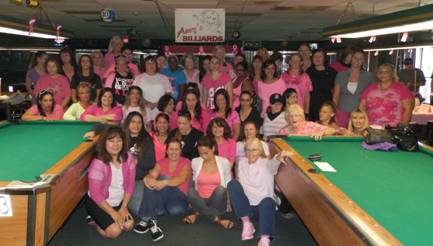 Seaver shoots for the Cure and FB Tour Champion title
at Amy's Billiards!
ACS Presents Pure X All American Tour Results
from Amy's Billiards in Stuart, FL
Stuart, FL  (Oct. 19, 2013) -For the 5th stop on the 2013-2014 PureX All American Tour, the ACS added on a stop from Florida's Flamingo Billiards Tour.  This largest and longest event for the Flamingo Billiards Tour turned out a record-breaking fifty women on Saturday at the FBT's 5th Annual "Cues for Cure" breast cancer fundraiser at Amy's Billiards in Stuart, Florida! A huge "THANK YOU" to all of the players, spectators and sponsors who supported this event, which benefitted the South Florida Affiliate of Susan G. Komen for the Cure.
With so many players, this one-day event was a true test of endurance. Despite having to shoot into the wee hours of the morning, the players remained patient yet persistent. Ultimately, however, experience and determination paid off. About an hour before sunrise Jeannie Seaver won her fourth event of the year.  Seaver, whose stroke only got better the closer to it got to daylight, defeated last year's winner of the "Cues for the Cure" event, Jennifer Page, who shot well throughout the day but couldn't keep up with Seaver, who barely missed more than two shots the entire final match.
Seaver eliminated newcomer Jessica Karamia Human and Crystal McComick in the final single elimination board. Page defeated Cassidy Mulligan and Vanessa Seaver to make it to the final match.  Seaver also takes the 2013 FBT Champion title again this year.
More than half the players were playing in support of or in memory of a loved one or friend who had breast cancer or some other form of cancer.  Players and spectators participated in the raffle and other games to raise money for the cause. Darlyne Petrovit won the jar of gummy bears with the closest guestimate of the number of candies in the jar without going over. Cathy Sparling won the jar of M&M's. Other prizes included cues, cue cases, pool lessons, gift baskets and pink ribbon teddy bears.
Many special thanks to all of you who took time to participate, thanks to everyone who brought a friend or two, thank you to the players who drove hours to attend this event, thank you to the spectators, thank you for your donations, participating in the games and your boundless enthusiasm in supporting the cause!
Thanks to Martz cues, billiard professionals Hunter Lombardo and Tommy Kennedy, Alicia Borjas, Darlyne Petrovit, Janis Sessions, Boynton Billiards and Ozone Billiards. A special thank you to Ann Hanlon for donating her day to help with the fundraising.
Thanks to John Lewis and the American CueSports Association /Pure X All American Tour for their joint sponsorship. Finally, thanks to Amy Poulter and staff at Amy's Billiards for their ongoing support of the "Cues for the Cure" fundraiser and the FBT.  By virtue of Jessica Human (Sarasota, FL) being the highest-finishing ACS member in the event, she qualified for a free 8-Ball singles entry into the 2014 Universal Cues ACS Nationals at the Tropicana Las Vegas – courtesy of the ACS.  The ACS wishes to also thank sponsors Pure X Cues, Championship Billiard Fabric and Nick Varner Signature Cases for their support in donating "Value-In-Kind" product for this and all stops on the Pure X All American Tour. Sponsorship opportunities and tour stop openings are still available for the 2013/2014 All American Tour by contacting the ACS.
The PureX All American Tour moves to Davenport, IA on Saturday, November 2, with a $500 added 8-Ball Tourney at Sharky's Billiards (contact Terry Stevens at 563-359-7225).  Further information, entry details and schedules for the 2013/2014 Pure X Cues All American Tour are available at www.americancuesports.org.
RESULTS
($250-added modified double elimination)
1st        Jeannie Seaver             $375
2nd        Jennifer Page               $275
3rd        Crystal McCormick     $150
Vanessa Seaver           $150
5th        Cassidy Mulligan          $90
Kathleen Lawless          $90
Sue Roberts                   $90
Jessica K Human           $90
9th        Amy Poulter                  $40
Kim Richeson               $40
Mandolin Robinson      $40
Faith Thompson            $40
"Cues for the Cure" Past Tournament Winners
2013 Jennie Seaver
2012 Jennifer Page
2011 Jeannie Seaver
2010 JoAnn Mason Parker
2009 Stephanie Mitchell
The Flamingo Billiards Tour is a WPBA-recognized Regional Tour, and a stepping stone to the Women's Professional Billiard Association for women who want to play professionally.