Michelle Cortez Goes Undefeated On Gulf Coast Tour
Michelle Cortez Goes Undefeated On Gulf Coast Tour
Michelle Cortez of Hutto, Texas, took the Gulf Coast Women's Regional Tour by storm, going undefeated in the third 9-ball event of the 2013 season, held this past Saturday, October 19, 2013, at Skinny Bob's Billiards in Round Rock, Texas. She overcame Austin local Jennifer Kraber for the hot seat, 7-5, and once again in the final match, 7-4. Cortez began her run with wins over Houston's Tanyia Chuites, 7-1, Groveton's Jenny Magee, 7-4, and Austin favorite, Kim Sanders, 7-3.  Kraber defeated Elizabeth Sullivan, 7-2, Dallas' Cindy Cole, 7-2, and tour points leader, San Antonio's Gail Eaton, 7-1, to reach Cortez for the hot seat showdown. After suffering a first round loss to Cole, 7-4, first timer April Flores won 3 consecutive matches, including wins over Sarah Durand, Gail Roles, and Boston newcomer Tam Trinh, all by the same score of 7-5. Kim Pierce was upset by Sanders in the second round, 7-2, and again by Cindy Cole on the one-loss side, 7-4. Cole was eliminated by Sanders, 7-3, settling for a respectable 5th-6th finish. Julia Rapp was initially sent west by Eaton, 7-3, but also won 3 consecutive matches with wins over Mindy Williams, 7-3, Jenny Magee, 7-4, and April Flores, before she was eliminated by Eaton, 7-0. Eaton went on to defeat Sanders for third place, but fell to Kraber, 7-3. The hot seat match between Cortez and Kraber was brilliant. Cortez' break was solid, pocketing one to two balls with each blow. After a few unforced errors, Kraber's score began to lag. With her consistent play throughout the final set, Cortez finished on top and undefeated, 7-4. Congratulations to Michelle Cortez for an impeccable win on the Gulf Coast Tour. The Tour would like to welcome all of its new members and invite them back for the final event on November 16, 2013, at Bogies Billiards & Sports Bar in Houston,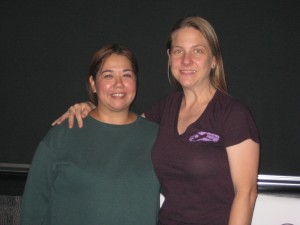 Texas. The tour would like to thank its sponsors for this event, Poison by Predator Cues www.poisonbilliards.com, Delta-13 Rack www.delta-13.com, and the APA of North Harris County, as well as Skinny Bob's Billiards, home of the famous "Texas Open", and the finest tournament host in Round Rock, Texas! Find out more at www.skinnybobs.com.
1st Michelle Cortez $350
2nd Jennifer Kraber $260
3rd Gail Eaton $165
4th Kim Sanders $75
5th-6th Julia Rapp, Cindy Cole $25 ea.
Michelle Cortez, Kim White-Newsome (TD)