South Shore Midwest Pocket Billiard Championships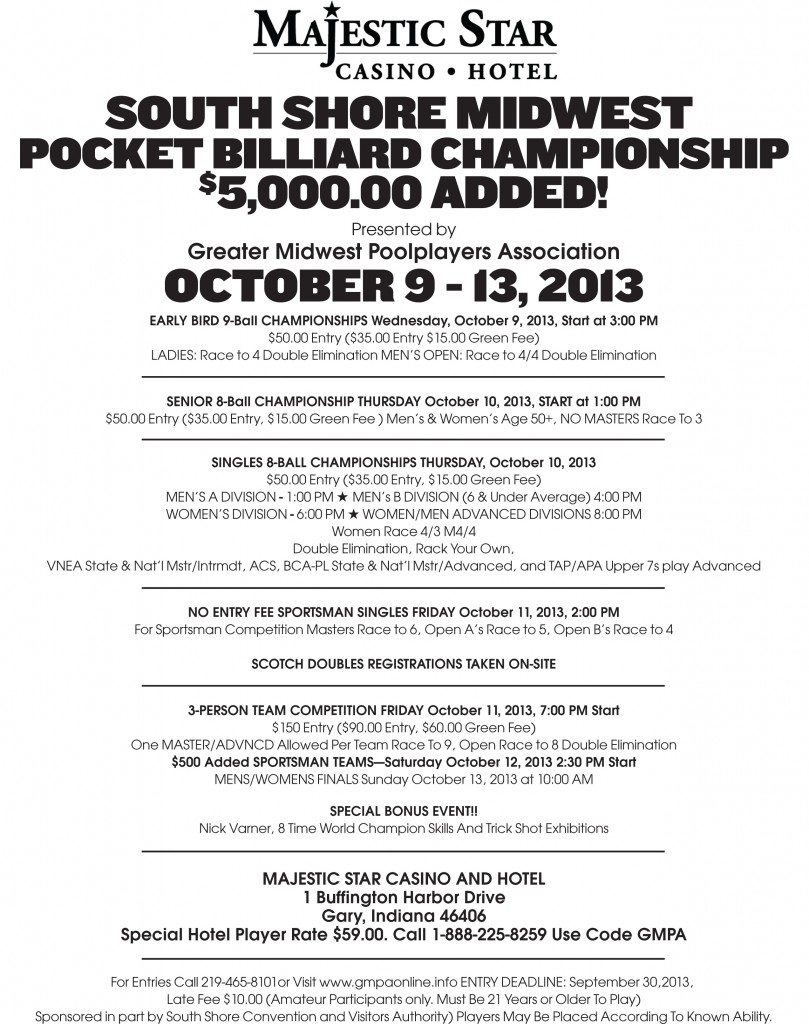 KEEP READING FOR MORE INFORMATION
NWI Event: Majestic Star Billards
By: Rosemarie Stephens
 Whether you love to play pool with your friends casually at the bar, or compete in tournaments, you won't want to miss a one of a kind event for this area. The Greater Midwest Poolplayers Association (GMPA) will be directing the South Shore Pocket Billiard Championships at the Majestic Casino Hotel in Gary. This national pool event will take place October 9th through the 13th and will bring pool players from all over the Midwest. "It's going to be five days of pool on forty Valley tables," said Cecil Messer, organizer of this event. "There is something for everyone!"
 The event caters to amateur pool players young or old, male or female, solo players or those on a team. The one stipulation for team players is that they must be league qualified in any amateur league system, ACS, APA, BCA-PL, TAP, VNEA, and recognized independent leagues. No professionals ranked by WPA, WPBA, or AZ Billiards will be allowed.
 All play is by World Poolplayers Association Standardized rules on 7′ bar box pool tables. A dress code will be in effect at all times and professional referees will be on hand.
 Here's a complete rundown of the events:
– Wednesday, October 9th: The schedule begins with two early bird tournaments.  At 3pm, Open 9-Ball women and men divisions begins for all players regardless of skill level.
– Thursday, October 10th: The start of the 8-Ball championships begin with Open 'A' singles at 1pm, Open Seniors 50+ no Masters 8-Ball at 1pm, Open 'B' at 4pm, Open women division 6pm, and Advanced women/men at 8pm. The entry fee for singles is $50.
– Friday October 11th: At 2pm is a no-entry sportsman division for players that did not share in the prize pool. Then at 7pm the 3-player team events begin with separate divisions for women and men. The cost to play team is $150. A maximum of one master/advanced player may play per team and that team will race one extra game over an open player team. All play resumes on Saturday with finals on Sunday.
 From ESPN, Eight-time World Champion, Nick Varner, will wow the crowd with his special skill shot exhibition displaying some of the shots he made to win those amazing titles. He will also perform one-of-a-kind trick shots that will astound the audience. Mr. Varner is currently scheduled to meet and greet the players/spectators on Thursday in the Event Center located near the main entrance. On Friday evening at 7pm the Access Lounge will host his first exhibition. Later at 9pm the public can be fascinated when he performs between the two casinos in the thorough faire.  Saturday afternoon 2pm, he can be seen once again, near the casinos and his evening schedule will be the same as Friday. After each show Nick will stay to pose for photos and sign autographs.
 "What a great way to spend five days," explained Messer. "We are advising all to take a couple of extra days to enjoy what the property has to offer. The Majestic Star has two casinos with 1900 slots, 70 table games, and a live poker room for the gaming enthusiasts. When you get hungry, there is plenty of good eating with Passports buffet, The Steakhouse, Wings n' Things, and Jackpot Java.   Enjoy a beverage at one of the many bars and lounges. Hike the Dunes on the beach, go golfing, or just visit one of the most beautiful cities in the world, Chicago.  See downtown, visit a museum, shop the magnificent mile, see a Broadway show, or enjoy a meal in Little Village, Greek Town, China Town, or Little Italy."
 There will be cues available as well as various billiard supplies. Food and drink available at the many restaurants and lounges offered at the Majestic. Free soft drinks and coffee are on board at the Majestic I and Majestic II Casinos.
 Northwest Indiana will be well represented with players from leagues in Michigan City, Jason Schoof, operator and Ondrus Amusements from the LaPorte County area.
  Lynn Antkowiak from Jasper County's Southern Shooters will be bringing her players. This league has been around the area for nearly twenty years and features some of the most experienced tournament players in the State of Indiana.
 Julie Ann Mitchell from the Greater Midwest Poolplayers Association has a league system that expands Indiana and Illinois. GMPA members from Porter and Lake Counties will be well represented.   Ms Mitchell will also direct the administrative responsibilities of the event as well as registering players from around the nation.
 Star Amusement in Gary and Leisure Time in Highland will have signups for this event in September. You can also mail in registration forms to 2658 Carmen Street, Portage IN, 46368 before the September 30th deadline. For more information, visit www.gmpaonline.info or contact Cecil Messer at 219-465-8101 or by email, cmessermidwst@frontier.com; Julie Ann Mitchell at 219-762-0209.