DYNAMITE!! Darren Appleton Breaks World Record in 14.1 : Perfect 200 Run
DYNAMITE!! Darren Appleton Breaks World Record in 14.1 : Perfect 200 Run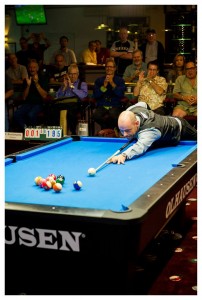 UK's Darren Appleton has shattered all previous high runs in any major 14.1 event in the history of the sport.  All Photos by Charles Eames Photography Official Photograpaher of the World Tournament 14.1
New York, New York –  Darren Appleton of the United Kingdom has done something no player has done in the 102 years of pocket billiards championships. Appleton on his first opening offensive inning ran a perfect 200 point game. This put him in the record books with a 200 to 1 score over Filipino world champ Francisco Bustamante. Dragon Promotions and Dr. Michael Fedak have brought another globally star studded field at this year's 73rd Olhausen World Tournament hosted by Steinway Billiards in New York on August 19th-24th,2013.  Live stream broadcast will be on www.insidepool.tv
Bustamante made his first offensive attempt on a long distance ball but was then stuck with no easy shot next. He went for a tough combo and missed leaving the rack open for Appleton. Francisco would never leave his seat again. For the next 1 hour and 40 minutes Appleton ran rack after rack in precision. Eventually he broke the World Tournament record of 73 events with a 175 which was previously held by Thorsten Hohmann. And then he broke the all time record at any major at 183 which was set at a old US Open 14.1 by Joe Procita. As the audience cheered and the pressure mounted ball by ball, the steely nerved Appleton never slowed down. He eventually hit the final breakshot and made 2 more balls to make a perfect 2 century run and win the match at 200 points which he left the table unfinished without a miss.
"I've been telling my friends for days now that after watching Appleton play many matches, he really plays the right way. He plays great patterns and comes with the tough shots when he has to as well", commented John Schmidt, 2012 World Tournament 14.1 Champion.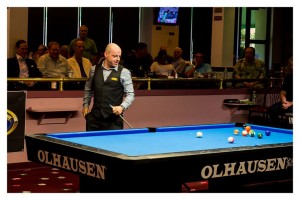 Appleton was all smiles when he broke record after record
"I really didn't know what the record was until they announced it during the run. I was just wanting to get to 170. But I was pretty happy when I heard I broke the World Tournament record. It feels really good", said Appleton.
When asked when did he feel he could get the 200 balls Darren answered,"When I ran 80 I felt that I could do it because I felt really good the way I was hitting the balls." Appleton actually ran a 150 unfinished in practice before the match today in warm-ups.
When asked what has motivated him so much during the run he answered," My fiance Angie reminded me we have a big wedding bill to pay soon!" he laughs.
"I would have continued my run if we had 2-3 hours before the finals." Appleton left his run unfinished and Bustamante humorously swiped all the balls after his run in any case.
Full schedule and results of all players at www.worldstraightpool.com and at Steinway Billiards.