Hohmann, Strickland, Schmidt Take Losses: Surprises on Day 1 Olhausen World Tournament 14.1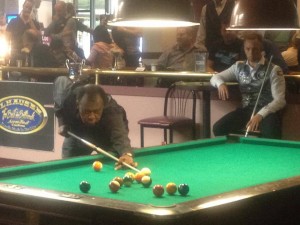 Earl Herring using some old school skills to beat the modern World Champion Hohmann
New York, New York –  Reigning World Tournament of 14.1 Champion John "Mr.400" Schmidt and recent Accu-Stats Fan Pick 14.1 Tourny both had surprise losses on Day 1. House pro Earl Strickland also took two losses. The Olhausen World Tournament of 14.1 kicked off today with all 48 players battling in the round robin stage. Dragon Promotions and Dr. Michael Fedak have brought another globally star studded field at this year's 73rd Olhausen World Tournament hosted by Steinway Billiards in New York on August 19th-24th,2013.  Live stream broadcast will be on www.insidepool.tv
Earl Strickland had an error filled match which local NYC player Michael Yednak took full advanatge in his 100 to 49 win over the 5x US Open Champion. Yednak has participated each year in the World Tournament but has yet to qualify through the group stages. He has two wins and 1 loss to Corey Deuel so this could be his year to improve.
Earl then went onto play Deuel in the TV stream match which Deuel ran a 90 and finished Strickland off 100 to 15. Earl will likely have to win his next 3 matches in a row to have a good chance to qualify for the second stage of the championship.
Throwback pro from the 70's, Earl Herring took time off from his full time career as a church minister to join the World Tournament. He gave Tony Robles a tough match at one time tying at 64 to 64, but succumbed to Robles in the end after a skid. Herring had a brief lunch break, and was re-energized to take down 2x World 14.1 Champion Thorsten Hohmann 100 to 58. Thorsten had a stellar show last week in a 14.1 invitational, but the amount of energy exerted could prove damaging this week as he struggled in both his matches on Day 1 of the World Tournament.
"I used to run a hundred balls or more daily as a younger man. But I still can run a hundred every once in awhile", said Herring who just celebrated his 12 year anniversary of his church.
The final upset of the day came at the expense of reigning World Tournament 14.1 champ John Schmidt who had an error filled match with Jonni Fulcher of Scotland. Both players had equal many opportunities but neither could seem to take advanatge. Schmidt had run 80+ out in his first match of the day, but couldn't put any runs together against Fulcher.
Matches continue today and the round robin completes on Wednesday before the evening 14.1 Hall of Fame Banquet honoring Oliver Ortmann and Gene Nagy.
For frequent updates follow on  www.facebook.com/Worldstraightpool
Through additional support from such sponsors such as Olhausen Tables, Championship Cloth, Aramith Balls, Amsterdam Billiards, Pool & Billiard Magazine, Master Chalk, and now FURY Cues, the absolute best pool players from around the world will arrive on the birth country of 14.1 once more to attend this prestigious event. All to vie for the coveted title of greatest straight pool player in the world.
2013 World Players:
Darren Appleton ENG
Tom Walters USA
Cleiton Rocha BRZ
Ralf Eckert GER
Johnny Archer USA
Mike Davis USA
Thorsten Hohmann USA
Jerry Tarantola USA
Craig Houghton USA
Corey Deuel USA
Shane Van Boening USA
Jose Parica PHL
John Schmidt USA
Tom Gleich USA
Oliver Ortmann GER
Charlie Williams USA
Earl Strickland USA
Wang Can CHN
Ed Culhane USA
Dennis Spears USA
Holden Chin USA
Gary O'Callaghan IRE
Jonathan Smith USA
Sean Morgan USA
Bob Cozzolino USA
Eric Hincks USA
Jeff Mohl USA
William Burke USA
Kevin Clark USA
Eddie Kwok USA
Warren Kiamco PHL
Stephan Cohen FRA
Max Eberle USA
Danny Barouty USA
Shaun Wilkie USA
Charles Eames USA
Tony Robles USA
Jonni Fulcher SCO
Mika Immonen FIN
Dr. James Heller USA
Jayson Shaw SCO
Robb Saez USA
Francisco Bustamante PHL
Michael Yednak USA
Earl Herring USA
Dennis Hatch USA
Jim Gottier USA
– with Danny Barouty, Stephan Cohen, Ed Culhane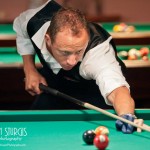 New York, New York –  Shane Van Boening gave USA a nice lift as he played his first ever 14.1 match at the World Tournament. After winning the lag, Shane made a perfect 100 run. Day 1 some some stellar straight pool as players inch closer to the World Tournament Champion title.  The Olhausen World Tournament of 14.1 kicked off August 19th with all 48 players battling in the round robin stage. Dragon Promotions and Dr. Michael Fedak have brought another globally star studded field at this year's 73rd Olhausen World Tournament hosted by Steinway Billiards in New York on August 19th-24th,2013.  Live stream broadcast will be on www.insidepool.tv
Shane's victim was local qualifier Bill Sudia who never got a chance. Van Boening won 100 to 0 and then won his next match 100 to 58 over Blair Levandowski. Van Boening will be tested tonight against last year's Bronze medalist Ralph Eckert of Germany.
The best performance on the TV table thus far has been from England's Darren Appleton who ran 97 and out against USA' s Mike Davis.
MIka Immonen of Finland has been finding his stride with a 100 ball run against Shaun Wilkie from the break to win 100 to 0 and then he defeated Filipino champion Francisco Bustamante 100 to 76.  He then put another dagger in with a 87 ball run today over Kevin Clark to win 100 to 10. The Ice Man looks like he will be a tough contender this year once again.