South Shore Midwest Tournament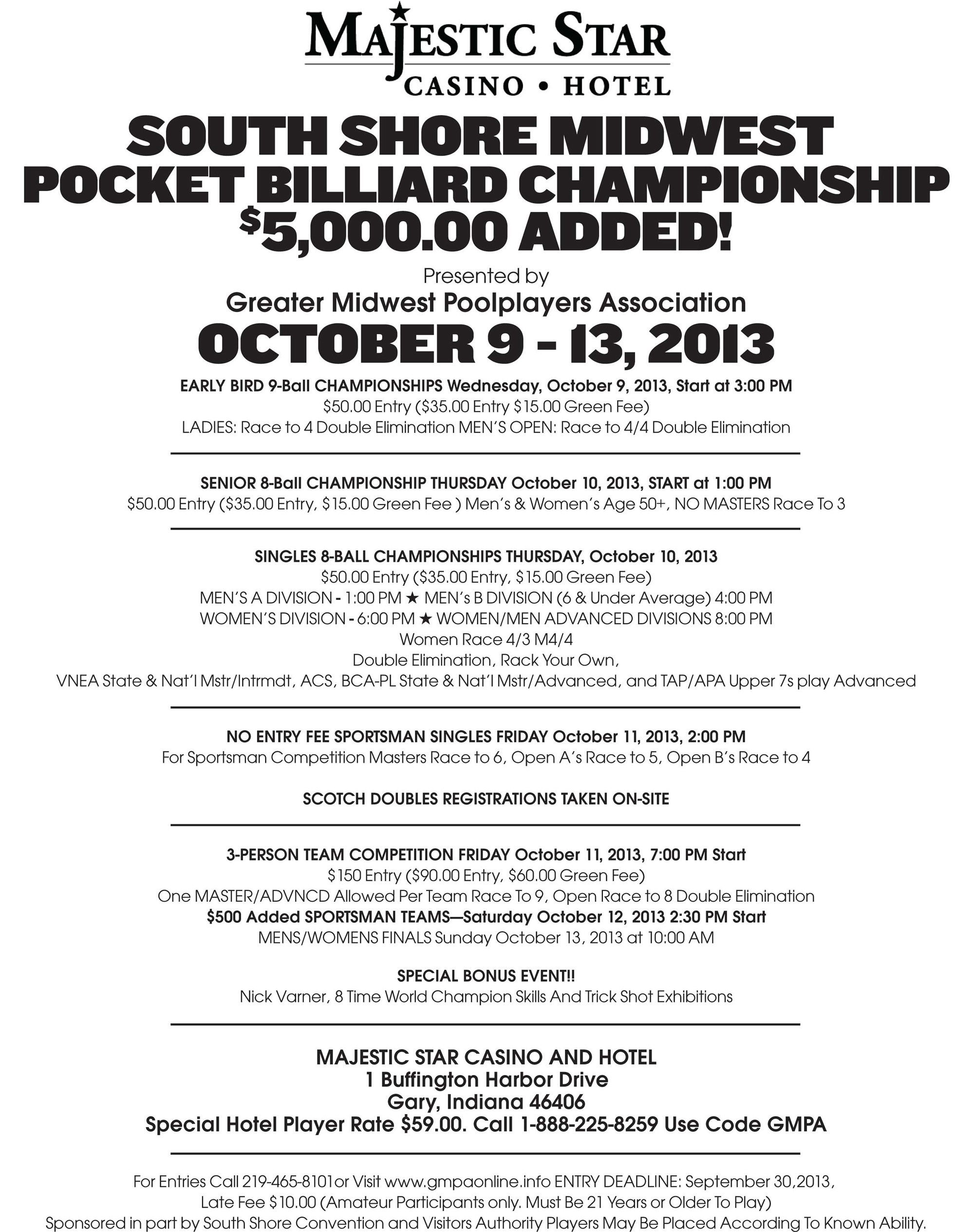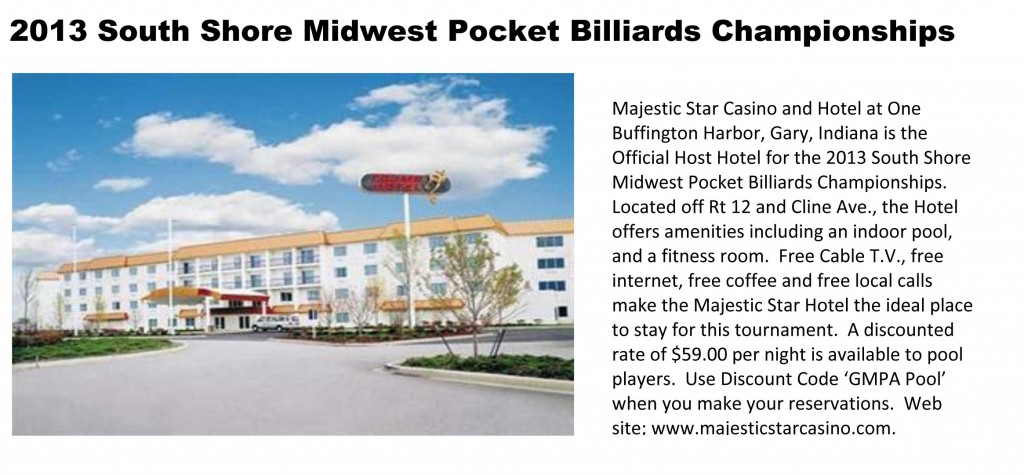 Rumor has IT!!! Not anymore!!!!!  ANNOUNCING:
All League Operators, Amateur Pool Players, National Associations, Media
A National Pool Event is coming to Chicago/ Northwest Indiana. The $5,000 ADDED South Shore Midwest Pocket Billiard Championship will be held at the beautiful Majestic Star Casino and Hotel located at One Buffington Harbor on scenic Lake Michigan, Gary, Indiana. Five days of pool on forty Valley tables October 9th-13th. Originally slated for four days of eight ball play it has already been extended to include an early bird Open 9-Ball tournament. Senior 50+ 8-Ball will take place beginning 1pm on Thursday October 10th. Other eight ball tournaments kick off at 1pm with separate events for women and men. There are various skill levels to each division. Advanced Singles Division for state/national masters, advanced, and intermediate type players. An Open A Singles Division for average and better than average players. The Singles B Division for all others. Based on the ten point league scoring system the B Division would qualify players that shoot at a 6 level with 7 being on the cusp and would need league operator approval. The women 8-Ball Divisions would be Advance and Open. However, all singles are open to the public. The players will be placed accordingly, open and advanced divisions. These singles events will complete on Friday the 11th and a singles no-entry Sportsman Division will be held in the afternoon. A Scotch Doubles will be announced as time permits.  The evening will welcome three person teams from all over the country to participate in double elimination formats. Teams are restricted to one master/advanced, state/national player and must be comprised of amateur members qualified from one of the national organizations, ACS, APA, BCA-PL, TAP, VNEA, and UPA. There will be separate women and open divisions. On Saturday the 12th a Sportsman team division will take place. Each event fee will include unlimited table play for that event. Sunday the 13th the National event will end with the team finals. The Greater Midwest Poolplayers Association is proud to partner with The Majestic Star Casino and Hotel to bring this great event to the Region. For added excitement the event will feature Eight-Time World Champion Nick Varner. Nick will hang out with the players on Thursday and shoot challenge matches. He will also display his newest  line of quality billiard products. On Friday Nick will be scheduled at 7pm in the Access lounge and 9pm in the thorough faire between the two casinos. There he will display some of the skill shots he made in winning over 100 titles. Then prepare to be amazed as he wows the crowd with some show off one-of-a-kind, trick shots.  On Saturday the same schedule will be followed with an additional afternoon 2pm show for the added crowds. After each show Nick will be available for photos and autographs. All this brought to you by the GMPA and the Majestic Star Casino and Hotel. What a great way to spend five days! We are advising all to take a couple of extra days to enjoy what the property has to offer. The Majestic Star has two casinos with 1900 slots, 70 table games, and a live poker room for the gaming enthusiasts. When you get hungry, there is plenty of good eating with Passports buffet, The Steakhouse, Wings n' Things, and Jackpot Java.   Enjoy a beverage at one of the many bars and lounges. Hike the Dunes on the beach, go golfing, or just visit one of the most beautiful cities in the world, Chicago.  See downtown, visit a museum, shop the magnificent mile, see a Broadway show, or enjoy a meal in Little Village, Greek Town, China Town, or Little Italy. There is something for everyone. So, please hurry, reserve your spot for yourself, your team, your league by calling Cecil Messer at 219-465-8101. Mail your entries to; 2658 Carmen St, Portage, Indiana, 46368.