Bogies Billiards & Sports Bar in Houston
Rudder and Demetro Decimate in Houston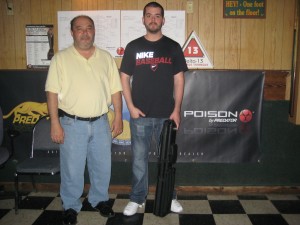 Sonny Demetro, Chase Rudder
Chase Rudder dominated the Open 9-Ball division in this past weekend's $1,000 added Poison by Predator Tour event which spawned 57 entries overall, held at Bogies Billiards & Sports Bar in Houston, Texas. Rudder annihilated North Carolina's Younger Chapman, 9-1, in the final after an undefeated run where he held each of his victims at 4 games or less. Chapman, Great Southern Billiards Tour player and North Carolina State Senior Champion, succumbed to Rudder in the hot seat match, 9-1, after an impressive showing which included wins over resident players Brent Thomas and Bill Fuller.  The final four winners' side saw #7 ranked Raul Escobedo fall to Rudder 9-4, while #9 ranked Will Felder fell to Chapman, 9-5. After a first round blow at the hands of Eric Hsu, Sonny "The Boss" Bosshamer won 6 consecutive matches including wins over Andy Jethwa, 7-6, and Escobedo, 7-1, but was stopped dead in his tracks by Felder, 7-2. Once again, Felder was defeated by Chapman, 7-4, settling for a respectable third place finish.
The Amateur 9-ball division saw Bobby Perez move swiftly through the winners' side with wins over tour newcomer Matthew Sales, Bobby Garcia, and Steve Williams. On the final four winners' side, Perez ousted Chuck Adams, 7-4, while the indomitable Sonny Demetro defeated Raul Escobedo, 7-4. After a first round loss to Jonathon Poon, Jerald "Topwater" Jackson won 6 consecutive matches including wins over Errol Sanders, Alex Cardenas, Mike White, and Jack Cavalier. Escobedo ended Jackson's run, 5-3, but was eliminated by Adams, 5-1.  Hot seat action saw Demetro handily defeat Perez, 7-4, staging a rematch between Perez and Adams. Perez stayed the course, defeating Adams once again, 5-4, earning himself another shot at Demetro. In the final match both players were collected and calculating, shot for shot. Despite his raw determination, Perez fell short against the veteran player by the same score, 7-4.
The next event on the Poison by Predator Tour will be held Sunday, July 7th, 2013 at Bogies Billiards in Houston. The game will be 8-ball, played on 8′ Gandy tables with Simonis cloth and Aramith Pro Cup cue balls.
This tour is title sponsored by Poison by Predator cues, www.poisonbilliards.com, endorses the Delta-13 Rack www.delta-13.com, and APA Leagues of North Harris County www.facebook.com/apanorthharriscounty.
Open Payouts
1st Chase Rudder $480/$400
2nd Younger Chapman $275/$200
3rd Will Felder $150
4th Sonny Bosshamer $75
5th-6th Raul Escobedo, Erik Renteria $35
Amateur Payouts
1st Sonny Demetro $475/$500
2nd Bobby Perez $275/$300
3rd Chuck Adams $165/$130
4th Raul Escobedo $75
5th-6th Jerald Jackson, Younger Chapman $50 ea.
7th-8th Will Felder, Sonny Bosshamer $35 ea.