Scorpion Cues Johnny Archer Classic: Wan Can Do It!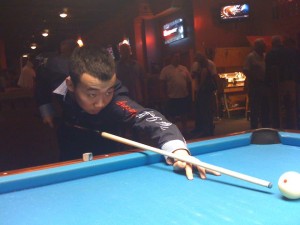 China's Wan Can turning heads in Georgia
by Charlie Williams
Marietta, Georgia-  The Scorpion Cues Johnny Archer Classic kicked off today with 55 players in the field from around the globe. Though there were some great highlights, the standout match of the day had to be China's young prodigy Can Wan defeating seasoned World Champion Thorsten Hohmann in a thrilling hill hill match on the Inside Pool TV stream. The Scorpion Cues Johnny Archer Classic is sanctioned by the Association Of Billiard Professionals as an ABP International Points Ranking Tournament.
While Hohmann was the name player, the fans seem to rally behind Wan as the youngster was the underdog. Wan had been in Georgia for a couple days prior playing sets with USA master Rodney Morris and giving him a tough time. "He had sets where he didn't miss a ball" said Morris.
It was the young Chinese player's first time in America. You could imagine his surprise when coming to the Johnny Archer Classic, he was greeted and picked up at the airport by Johnny Archer himself! The personal touches and hospitality have been tremendous from picking players up from the airport, half off food and drinks for ABP top ranked players, and the free banquet for all the players Saturday night to celebrate ABP's 2 year anniversary.
In other matches, Tommy Kennedy won the battle of the classic veterans with his win over Kim Davenport. Kim did bounce back with a win that eliminated Adam Smith. Hunter Lombardo defeated Texas great Sylver Ochoa 9-5. And Rodney Morris ran over John Stoney Stone 9-4.
Morris commented afterwards,"I've been working hard on my game and my stroke is feeling a lot better".
The Johnny Archer Classic day 2 starts at 10:00am and will see some fantastic match-ups including Johnny Archer vs Shannon Daulton, and winners side matches with Warren Kiamco, Shane Van Boening, and many more.
The event is supported by Fat Boy Productions Co. and Steve Florentino Billiards. Heavy hitter companies are getting behind the event for the first time as well such as Ozone Billiards and Championship Cloth who will be supplying all the tournament tables Tour Edition 3030 cloth. Billiards Digest, Pool & Billiard Magazine, and Inside Pool Magazine are also sponsoring the event.
The Scorpion Cues Johnny Archer Classic is a pro 10-Ball tournament open to all amateurs, semi-pros, and professionals. Full info and updates can be found at http://www.facebook.com/JohnnyArcherClassic .
FREE live streaming online at http://www.insidepool.tv/
There will be a Ozone Billiards Scorpion Cue Raffle each day so fans can see, touch, and have a chance to win the very same cue engineering that legendary Johnny Archer uses on the pro tour.