El Sayed Claims 2009 USSA National Snooker Championship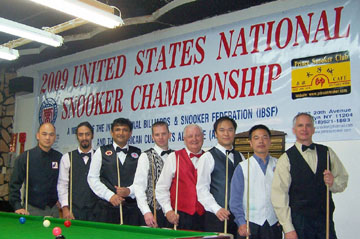 PHOTO DESCRIPTION (L-R): Quarterfinalists Raymond Fung (3rd), Ahmed Aly El Sayed (1st), Ajeya Prabhakar (2nd), Ernst Bezemer (5th), Tom Kollins (5th), Henry Wong (5th), Jiang Qian Wang (3rd) and Jeff Szafransky (5th)
El Sayed Claims 2009 USSA National Snooker Championship
The United States Snooker Association (USSA) conducted the 2009 United States Snooker Championship in Brooklyn, NY, at the Prince Snooker Club, May 21-24. Twenty-four of the country's best snooker stars crossed cues over the 6′ x 12′ behemoths under the direction of USSA Executive Director Alan Morris. The USSA is the governing body for snooker in the United States as recognized by the discipline's world governing body – the International Billiard & Snooker Federation (IBSF), and the winner was guaranteed as part of his prize package airfare and accommodations to India to represent the USA in the 2009 IBSF World Snooker Championships.
The top four seeds – 2004 runner-up Raymond Fung (#1), 2000 Champion Ajeya Prabhakar (#2), 5-time champion Tom Kollins (#3) and Jiang Qian Wang (#4) – each headed four respective flights of round-robin matches to determine the final 16 competitors with the following match records in the preliminaries:
Raymond Fung (Brooklyn, NY) – 5-0
Ajeya Prabhakar (San Jose, CA) – 5-0
Ahmed Aly El Sayed (Brooklyn, NY) – 4-1
Ernst Bezemer (Texas City, TX) – 4-1
Henry Wong (Edgewater, NJ) – 4-1
Jeff Szafransky (San Jose, CA) – 3-1
Tom Kollins (Grayslake, IL) – 3-1
Nick Prinsloo (Herndon, VA) – 3-1
Tim Lee (New York, NY) – 3-2
Jiang Qian Wang (Brooklyn, NY) – 3-2
Charles Looney (Eastpointe, MI) – 3-2
Tommy Chen (Brooklyn, NY) – 3-2
Raimond Cheung (Brooklyn, NY) – 2-3
Simon Poole (Naperville, IL) – 2-3
Cheang Ciing Yoo (Renton, WA) – 2-3
Gary Cheung (Brooklyn, NY) – 1-3
Single-elimination play pared down the final 16 to eight quarterfinalists via match scores of:
Raymond Fung def. Tommy Chen 3-1
Henry Wong def. Nick Prinsloo 3-2
Tom Kollins def. Raimond Cheung 3-0
Ahmed Aly El Sayed def. Cheang Ciing Yoo 3-1
Jeff Szafransky def. Simon Poole 3-1
Jiang Qian Wang def. Tom Lee 3-1
Ernst Bezemer def. Charles Looney 3-1
Ajeya Prabhakar def. Gary Cheung 3-0
The final four semifinalists moved to their spots by virtue of match scores:
Raymond Fung def. Henry Wong 3-2
Ahmed Aly El Sayed def. Tom Kollins 3-1
Jiang Qian Wang def. Jeff Szafransky 3-2
Ajeya Prabhakar def. Ernst Bezemer 3-0
To this point, three of the top four seeds had advanced to the semi-finals, joined by newcomer Ahmed Aly El Sayed. Action really heated up in the semifinals, as the two highest breaks of the event were performed by Prabhakar [64] versus Wang and El Sayed [61] versus Fung. It appeared the finals would be an all-Brooklyn affair as El Sayed really stepped up his level of play to dominate Raymond Fung 4-1 [53-61, 94-7 (33,61), 68(32)-32, 62(33)-19, 56-15], while Jiang Qian Wang took a commanding 3-0 lead over Prabhakar [82(31)-31, 47-37, 55-41], only to have Prabhakar turn the tables to take the match in the final four frames [58-9, 56-51, 108(64)-27, 59-39]!
The finals appeared to be all El Sayed, as he took a 4-1 lead over Prabhakar in the best-of-nine match, but Ajeya made another stunning reversal to claim three straight frames to tie the match 4-4. With his first national title within sight, Ahmed Aly El Sayed put the hammer down in the deciding frame to take the crown 5-4 [73(31,34)-1, 1-63(42), 48-9, 57-45, 54-11, 7-46, 38-52, 18-65(38), 71-28]!
The USSA wishes to thank the Prince Snooker Club, owner Tommy Chen, host promoter Raymond Fung and director Alan Morris for all their efforts in making the National Championships a great success. The USSA will be determining the dates and location for the 2010 National Snooker Championships over the next few months. Information on the USSA and further match scores from the Nationals may be viewed at www.snookerusa.com.
Final Standings:
1st Ahmed Aly El Sayed (Brooklyn, NY)
2nd Ajeya Prabhakar (San Jose, CA)
3-4th Raymond Fung (Brooklyn, NY)
Jiang Qian Wang (Brooklyn, NY)
5-8th Jeff Szafransky (San Jose, CA)
Henry Wong (Edgewater, NJ)
Tom Kollins (Grayslake, IL)
Ernst Bezemer (Texas City, TX)
9-16th Nick Prinsloo (Herndon, VA)
Tommy Chen (Brooklyn, NY)
Cheang Ciing Yoo (Renton, WA)
Simon Poole (Naperville, IL)
Tim Lee (New York, NY)
Charles Looney (Eastpointe, MI)
Raimond Cheung (Queens, NY)
Gary Cheung (Brooklyn, NY)
17-24th Sridhar Shrinivasan (Aston, PA)
Jerrol Cutler (Naples, FL)
Marlin Li (Woodside, NY)
Pravin Patel (Missouri City, TX)
Vaishal Talati (Streamwood, IL)
Leo Li (New York, NY)
Christopher Szarek (Waukegan, IL)
Jason Wen (Marlboro, NJ)