Hohmann Runs 141 on Mika: Retains #1 Seed for Final Stage
The steely Hohmann is carrying his invincibility from last year to this year's 72nd World 14.1 photo by www.charleseamesphotography.com
Queens, New York-  Finland's Mika Immonen had a rough day on Day 3 of the Predator World Tournament of 14.1. After he ran 40+ balls, he missed and the game was over. Defending champion Thorsten Hohmann of Germany pounced on the Ice Man with a 141 ball run that ended the match. The 141 is the highest run of the event so far.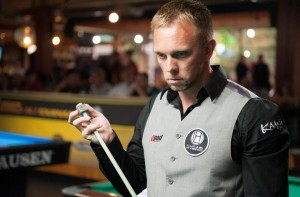 "I missed a shot that I thought I should've made", Mika then sighs turning his hands upwards in a what can you do gesture. "And then it was over."
Immonen came back strong after finishing 2nd in his round robin group which meant he had a first round match that he won handily 150-65 against surprise qualifier Dennis Spears. After getting creamed by Thorsten, he bounced back with a resounding 150 to 27 win over Steve Lipsky.
"Guess it's better to start off slow and get stronger than the other way around", commented Immonen.
The 2012 Predator World Tournament takes place July 29th – August 3rd. The event is produced by Dragon Promotions & Dr.Michael Fedak and proudly co-sponsored by Championship Cloth, Olhausen Tables, Amsterdam Billiards, Aramith Balls, Pool & Billiard Magazine, Championship Tour Edition Chalk, and straight pool aficionados Dr.Louis Pannullo of NYC, Stu Mattana of NYC, Ralph Rubin of MD, and Tom Gleich of NC. Co-contributors Dr.James Heller, Drew Thomas, and Charles Eames.
Hohmann comes into the final stage of the event and will be seeded #1 of the 16 remaining players. Mika will come in at #15 seed.
Brackets can be found at www.worldstraightpool.com or http://www.azbilliards.com/miscbrackets/2012world141.php
Collectors can purchase the main TV table where the finals and all streamed matches will be played on. The beautiful new Olhausen Grand Champion Pro II is valued at $6500 but will have an incredible $5000 price tag which includes souvenir Aramith Balls used in the event, Championship Tour Edition Cloth, and free installation! The table will also be signed by the champion along with an autographed poster of all the World Tournament players. For more information on buying the table, player registration, sponsorship, or if you would like to submit a comment, please email worldstraightpoolchampionships@gmail.com or contact Dragon Promotions at 1-407-782-4978.
Full schedule and event info is now at www.Worldstraightpool.com and more info on www.dragonpromotions.com
August 2nd  Day 4 remaining TV stream schedule will feature players remaining such as Efren Reyes, Johnny Archer, Earl Strickland, John Schmidt, Mika Immonen, and reigning champion Thorsten Hohmann! : http://worldstraightpool.com/livestream.html
Get the latest news by following http://www.facebook.com/Worldstraightpool and www.twitter.com/Dragonpromoter
Reserve your tickets for the main events and the exhibitions at: caromcafe.qrickets.com
Pay per view streaming available (14.1 and 3c):  www.worldstraightpool.com