The International Cuemakers Hall of Fame
The International Cuemakers Hall of Fame is inducting two of the world's top cuemakers at the Super Billiards Expo this March. This years inductees are Dan Janes and Thomas Wayne. The following gives a little information about why both men are well deserving of their Hall of Fame status.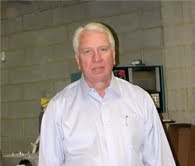 Dan Janes
In 1968 Dan and good friend Bill Stroud started the Joss Cue Company. The word Joss means Luck. In 1972 Dan bought Bill out of the business and went into higher production. Joss rapidly became one of the best known brand of cues. Even in his earlier years Dan was among only a handful of cuemakers that made his shafts interchangeable with a standard joint size on his cues. He kept up with the market trends and developed one of the highest tech shops in the business. He transitioned from V-groove points and pantograph work into CNC (Computer Numerical Controlled) machined points and inlays. He pioneered some handle joining techniques that no other cuemakers were using. You could see his unique finger jointing method in some of his hustler type of cues. His cues have been considered to be one of the top brands of cues world wide for decades. Dan has also been a sponsor of some of the top pro players and has sponsored many tournaments. He has truly been an ambassador for the cue industry.
Thomas Wayne
Thomas started building cues in 1979. He has been a craftsman of some sort most of his life. He has made furniture, guitars, knives, jewelry, skateboards, etc. Although Thomas was not the first to use CNC (Computer Numerical Controlled) machinery to build cues, he pushed the CNC machining of inlays to levels that were unheard of before. He trademarked the term 4-D Inlay, which refers to designs he can achieve by using 4 axis machining with special programming. His designs literally wrap around the cue. Many of the designs keep even the most experienced collectors and cuemakers looking at his cues trying to figure out how he did it. Some of the designs look like they were impossible to build. Thomas was also among the first to build a cue in the six figure retail range. Even though he is famous for his CNC inlay work, he still incorporates V-groove points into many of his cues. Thomas is known as one of the top CNC experts in Alaska and is consulted by makers of many other items on how to machine their products. Thomas was also one of the founding members of the American Cuemakers Association. When one thinks of Thomas Wayne they should think: Pioneer of CNC cue art at its finest!
For more information on the International Cuemakers Hall of Fame visit www.internationalcuemakers.com
By: Chris Hightower