Make it Happen Series: Accu-Stats 8-Ball Invitational,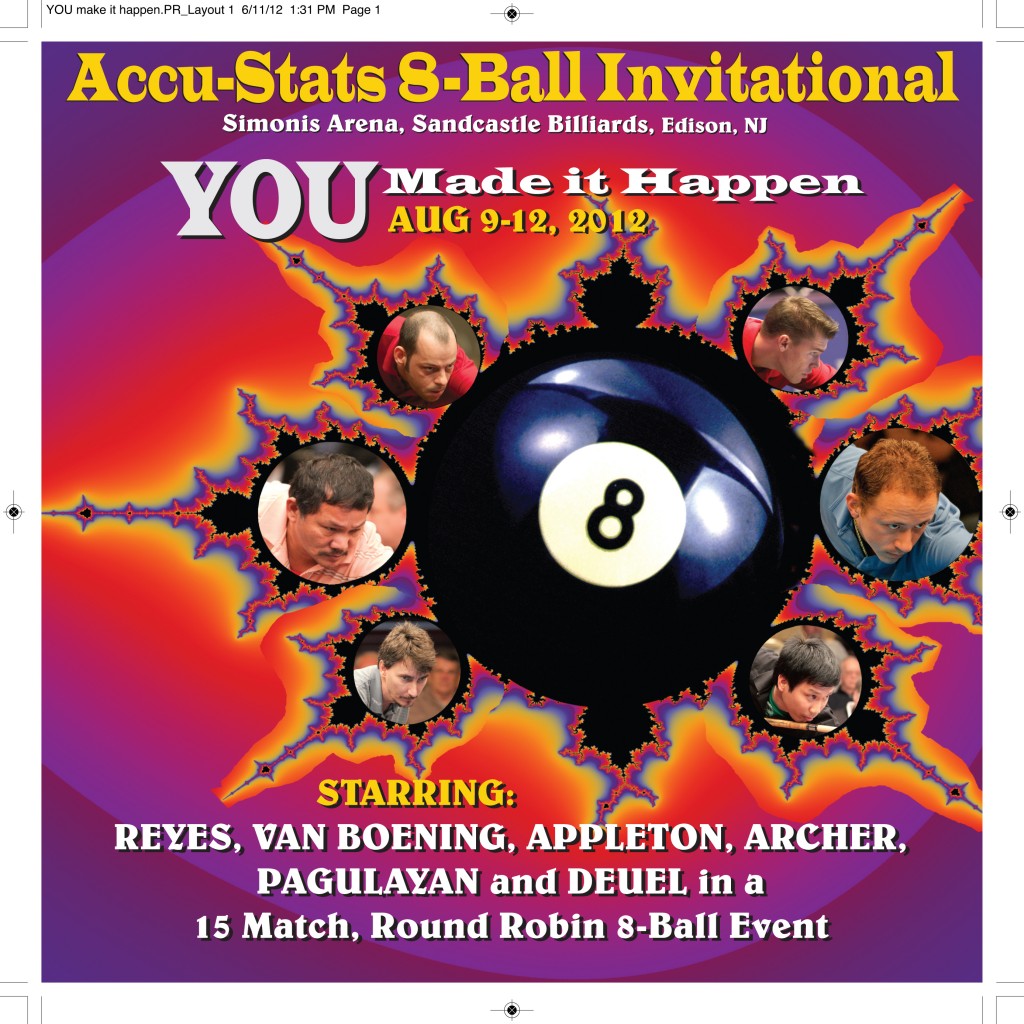 ALEX PAGULAYAN known as the lion,   now takes home the bragging rights to
Accu-Stats You Make It Happen Event
Simonis Arena, Sandcastle Billiards, Edison NJ
STARRING: REYES, VAN BOENING, APPLETON, ARCHER, PAGULAYAN AND, DEUEL
Accu-Stats' owner Pat Fleming had an idea. OK, economically, times are tough, he acknowledged. The "Industry" has been really supportive in its sponsorship-you know who you are-yet, what if the loyal Accu-Stats' customer would assist in the production of a tournament?
The commitments rolled in, the votes were counted, Efren, Shane, Darren, Johnny, Alex, and Corey were invited, The players, unanimously, agreed to appear and compete in the Accu-Stats 8-Ball Invitational, August 9-12, 2012. Simonis Arena, Sandcastle Billiards, Edison NJ.
And, the "Make it Happen" series was borne. Look out for 1-Pocket, Straight Pool, and 10-Ball. And, they'll all be televised: ESPN Star Sports has agreed to air the events in their footprint of 26 countries in Asia.
Three N. Amercian networks have also expressed interest in the 8-Ball event.
It's not too late, YOU can still Make it Happen. More info at accu-stats.com or call Pat directly at 800.828.0397. Sponsorship enquiries? Call Medium Pool, 310.450.8525.
ALL available at  accu-stats.com
Every match is like a finals as the world's best battle each other until the Wins versus Losses are tallied and we have an Accu-Stats 8-Ball Invitational Champion.
That's 15 matches in all — 16 if there is a tie and play-off is necessary.
The Event will be Televised in HD in 26 countries in Asia on ESPN Star Sports and an Accu-Stats Tournament Match DVD Series is due for release in September.