The 10 Ball is over and Alex defeated Archer 15 to 14 , Yes Hill- Hill
First – $12,000
Second – $7,000
Third/Forth – $3,500
First – Alex Pagulayan
Second – Johnny Archer
3rd/4th – Landon Shuffett
3rd/4th – Dennis Orcolo
Alex Pagulayan defeated Landon Shuffett in the first semi-final. Johnny Archer defeated Dennis Orcolo in the second semi-final.  Archer faced Pagulayan in the finals which was a barn burner going Hill – Hill.  Pagulayan prevailed with the 15 to 14 win.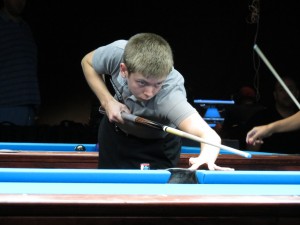 Eighteen year old Landon Shuffett defeats Earl Strickland fifteen to five in ten ball on ten foot tables. This was not the first meeting of the Young Gun and the Old Guard. At the age of fourteen Landon and Earl met with Landon scoring a win.  At age eighteen Landon is a seasoned player with well over a hundred wins.  Landon has won the Juniors 18 and Under National Championship five of the last six years. The only year he did not win, he didn't compete to focus on his education. Thursday night he was all business not getting caught up in banter from Earl but just taking care of business. Landon took an early six to zero lead and never looked back.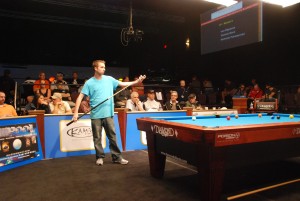 After four days of play the field of 153 players in the first Southern Classic Bank tournament came down to the final three, Alex "The Lion" Pagalion, John Brumback and Justin Hall.  All three had used their buy back so there was no safety net. Hall got the bye to move to the finals and wait for the winner of Pagalion and Brumback.  The match between Pagalion and Brumback was a good match but Alex prevailed. After a thirty minute break the finals started. Alex came out of the gate winning the first two games, 5-2 and 5-3 in a race to three.  On the hill Alex breaks dry in the third game. Justin could not score on his first trip to the table but on his second trip to the table he makes two balls.  Alex ties it up after two more trips to the table but Justin goes up four to 2 balls on his next trip to the table.  But not to be out done Alex knots it up at four to four on his next trip and leaves a tough shout on the remaining ball. Justin calls a three railer which splits the pocket at table speed marking his first game win. In winner breaks format Justin breaks with Alex still on the hill. Justin makes two balls on the break which keeps him at the table. Alex could only sit and watch as Justin puts on a show with a Break and Run to bring the match to Hill-Hill.  This was the turning point in the match. Justin breaking the fifth and deciding rack again makes two balls on the break to stay at the table and then scoring two balls to take the lead in the final game. Alex comes to the table and makes a ball before turning the table back over to Justin.   Justin runs out to finishe off the match and takes the First Southern Classic Banks Championship. By Ricky Bryant
.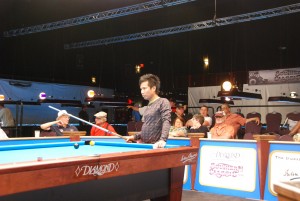 Alex "The Lion" Pagalion,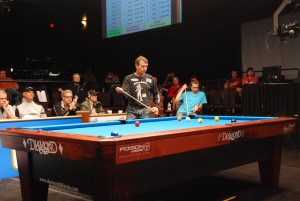 John Brumback