Worldstraightpool.com 2012 Re-Launch!!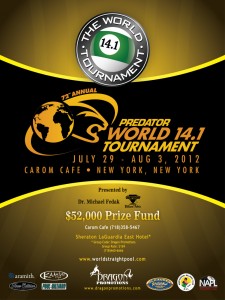 Queens, New York –  The Official Website of the Predator World Tournament of 14.1 is now updated and running for the 2012 event! Fans and players alike can checkout www.Worldstraightpool.com for exclusive interviews with the pro stars, and all the latest and even archive news of the World Tournament. The site will cover the biggest straight pool tournament in the world at the Dragon Promotions & Dr.Michael Fedak produced event. It all takes place on July 29th – August 3rd,2012 at Carom Cafe in New York City.
The complete listing of this year's roster of players will be on the site soon, as well as quotes and tip from your favorite star players such as Johnny Archer, Thorsten Hohmann, John Schmidt, Allen Hopkins, Stephan Cohen, Charlie Williams and many, many more.
The site also contains all the info on purchasing tickets for the event, The 14.1 Hall of Fame Banquet, and discounted hotel reservations at the Sheraton Hotel where the event takes place. During the event, daily updates will be added every few hours so fans can keep up with all the latest results and exciting stories. The site will also have the official brackets and tournament charts from the round robin through the end final single elimination charts.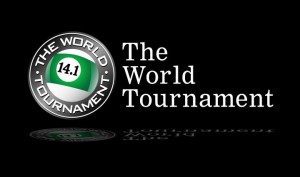 Daily match times and complete tournament schedule will also be on the site.
Get the latest news by following http://www.facebook.com/Worldstraightpool and www.twitter.com/Dragonpromoter
Venue and Hotel: Host location: Carom Caf̩ Р3402 Linden Place РFlushing NY 11354 (718) 358-5467
Sheraton LaGuardia East Hotel 135-20 39th Ave, Flushing New York 11354 (718)460-6666
Group Code: Dragon Promotions Group Rate $169 Rates good through June 29, 2012
The 2012 Predator World Tournament is proudly co-sponsored by Championship Cloth, Olhausen Tables, Amsterdam Billiards, Aramith Balls, Pool & Billiard Magazine, Kamui Brand, and straight pool aficionados Stu Mattana of NYC,  Ralph Rubin of MD, and Tom Gleich of NC.  Co-contributors Dr.James Heller and Charles Eames. For more information on player registration, sponsorship, or if you would like to submit a comment, please email worldstraightpoolchampionships@gmail.com or contact Dragon Promotions at 1-407-782-4978.
Full event info is now at www.Worldstraightpool.com   and more info on www.dragonpromotions.com