2012 BEF JUNIOR NATIONALS HEADS TO WISCONSIN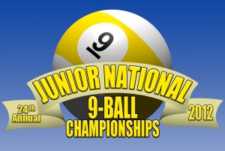 The Billiard Education Foundation (BEF) is pleased to announce that Romine High Pockets in Greenfield, Wisconsin will host the 24th Annual BEF Junior National 9-Ball Championships on July 11 -15, 2012.
The stage is set for over 150 young billiard athletes, ages 18 and under, who will qualify to participate in the most prestigious junior tournament in North America. Romines High Pockets is one of the premier billiard rooms in the country, featuring forty-two (42) pool tables, eighteen (18) of which are nine-foot Brunswick tables that will be draped with pristine Simonis Cloth to make a grand arena for the event.
We are honored to have the best junior billiard players from throughout the United States playing at Romine says Terry Romine, owner of Romine High Pockets and Schon Cues.We look forward to an exciting event.
Junior players will be competing for prizes and an invitation to represent the United States at the World Pool-Billiard Association (WPA) World Junior 9-Ball Championships.