2012 BEF Texas Junior Contenders Aim for Nationals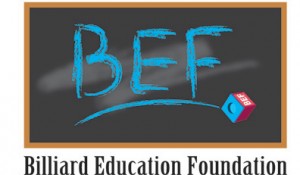 The 2012 BEF Texas State Championship was not only to see who was the best 9-ball player in the state, but to also qualify one entry into the prestigious 24th Annual BEF Junior National 9-Ball Championship. A field of Texas junior veterans of past "Nationals" was present to compete for the title and for the one slot to take them to Romine's High Pockets in Greenfield, Wisconsin to compete against the nations best junior billiard players this summer, July 11th- 15th.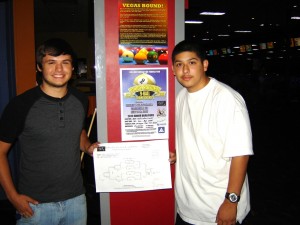 Veteran representative to the "2011 BEF Junior Nationals" and this year's APA league entry to the BEF tournament, Jose Alonzo Herrera from Duncanville, Texas, earned the title of 2012 BEF Texas State Championship. Fellow APA leaguer and 2010 BEF veteran player, Hunter Hayes from Nevada, Texas, took runner-up and the entry slot to compete this summer along side Herrera and other Texas players competing at the Nationals.
The qualifying and championship event was hosted by BETTER Play Billiards and held on April 28th, 2012 at AMF Richardson Lanes in Richardson, Texas. The AMF facility is the host site for several high school billiard teams and APA leagues that compete there weekly. Herrera earned his championship after defeating a handful of talented Texas junior players who have already qualified to play in this year's event in Wisconsin including 4th place finisher Brian Emrick (7-4) from Garland, Texas and 3rd place finisher Caleb Ripple (7-2) from Wylie, Texas.
Emrick was last year's BETTER High School Billiard Program's number one player and had earned a spot to compete at last summers BEF event at the Northern Illinois University in DeKalb, Illinois. Emrick has once again qualified for the 2012 BEF Junior Nationals through the BEF pilot high school program. Ripple has also qualified for this year's "Nationals" through his participation with the NW Dallas APA junior league. This is Ripples first BEF event.
                   (L-R) Hunter Hayes and Jose Alonzo Herrera
Hayes defeated Chase Riggins (7-4) the tournaments 5th place finisher and this years number one high school player from the BETTER High School Billiard Program. This allowed Hayes and Herrera to match up in the semi-finals with Hayes winning (7-4) sending Herrera to the one-loss side with Herrera coming back for a re-match in the finals. The modified finals had Herrera over Hayes in the finals winning a close match (7-5) for the title. Since Herrera was pre-qualified through his NW Dallas APA junior league for the BEF Nationals, Hayes was given the earned entry spot for his runner-up placing. Both Herrera and Hayes had previously competed in the 14 & under divisions at the "Nationals", but this year they will both be moving up to the 18 & under division.