Pedro Piedrabuena wins final: 3.750 average
MAYWOOD РThe 40-year-old Pedro Piedrabuena from San Diego, California has won the Open USBA Three-Cushion Tournament in Maywood, California. In the finals, he defeated Hugo Pati̱o, the number one ranked U.S. Player, in a magnificent match: 30 points in eight innings (final score 30-17).
The tournament, with a total prize money amount of over $18,000.00, was played at Eight Ball Billiards in Maywood and was part of the Open tournament series of the USBA.
Forty-three players were divided into 6 groups. Five of the groups had 7 players and one group had 8 players, playing round robin to 25 points. The top USBA-ranked "A" players were seeded into the qualification groups, one per group. The top 2 finishers from each group advanced to the semifinals along with one auction winner and one lottery winner.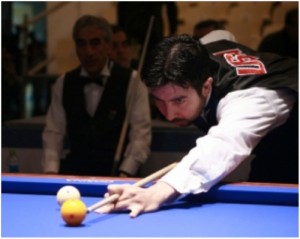 Semi-Finals: Fourteen players divided into 2 groups of 7 players – advanced to the semifinals, where matches were played to 30 points. The top finisher from each group played the final match.
The start of the final match was high-leveled. Piedrabuena made six from the break, Hugo Patiño answered with six. Piedrabuena continued the high level, but Patiño couldn't keep up with him. The runs of Piedrabuena: 6, 4, 1, 6, 4, 4 1, 4.
The top six finishers of the tournament:
1. Pedro Piedrabuena (San Diego)
2. Hugo Patiño (New York)
3. Luis Avila (Mexico)
4. Miguel Almarez (Mexico)
5. Javier Téran (Ecuador)
6. Salvador Diaz (Los Angeles)
PRIZE FUND = $18,610.00
Entry Fees = $8830 Added by Eight Ball Billiards & USBA Sponsors = $7500
Lottery Receipts = $1580
Auction Receipts = $700
1) $4,000 Pedro Piedrabuena
2) $3,000 Hugo Patino
3) $2,000 Luis Avila
4) $1,750 Miguel Almaraz
5) $1,500 Javier Teran
6) $1,250 Salvador Diaz
7) $1,000 Guillermo Sosa
8) $900 Mike Kim
9) $800 Sonny Cho
10) $700 Peter Banyai
11) $600 Carlos Palafox
12) $400 Jim Shovak
13) $300 Scott Lee
14) $200 Hien Nguyen
High Run Finals = $105 Miguel Almaraz (13)
       Final Matches             Pts     Innings     Average    High Run
1st: Pedro Piedrabuena         30           8              3.750         6
2nd: Hugo Patino                   16          7                2.286         6
3rd: Luis Avila                        30         17               1.765          7
4th: Miguel Almaraz             25         16              1.563          9
5th: Javier Teran                   30         15               2.000        11
6th: Salvador Diaz                24          15               1.600          4
7th: Guillermo Sosa                30        32              938            5
8th: Mike Kim                         29          31              .935           5
9th: Sonny Cho                      30          19               1.579         6
10th: Peter Banyai                 24          18               1.333        4
11th: Carlos Palafox                30         27               1.111          7
12th: Jim Shovak                    22         27             .815            5
13th: Scott Lee             Did not play
14th: Hien Nguyen      Did not play
Final Matches