Tribute to Grady 'The Professor' Mathews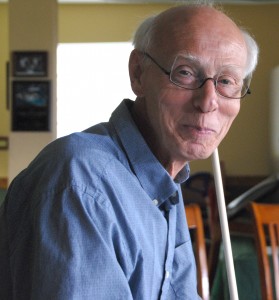 January 3, 1943 – April 18, 2012
They called him 'The Professor', but they could just as aptly have called him Mr. One Pocket. It is hard to imagine a model for contributing more to the game of One Pocket than exhibited over the career of Grady Mathews; he has truly been an ambassador to the game.
Born January 3, 1943 in San Antonio, Texas, when Grady was a teenager his family moved to San Mateo, California, just about 25 miles outside of the pool Mecca of San Francisco. Grady was a good natural athlete, but once he got started with pool, that is where he turned his attention. He proved to be an adept student of pool, especially the game of One Pocket, honing his skills at fabled Cochran's in San Francisco in the early 1960's before he took to the road.
Just about every great player of that era made appearances at Cochran's. As Grady tells it, "You had guys there at Cochran's like 'Bananas' Rodriguez. 'Mexican Phil' was another one. Those two guys couldn't run a lot of balls, but boy could they play One Pocket! The young guys like me and Rich Marques and Ronnie Barber and Denny Searcy and 'One Eyed Hank'; we'd kick shots around, trying different ways to do things. We learned pretty quickly as young people are wont to do. I don't think you could find a better learning facility than Cochran's." Grady actually worked at Cochran's for a while, until it became clear he could make more money playing pool than he could working.
In the late 60's, Grady moved to Texas and ended up at another great action room, Le
Cue in Houston, frequented by such greats as Jack 'Jersey Red' Breit, Danny Jones and 'Connecticut' Johnny Vevis, the winner of inaugural Johnston City One Pocket tournament.
In 1975 Grady opened his own poolroom in Denver, CO, which he ran for seven years. It was during this time that Grady's One Pocket game really matured. It was also during this time that he recalls first starting to take notes about the nuances and details of One Pocket – the kind of studying that may have contributed to his moniker, 'The Professor'.
For more information go to http://www.onepocket.org