KOZOOM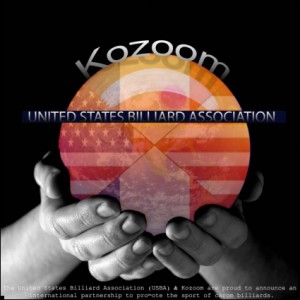 The United States Billiard Association (USBA) and Kozoom are proud to announce an International partnership to promote the sport of carom billiards.
Kozoom, based in France, is the largest live/archival streaming production company in the world. Kozoom's teams travel the globe bringing exciting carom billiard events to the Internet. including UMB World Cups, National Championships and numerous other world class special events.
USBA, the governing body for three cushion billiards in the United States, is enjoying remarkable growth in the interest in this challenging sport. More and more individuals and room owners are adding carom tables nationwide, enabling players througout the US to paricipate in both casual and official tournament play.
Together, USBA and Kozoom plan to bring more carom events to the United States and the world. And USBA members will enjoy special reduced prices on premium membership at Kozoom. There has never been a better time to become a USBA member.
To learn more or join the USBA, visit the USBA websit: www.USBA.net. To learn more about Kozoom, visit Kozoom's web site: www. kozoom.com