Carbin Copies Prince Snooker Success
Carbin Copies Prince Snooker Success
By Alan Morris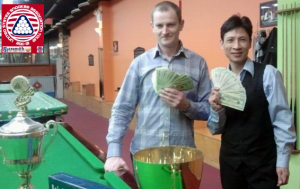 The winner of Event 8 on the 2011-12 USSA Tour, Paul Carbin (pictured left),
with runner-up, Yan Y. Zhen
Paul Carbin has repeated the United States Snooker Association (USSA) Tour success he had last season at the Prince Snooker Club in Brooklyn, New York, as he captured Event 8 on the 2012 USSA National Tour, sponsored by Aramith Billiard Balls.
Raymond Fung has been dominating this season's previous USSA Tour events played in the New York City area in Carbin's absence, but this time the former United States National Snooker Championship runner-up lost out 4-1 to Carbin on Paul's first appearance this season in what was a very hard fought out semifinal.
Carbin, who honed his considerable snooker skills back in his native Ireland, again produced some fine form to win his group and to produce a 3-0 quarterfinal win over Chong Keng Sim, which included a break of 52, before then going into battle with Fung.
Fung booked his place in the semifinals with a 3-1 quarterfinal win over Juno Chen, though went 2-0 behind Carbin after two close initial frames, with the Irishman producing a break of 52 in frame two.
Fung reduced his arrears after he claimed the third frame which went down to the wire. Carbin though was soon 3-1 up assisted by a run of 56, and despite Fung stroking in a break of 55 in frame five it proved insufficient for him as Carbin won the match on the final black ball.
In the final Carbin matched up against Yan Y. Zhen, who reached the semifinals of last year's United States National Snooker Championship at the Prince Snooker Club.
Yan had finished top of his group and then went onto have an easy 3-0 victory in the quarterfinals over Leo Li, and then proceeded to defeat Tim Lee 4-1 in the semifinals, which included a break of 48 in frame four.
Carbin though proved far too tough for Yan in the final as he easily won the first two frames 71-31 and 61-28 respectively. Frame three was slightly closer as it went down to the final colors 55-34.
In the fourth frame Carbin fluked his initial red after attempting a combination shot, which scattered the reds into a frame winning opportunity, of which he took full advantage of by running a break of 82 to clinch the frame for a 4-0 final victory.
The USSA would like to thank all the participants that made this Tour event at the Prince Snooker Club yet another success, and the association would particularly like to express its gratitude to Tommy Chen, the proprietor of the Prince Snooker Club, for his much valued support toward the USSA Tour.
The 2011-12 USSA Tour next moves onto the Ace Snooker Club in San Mateo, California, for Event 9 over the weekend of March 10 & 11.
2011-2012 USSA National Snooker Tour
October 28-30, 2012 – Stop #1: Houston, TX – Champion Snooker Houston – Winner Muzlim Sarfaraz
November 5-6, 2011 Stop #2: Brooklyn, NY – Prince Snooker Club – Winner Raymond Fung
November 19-20, 2011 Stop #3: San Mateo, CA – ACE Snooker Club – Winner Alex Kopel
November 19-20, 2011 Stop #4: Flushing, NY РCarom Caf̩ Billiards РWinner Raymond Fung
December 3-4, 2011 Stop #5: Las Vegas, NV – 4 Kaz Snooker Club & Bar – Winner Joe Girdpool
December 10-11, 2011 Stop #6: Brooklyn, NY – Club 147 – Winner Raymond Fung
January 28-29, 2012 – Stop #7: Houston, TX – Champion Snooker Houston – Winner Aurangzeb Mahmud
February 18-19: 2012 Stop #8: Brooklyn, NY – Prince Snooker Club – Winner Paul Carbin
March 10-11: 2012 Stop #9: San Mateo, CA – ACE Snooker
March 31-April 1, 2012 Stop #10: Las Vegas, NV – 4 Kaz Snooker Club & Bar
April 7-8, 2012 Stop #11: Brooklyn, NY – Club 147
April 21-22, 2012 Stop #12: Flushing, NY РCarom Caf̩ Billiards
April 28-29, 2012 Stop #13: Mountain View, CA – Shoreline Billiards
May 25-27, 2012: USSA National Snooker Championships (Embassy Snooker Club, San Gabriel CA)