The IBC … Schedule of this weeks National Three-cushion Billiard Events.
Weekly Hours: The IBC will open early (9:00 AM) on Wednesday, Thursday and Friday, June 11th. Non IBC member tournament contenders and spectators please call the IBC to make arrangements for practice and spectator availability. Practice at regular membership rates for all from Wednesday through Friday.
Additional parking in the IBC's rear parking lot, street parking, village park in rear of club and also the village parking lot across from the Post Office.
Friday, June 12, 2010 and throughout the entire weekend: Enter and Exit through Bonnie's cafe's front entrance only. The club's front and rear entrance will not be in use other than for emergency.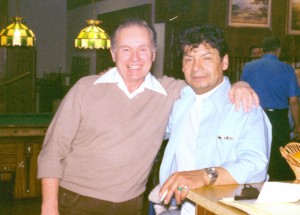 Beginning at 6:00PM Friday evening preceding the Joe Diaz Saturday tournament the IBC will host a witnessed blind draw for Saturday's pairings and starting times … tournament contenders do not have to be present, but must call the club the same evening between 7:00 and 8:00 PM to be given their specific Saturday starting time … (708) 839-1331.
Immediately following the Friday draw the IBC will host a "winner take all," single elimination, 10 point, $15 entrance fee ($10 prize fund /$5 club charge) rapid-fire and open to all … "Beat the Pros" warm-up tournament. Bonnie's is a full service restaurant, coffee cafe and ice cream parlor and will be staffed to service any and all food and beverages. Therefore, food and/or beverages will not be allowed to be brought in from outside sources, and with Bonnie's fully staffed, the IBC honor system will not apply for the three day event. Therefore, all beverages, including beer and wine along with Bonnie's lunch menu can be ordered and/or purchased in the cafe only.
Saturday, June 12, 2010: Coffee and pastries can be purchased when doors open at 8:00 AM. All tournament contenders and spectators must register and payments completed immediately upon entering the cafe and preceding entry to the club.
Contender Entrance Fee: $50
Spectators: Open to the public.
Admissions: IBC members in good standing "¦ NC. General Public "¦ $7.00 per day or $12 for both days. As a courtesy of my wife Bonnie along with all of us at the IBC and the legendary "Simonis Billiard Cloth Co." … http://www.simoniscloth.com/ , all admission fees shall be added to the player's prize fund. Also added to the players prize fund will be all monies collected from the raffle of a handsomely designed and artistically produced custom billiard cue made by *Mr. Noel Mendoza and his "Schuler Cue" … http://www.mendozacues.com/
*Mr. Mendoza studied under the legendary Ray Schuler for some 15 years, and today, has carried on Ray's dream of building fine billiard cues to the word!
Format: Prelims played on Saturday / Four … 4 player round robin brackets / Three … 15 point games played by all contenders. Top 4 contenders will be seeded into all 4 brackets. All brackets will rotate throughout the preliminaries.
Example:
9:00 AM / Set 1 … Bracket A / players 1 & 2 compete on table one at the same time as players 3 & 4 compete on table two.
10:00 AM / Set 2 … Bracket B / players 1 & 2 compete on table one at the same time as players 3 & 4 compete on table two.
11:00 AM / Set 3 … Bracket C / players 1 & 2 compete on table one at the same time as players 3 & 4 compete on table two.
12: 00 PM / Set 4 … Bracket D / players 1 & 2 compete on table one at the same time as players 3 & 4 compete on table two.
The same match rotation format will continue until all matches are complete. Saturday's estimated completion time … 9:00 PM. One top finalist from each bracket advances to a 30 point, four player round robin played the following day, Sunday, June 13, 2010.
Finals: Sunday, June 13, 2010. Lunch will be available when doors open at 11:00 AM.
First game scheduled at "High Noon" … with or without Gary Cooper and Grace Kelly!!
Estimated completion time: 6:00 PM … Directly followed by an awards presentation, autograph signing and photo shoot.
"Committed National IBC Tournament Contenders"
Arnie Kupec
Todd Waicosky
Jorge Leon
Dennis Douberteen
George Ashby
Rich Conboy
George Theobald
Brian Haff
Phelipe Razon
Bill Kim
Tony Chavez
Hugo Patino
Adrian Viguera
Paul Dryer
Pete Rincon
Pafael Hernandez
First alternate … Rudy Campos
Second alternate … Bob Youman
Third alternate … Rich Klein