Pendennis Club Final Charts & Story
After the player's meeting and draw on Thursday 5 flights of 6 players each approached the newly recovered tables with resolve and determination.  The 2 top players from each group would move on to the final rounds with 5 players in 2 separate flights.
After some amazing shot making performances in the prelims with several players scoring a high run of 7 (Mazin Shooni, Brian Haff, and Gilbert Najm) an elite group of 10 players emerged to start the final rounds on Saturday evening (See complete flight charts for all the players, including the 1st and 2nd place finisher in each bracket that made the final shootout).
Final Round F started off with a nail-biter match between Dan Kolacz and Mazin Shooni.   Dan took an early lead, looking like he was on his way to victory when Mazin called upon his champion spirit to net the score at 24-24.  Dan looked like he was going to pull off an upset, but missed by less than a whisker on his next shot.  Mazin sealed the win on his next turn at the table while the audience applauded both players for a super match.  When the smoke had cleared bracket results for Round F revealed Shooni in 1st with a perfect 4-0 record, Kolacz in 2nd with 2 wins and 2 losses, and tuned competitor Jim Stoner in 3rdplace, winning 2 out of the 4 matches also, but with less points overall.
Final Round G revealed more superb play as Gibert Najm dominated his bracket with 4 wins and 0 losses.  Jim Shovak, Jim Bishop, and Brian Haff each won 2 matches and lost 2 with Shovak taking 2nd place scoring 91 points out of 100 possible and a high run of 8 among all finalists.  Bishop finished in 3rd with 88 points, and Haff settled for 4th with 85 points.
To determine the overall champion for the qualifier, Shooni played Najm with Shooni taking the championship honors.  A special match took place with Jim Stoner playing Jim Bishop to see which 3rd place finisher from each final bracket would receive free entry and expense allowance to the Nationals in May.  Bishop remained cool, calm, and collected as he enjoyed a well-earned victory in a hard fought match.
This magnetic carom event proved once again to be a great success for the players, the fans, the host Pendennis Club location, and the much appreciated promoter efforts of Professor-Q-Ball.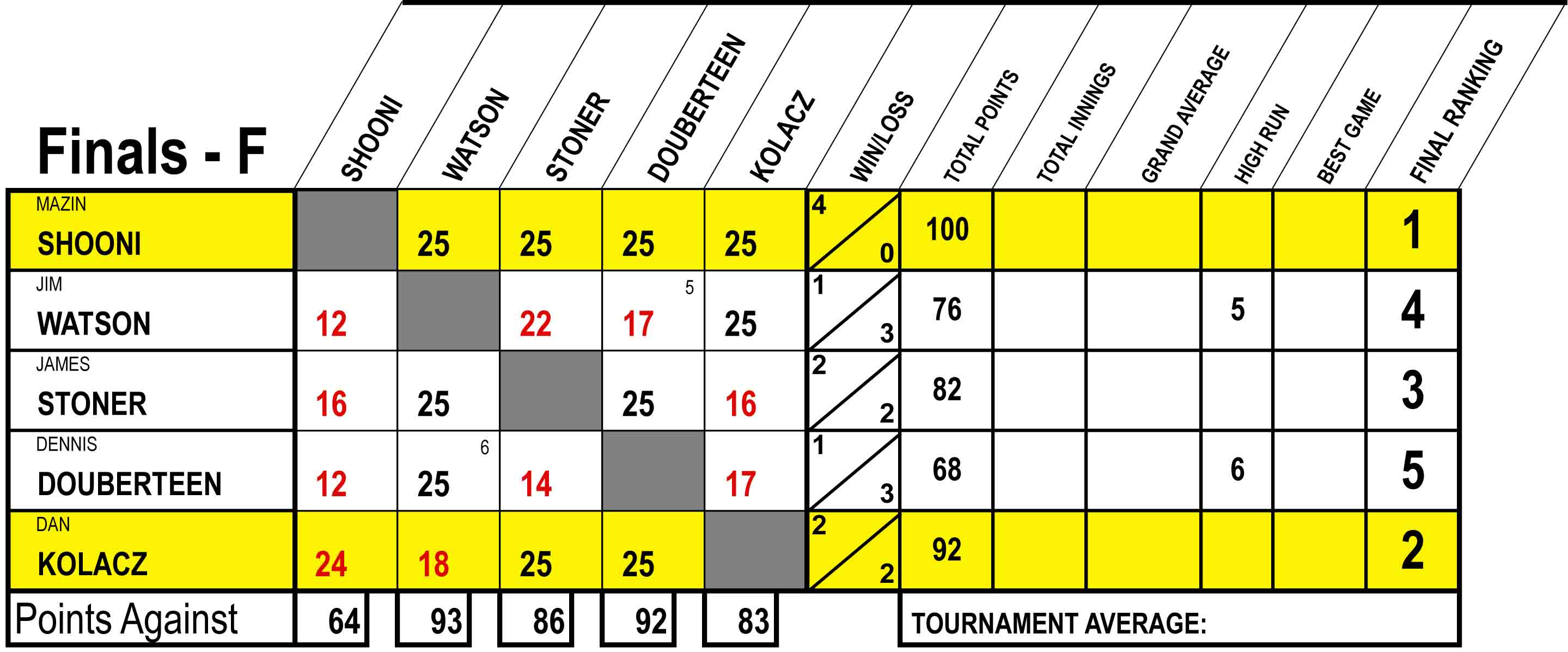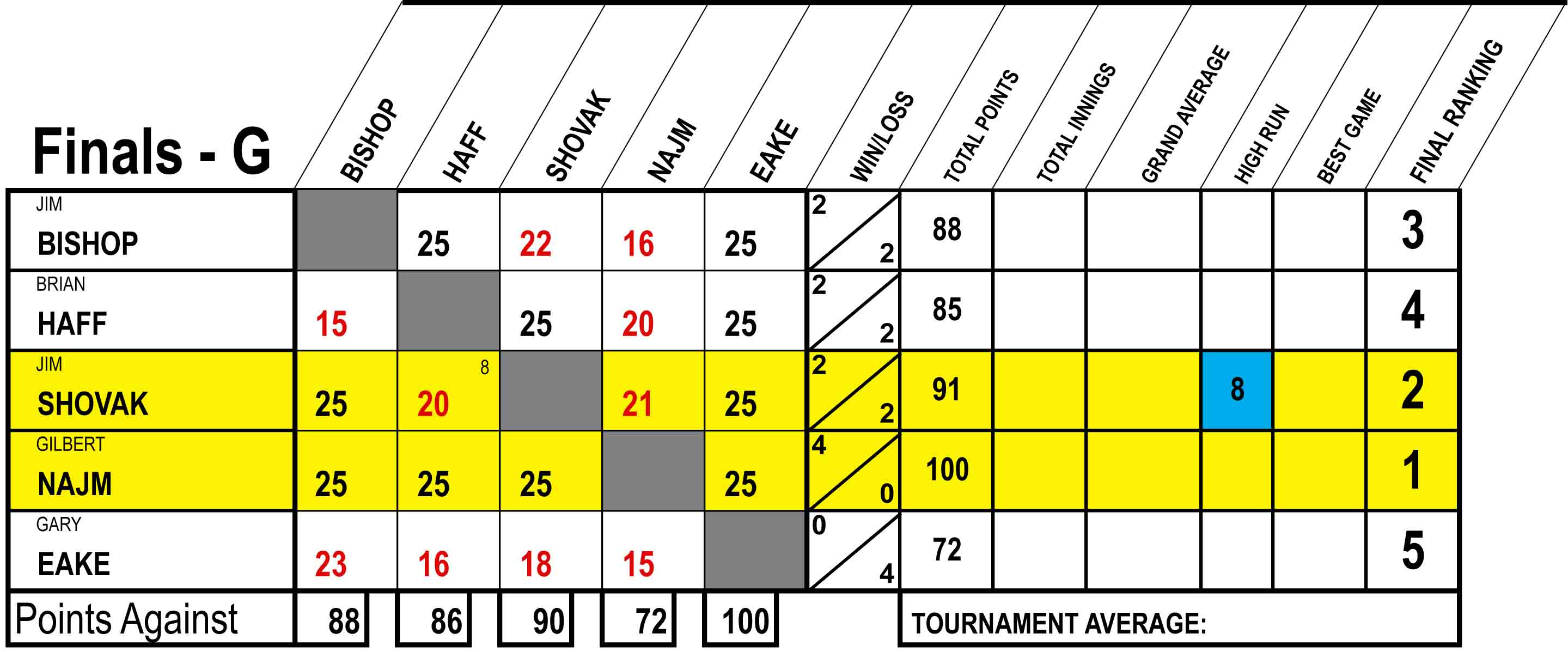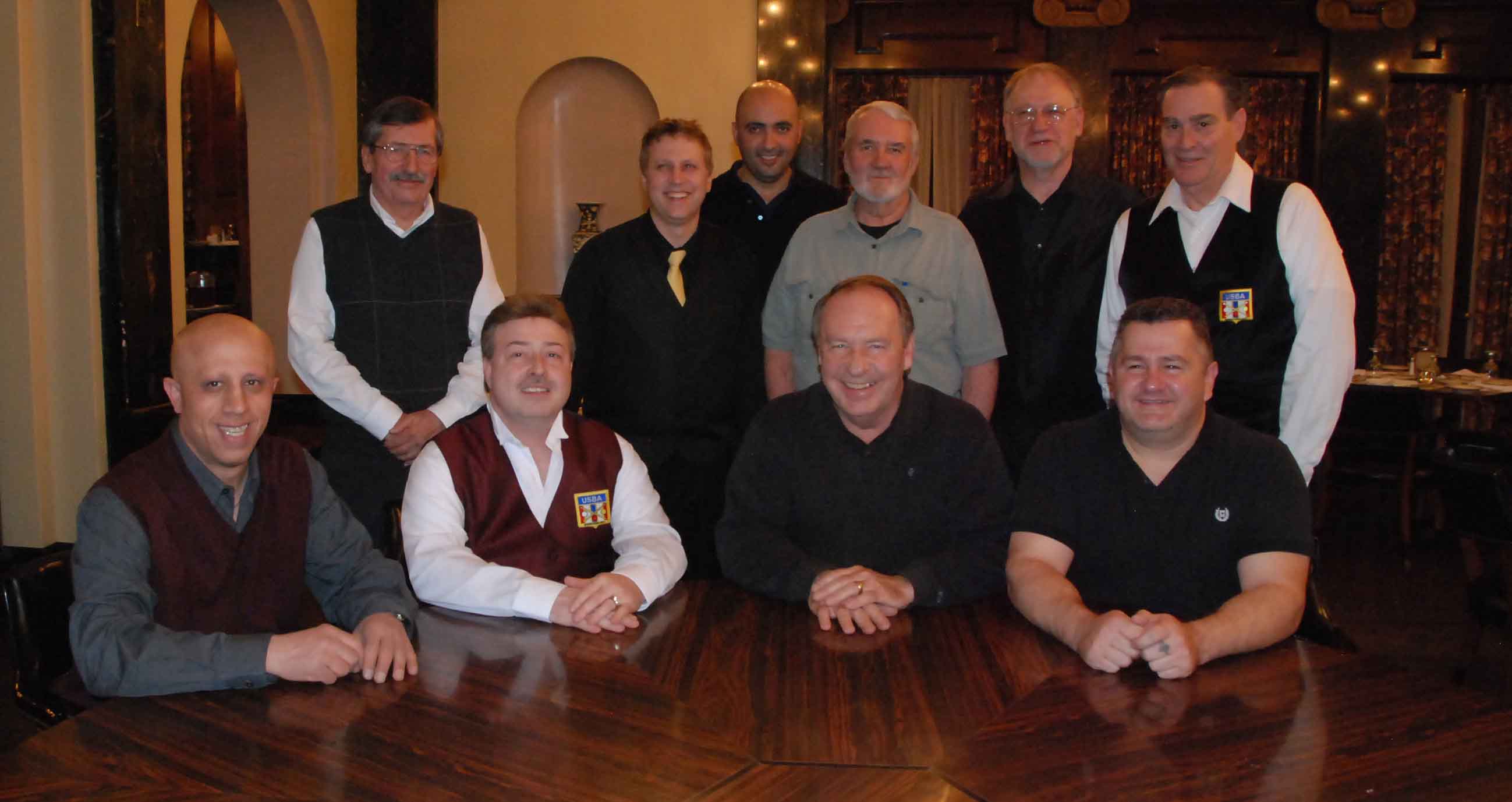 The ten finaiist
Bottom Row-Mazin Shooni, Jim Shovak, Dennis Douberteen, Brian Haff,
Top Row – James Stoner, Dan Kolacz, Gilbert Najm, Jim Watson, Gary Eake, Jim Bishop