Taobao World Mixed Doubles Day 1: Archer & Lee Fit Well
Taobao World Mixed Doubles Day 1: Archer & Lee Fit Well
Hangzhou, China-  Team USA's Archer and Lee looked strong along with great performances by Japan and China.  Defending champions Efren Reyes and Rubilen Amit struggled with a 8-7 narrow victory over Indonesia. But many blowouts on Day 1 of the Taobao World Mixed Doubles.
USA's Archer and Lee looked super solid as they took down a strong match over China's Zhou Dou Dou and Wang Can. The teenage duo played well with only 2 missed shots, but USA won 8-6.
"We played really well together. The Chinese team played great and only missed a couple shots. But we didn't miss any", said Archer.
The best match of the day had Team Japan's Uchigaki and Li Jia play a near flawless match over Korea with a 8-2 drubbing. They broke and ran 5 racks out of the 8 racks won.
"They played near perfect. We should've won the first game, but they punished us with many break and runs after", said Charlie Williams, a Korean American pro player.
Team England's Allison Fisher and Craig Osborne struggled against Philippines Ranola and Corteza. They lost 8-4.
"We really could have won that match. I missed a easy 6ball and later Craig missed a 2ball. I played alot of bad safeties", said Fisher. "It's alright. We are still in it to win", assured Osborne.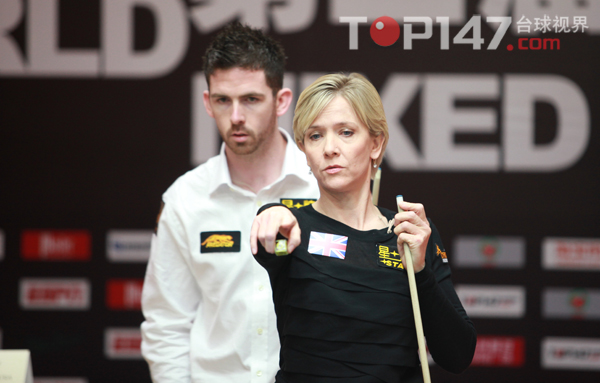 Fisher and Osborne played together for the first time.
Iceman's Finland Has Rough Day

Finland coaching one another
Mika Immonen had a rough day as she and his partner Marika Poikijoki missed a narrow comeback against Team China's Liu Haitao and Fu Xiaofang.  They trailed 6-1 but mounted a strong comeback to trail by only 1 game at 7-6. And with ball in hand for Marika, it looked possible to tie the match at hill hill until shockingly Marika missed the first shot. Liu and Fu then took full advanctage and ran the table including a clutch bank on the 6ball.
"We didn't get good breaks" said Immonen.
"When I lose the way we did because of the miss….I just don't feel like talking for hours", said Marika.
Team Germany Thorsten Hohmann and Neslihan Gurel also had a rough one. First they were beaten 8-4 against China's strong Chen Siming and Li Hewen. Then they came on right away and had to play again to Korea and lost a 8-4 again.
"They played very well together. Almost made no mistakes", said Hohmann. "We went two and out. Charlie must buy me dinner"
Dragon Promotions will have television covering the event internationally reaching nearly 30 countries worldwide. The World Mixed Doubles will be an exciting format which is unique in bringing women and men together on a side-by-side team, the only event of its kind. With the greatest professional players, the world's biggest billiard sponsors, the biggest billiards event producer Dragon Promotions now brings the biggest TV coverage in China. Dragon Promotions in cooperation with 9 Club Entertainment will be producing the event on November 30- December 2, 2011. The tournament is sanctioned by the Chinese Billiards and Snooker Association. The event will pair the top men's and women's players together as a two-person team, with a total of 16 teams from around the world. The Taobao World Mixed Doubles is sponsored by Chamberlain Tables, Rikko Decoration www.rikko.cn, 9-Club Entertainment, Official Cue is Predator Cues & Poison Cues, Simonis Cloth, Master Chalk, and Aramith Balls . Official media partner is www.Top147.com. Link to the Official site for the Taobao World Mixed Doubles is http://www.top147.com/news/Doubles/
The event takes place at Jiebai New Yuanhua(解百新元华), #177 Yan'an Road, Shangcheng District, Hangzhou, Zhejiang Province, China. Tickets can be purchased at 9-Club or on site for 50RMB.
Contact candyshiyu@hotmail.com  or call 1-500-005-3160 to register for the event
For all info on the event contact dragonpromotionsnews@gmail.com