England Comeback! Fisher & Osborne Thrill in China at Taobao World Mixed Doubles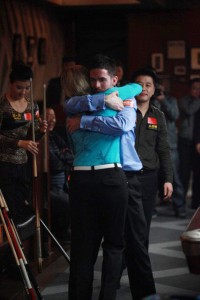 Allison and Craig embrace after an emotional victory against China
Hangzhou,China-  Team England's Allison Fisher and Craig Osborne fought their way from death to overcome pre-tournament favorite China en route to a semi-final birth at the Taobao.com World Mixed Doubles. England fell behind at the end of the match, but a crucial miss from China gave a small window of opportunity that led to a final game showdown. The victory from England gave them the momentum to win their next match and reach the semi-finals.
With the score at 7-5 in favor of China's #1 men's player Liu Haitao and his partner the 2010 World Champion Fu Xiaofang, England looked in dire straits. A missed ball by Liu gave UK a small chance which they took. At 7-6, Fu was closing the door with only 3 balls on the table and an easy 7Ball straight in. She inexplicably missed to the gasp of the Chinese fans watching. Fisher and Osborne took the rack to make the match goto the deciding game at 7-7. In the final game, there were many dramatic moments with great offenses and defense by both teams. On the 1Ball alone, there were 6 innings. Finally England had ball in hand and took both their time extensions to decide on what to do. After only 2 made balls, Fisher was forced to play safe. Liu made a tremendous 2 rail kick and re-safed England. Osborne played safe again. Fu made an incredible long jump shot flying over 2 balls to play another safe. Eventually Osborne had a shot, but very tough, jacked up cutshot on the 4ball to the side pocket. He made it and the team looked home free. But Osborne went from the hero to villain when he missed position for Fisher on the 7ball with only 4 balls remaining. Fisher was forced to play a safety instead of going for the win. Liu went for a jumpshot and the 7ball went straight to the corner pocket and bobbled at the last moment. Osborne was faced with a table length , long draw shot which would unnerve any player at first. With little time left on the shotclock, he screwed the cueball back successfully across the entire length after potting the 7ball. Allison made the 8ball but Osborne missed position on the final 10ball and left Fisher with an awkward cutshot which she could not reach. With no time out or extensions left, she called for the bridge and lined up the final 10-ball. The referee counted aloud the finals seconds with a "5, 4, 3, …" and Fisher fired off the shot with a second remaining and the 10-ball went straight into the pocket!  Osborne and Fisher emotionally embraced after the shot to the cheer and applause of the entire audience.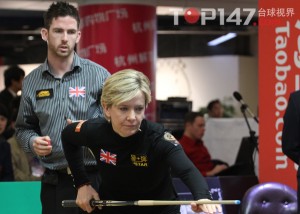 Osborne says playing with Fisher is one of the biggest honors of his career
"That was such a huge match, I couldn't help getting emotional. I was thinking after the match, that was the same shot I missed with the bridge last year at the finals of the World 9-Ball in China. I'm glad I didn't think about that before the shot", said Allison. "Playing with Craig has been great. He really is a good partner and we really started to mesh well together. He doesn't have a big ego where he won't listen to me, and he also had some really good mental things he passed onto me. Our first match was shaky, but it's been a good partnership since then."
"Playing with Allison is absolutely amazing! I just feel like she is never going to miss. And my faith in her is absolute. But I really felt that I had to prove to her that she can trust me,too. That's why that match was so crucial. And, I know to ensure my invite next year I need to win this tournament!", said Craig.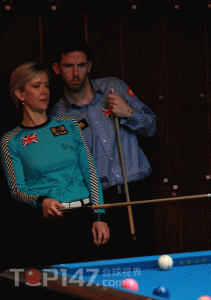 Allison says Craig has been a wonderful partner and great at giving and receiving instructions
"I know Allison very well and what kind of person she is. And I got a good idea of the level of respect and admiration Craig already had of her before they started their first match. In an interview I predicted them to be one of the teams I thought would make the final four. I knew it was going to be a good partnership", said Charlie Williams, the event producer.
Both players went onto meet fellow United Kingdom players Kelly Fisher and Tommy Donlon who were undefeated. In a very close match at the start, the two teams stood at 5-5 before Osborne and Allison Fisher pulled away to win 9-6. The win put Craig and Allison into the semi-finals for their third TV match, this time against Team USA.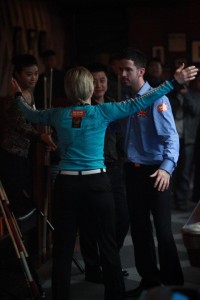 Allison offers a big hug to her man
Dragon Promotions will have television covering the event internationally reaching nearly 30 countries worldwide. The World Mixed Doubles will be an exciting format which is unique in bringing women and men together on a side-by-side team, the only event of its kind. With the greatest professional players, the world's biggest billiard sponsors, the biggest billiards event producer Dragon Promotions now brings the biggest TV coverage in China. Dragon Promotions in cooperation with 9 Club Entertainment will be producing the event on November 30- December 2, 2011. The tournament is sanctioned by the Chinese Billiards and Snooker Association. The event will pair the top men's and women's players together as a two-person team, with a total of 16 teams from around the world. The Taobao World Mixed Doubles is sponsored by Chamberlain Tables, Rikko Decoration www.rikko.cn, 9-Club Entertainment, Official Cue is Predator Cues & Poison Cues, Simonis Cloth, Master Chalk, and Aramith Balls . Official media partner is www.Top147.com. Link to the Official site for the Taobao World Mixed Doubles is http://www.top147.com/news/Doubles/
China's Deadly Duo Stopped: East vs West Dream Match Set for Finals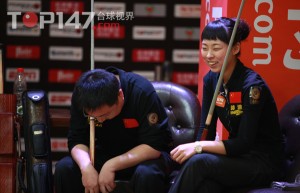 Hangzhou, China –  World #1 Siming Chen and her partner 2x World Cup winner Li Hewen turned out to be China's strongest team. They had landslide victories over Germany, Japan, and a 9-0 re-match against Japan again in the quarter-finals. But they would be tested against the defending champions from Philippines, Reyes and Amit. And vice-versa for the Filipinos.
In a match that had everything and leads changing back and forth, China led early on. They relinquished control of the match at 6-6 when Hewen had a chance to take back the lead but failed. But China took back the lead at 8-7 only to see a dry break give Efren and Rubilen a final chance which they took. At 8-8, a Amit safety led to an opening for the Philippines to runout.
"Where did we go wrong to lose this match," said Li to Chen as they sat watching Philippines make the final 5 balls.
" Efren was missing and you can hear on the microphones, which I'm sure they forgot about, he was swearing at himself humorously. Meanwhile, Rubilen was just telling him over and over "it will be ok, don't worry". It was really funny!", said Ish Caparras, part of Dragon Promotions Filipino team that was brought over to China.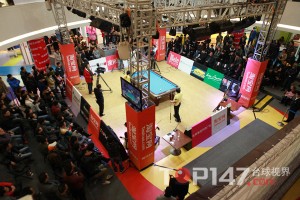 The Taobao World Mixed Doubles Arena  was packed daily for the international matches
Afterwards, Team USA's Jeanette Lee and Johnny Archer dismantled the very strong British Team of Allison Fisher and Craig Osborne. Though the match was close, USA played too well together and broke and ran many racks not giving much opportunities to England. The final score stood 9-6 in favor of USA. This set-up a East vs West confrontation the fans wanted to see.
"With a European team, a USA team, a Filipino team, and a China team all in the final four, it was really too perfect for us. And having Asia against USA in the finals is a real bonus from a promoter perspective", said Cindy Lee, CEO of Dragon Promotions which produced the Taobao World Mixed Doubles.
England redeemed itself with the consolation of their 4th TV match, this time against China once more. Playing fluidly and confidently, Fisher and Osborne defeated Chen and Li 9-5 easily to claim the Bronze Medal for the event.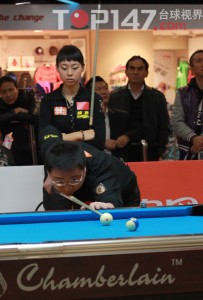 Dragon Promotions will have television covering the event internationally reaching nearly 30 countries worldwide. The World Mixed Doubles will be an exciting format which is unique in bringing women and men together on a side-by-side team, the only event of its kind. With the greatest professional players, the world's biggest billiard sponsors, the biggest billiards event producer Dragon Promotions now brings the biggest TV coverage in China. Dragon Promotions in cooperation with 9 Club Entertainment will be producing the event on November 30- December 2, 2011. The tournament is sanctioned by the Chinese Billiards and Snooker Association. The event will pair the top men's and women's players together as a two-person team, with a total of 16 teams from around the world. The Taobao World Mixed Doubles is sponsored by Chamberlain Tables, Rikko Decoration www.rikko.cn, 9-Club Entertainment, Official Cue is Predator Cues & Poison Cues, Simonis Cloth, Master Chalk, and Aramith Balls . Official media partner is www.Top147.com. Link to the Official site for the Taobao World Mixed Doubles is http://www.top147.com/news/Doubles/