Ga Young Kim Wins WPBA Tour Championship!
WPBA Tour Championship Final Four!
Kim vs. Villarreal and Lee vs. Fisher in next round's semifinal action
LINCOLN CITY, OR – After three days of stellar play, the 48 player WPBA Tour Championships have been whittled down to the best four 9-Ball players this week at Chinook Winds Event Center. Semi final #1 between Ga Young Kim and the "Texas Tornado" Vivian Villarreal will take place in front of the ESPN cameras at 1:00 p.m. Semi final #2 will feature Jeanette Lee vs. Allison Fisher at 3:00 p.m. And the championship will conclude with the final match at 5:00 p.m.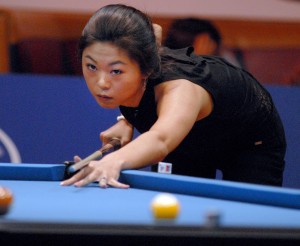 Today's first ESPN televised quarterfinal match featured a showdown between Canada's North American Junior Champion Brittany Bryant and Korea's Ga Young Kim. Bryant was no match for the multiple Tour Championship titlist this time out; Kim won the match with a convincing 7-2 final score.
In quarterfinal #2, the "Texas Tornado" Vivian Villarreal eked out a narrow win over Great Britain's Kim Shaw, 7-6.
Then it was a battle between friends Helena Thornfeldt of Sweden, and USA's best-known player, the "Black Widow" Jeanette Lee, where Lee got the best of Thornfeldt in a squeaker 7-6 victory.
In the final quarterfinal match of the day, legendary British born Allison Fisher, a BCA Hall of Famer and winner of more career titles than any player (male or female) in history, faced off against New York's finest — Jennifer Barretta. In another close match, Fisher emerged the victor, 7-5.
Final 16 Results and Quarterfinal Matchups
LINCOLN CITY, OR – Just eight world-class players remain in contention for the WPBA Tour Championship title today, now preparing to take the stage in quarter final matches taking place at 1, 3, 6 and 8 pm (Pacific Standard Time) in front of ESPN cameras (taped for later broadcast) at the Chinook Winds Event Center.
The final sixteen took to the floor late last night to pare down the field, with eight great matches. US Open runner-up Ga Young Kim defeated Hall of Famer Ewa Laurance 9-6 and national junior champion Brittany Bryant defeated Norway's Line Kjorsvik 9-7. Great Britain's Kim Shaw destroyed American contender Liz Cole, and in a surprise victory, the Texas Tornado Vivian Villarreal bested UK native Kelly Fisher. Fisher, hot off a win at the Yalin Women's World Championship in the Philippines was an early favorite.
The other four matches in this round included Swedish native Helena Thornfeldt over Georgia's Monica Webb 9-2; media superstar Jeanette Lee (the Black Widow) over Colorado's Melissa Little 9-3, Hall of Famer Allison Fisher over hot newcomer Erica Park of Korea 9-3; and New York's Jennifer Barretta over Liz Ford 9-5.
Today's races change to seven for the TV rounds (first player to win seven games) and the match-ups are as follows:
Ga Young Kim vs. Brittany Bryant (1:00 pm PST)
Kim Shaw vs. Vivian Villarreal (3:00 pm PST)
Helena Thornfeldt vs. Jeanette Lee (6:00 pm PST)
Allison Fisher vs. Jennifer Barretta (8:00 pm PST)
Fans can keep up with match results at www.wpba.com via the Tour Championship Tournament Board.
WPBA Tour Championship Round One Results
Defending Champion Xiaoting Pan Upset by Texas' Kim White!



LINCOLN CITY, OR – The Women's Pro Billiard Tour kicked off its culminating season Tour Championship at the Chinook Winds Event Center with 48 of the best women pool players in the world competing throughout Thursday.
32 competitors completed first round matches in the day session; the 16 winners of those matches then had to face the top 16 seeded players in the event. The big upset of this round was Texas player and Lone Star regional tour promoter Kim White's victory over defending champion Xiaoting Pan of China in a 9-8 thriller for USA fans!
All first round losers moved to the one loss side of the double elimination chart — if they are defeated again, they are eliminated from the tournament. Elimination results will post later today. Beginning Saturday morning, quarter final, semi final and final matches will be taped by ESPN for seven one-hour national broadcasts. Here are the Round One Results:
Round One Results (Unseeded Players)
Emily Duddy d. Sharon O'Hanlon 9-4
Laura Smith d. Teresa Gifford 9-1
Helena Thornfeldt d. Kim Pierce 9-3
Teruko Cucculelli d. Morgan Steinman 9-5
Kim White d. Stacy Novak 9-5
Erica Park d. Tim Toops 9-3
Tina Hess d. Maureen Seto 9-8
Eleanor Callado d. Hiroko Makiyama 9-3
Vicki Paski d. Angel Paglia (Forfeit)
Mary Hopkin d. Erin McManus 9-2
Dawn Hopkins d. Susan Mello 9-6
Liz Cole d. Kathy Stanley 9-0
Jennifer Chen d. Barbara Lee 9-0
Melissa Little d. Shari Ross 9-7
Val Finnie d. Mikki Small 9-3
Shelby Locati d. Susan Williams 9-5
Round One Seeded Player Results
Ga Young Kim d. Emily Duddy 9-4
Jennifer Barretta d. Laura Smith 9-5
Line Kjorsvik d. Helena Thornfeldt 9-4
Cathy Metzinger d. Teruko Cucculelli 9-6
Kim White d. Xiaoting Pan 9-8
Kim Shaw d. Erica Park 9-4
Kelly Fisher d. Tina Hess 9-4
Eleanor Callado d. Brittany Bryant 9-4
Monica Webb d. Vicki Paski 9-0
Ewa Laurance d. Mary Hopkin 9-1
Jeanette Lee d. Dawn Hopkins 9-8
Tamara Rademakers d. Liz Cole 9-4
Allison Fisher d. Jennifer Chen 9-4
Nicole Keeney d. Melissa Little 9-6
Val Finnie d. Vivian Villarreal 9-5
Liz Ford d. Shelby Locati 9-2
Fans can keep up with match results at www.wpba.com via the Tour Championship Tournament Board.
For more information, or to obtain tickets (day passes are just $20), call 1-888-MAIN-ACT (624-6228) or 541-996-5775. Chinook Winds Casino Resort, located on the beach in Lincoln City, is owned and operated by the Confederated Tribes of Siletz Indians.
About the Women's Professional Billiard Association (WPBA)
The WPBA was established in 1976 as the Women's Professional Billiard Alliance, and celebrates its 35th anniversary in 2011 as the oldest pro player organization in the sport. The WPBA sanctions and produces the Women's Pro Billiard Tour, which features ESPN-televised events with the world's greatest women players. Visit www.wpba.com for more. The WPBA Classic Tour is sponsored by the American Poolplayers Association, Diamond Billiards, Iwan Simonis, Delta 13, Pooldawg and Aramith.