Oops"¦.She Did It Again—Lisa Marr – 4-Time OB Cues Ladies Tour Champion!
Oops"¦.She Did It Again—Lisa Marr – 4-Time OB Cues Ladies Tour Champion!
The final stop of the OB Cues Ladies Tour for 2011 was more exciting than ever based on three important factors.  For the 1st time in the tour's history, the last event of the year was $3,000 added monies, $1K more than the normal added dollars.  Secondly, the OB Cues Tour Champion spot was up for grabs as several contenders were vying to unseat 3-time Tour Champion Lisa Marr.   And finally a new award of Best Sportsman would be voted by the players out of four nominated players.
As this last stop was $3000 added monies, a special player's eligibility requirement was needed to play in this event at one of our favorite host site, Casper's in San Leon, Texas.  Players had to play in at least 3 events throughout this tour year and 28 ladies ventured down south Texas way to participate in all the year end festivities.  First and foremost, we would like to thank Don Owen and Royce Bunnell, as our main tour sponsors.  Year after year they have provided customer service, pool products and unwavering support and friendship for both tour players and host site partners.  Thank you for all that you do and believing in us and keeping our dreams alive.  Be sure to check out our sponsor at www.obcues.com and www.pool300.com
Also special thanks to Kathy and Roy Robinson, who are frequent hosts on the ladies tour.  They have one of the most fabulous and unique pool and restaurant establishments on our tour calendar and we greatly appreciate your down home hospitality displayed by your staff, customers and fans everywhere.  Casper's is a must see pool establishment.  If you are ever down south Texas, be sure to look them up.
Plaque presented to Roy and Kathy Robinson before Finals
Four players were chosen by the board for the 2011 Sportsmanship Award.  Becky Jones from Arkansas, Kathy Knuth from Dallas, Shirley Fields from Arkansas, and Tracie Voelkering from Fort Worth were nominated by players over the course of 2011 and picked by the board members for their exemplary behavior both on and off the table.  It was a close race between the nominees as players submitted their votes and it came down to a tie between Shirley and Tracie.  The players were asked to re-vote for only these 2 players and it was one vote away from a tie again, with Tracie edging out Shirley for the award.  Congratulations Tracie!  Your display of sportsmanship both on and off the table makes you very deserving of this award.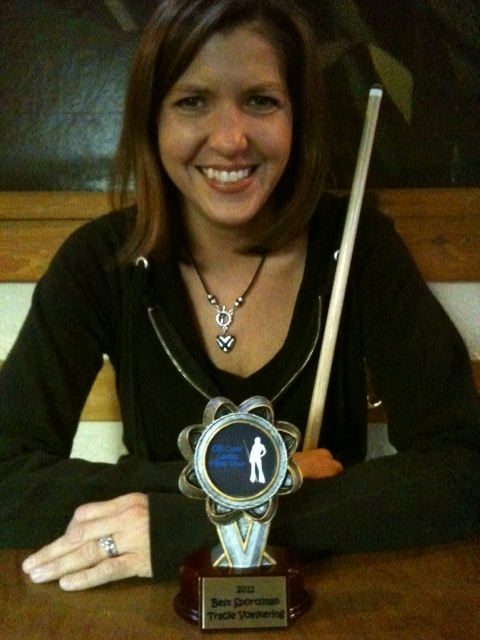 2011 Sportsmanship Award: Tracie Voelkering
The 2011 Most Improved player was voted on by the board based on player performance and ranking for 2011 against prior years.  One player really stood out from the pack in the increase in rankings for the past two years, but based on her position on the board, she asked to be removed from contention.   After review of her movement from 20th in 2009, to 9th in 2010, and to 6th for the season in 2011, it was no contest to the remaining board members who should take this award.  With her left out of the vote, the board selected Julie Stephenson as the most improved player.  She credits her participation in Pool 300 league to her overall improvement at the sport.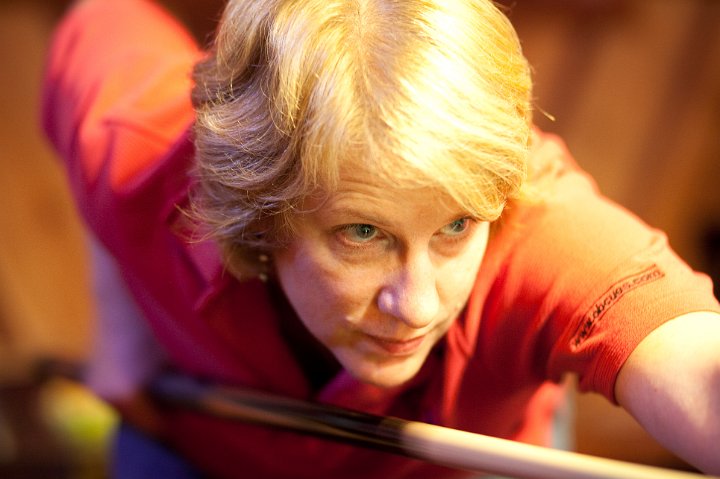 2011 Most Improved Player: Julie Stephenson
For the 2011 Tour Champion, it was a tight race with four potential players that had the ability to seize the title.  Orietta Strickland was the tour point's leader going into this last stop with Lisa Marr 110 points behind.   Based on the outcome of the tournament, Tara Williams and Ming Ng could also be contenders or spoilers for the tour champion spot.  But with all the pressure on Orietta to maintain her position as point's leader, she would also need help from others to keep Lisa at bay.  Unfortunately by the end of tournament play on Saturday, 8 players would return for the Main Event and Orietta was not one of them.  Winner side matches would include Lisa Marr vs. Ming Ng and Tara Williams vs. Ricki Lee Casper.  One loss side matches would include Belinda Lee vs. Jennifer Kraber and Amanda Lampert vs. Yvette Reyes.
Finishing 7th/8th was Yvette Reyes and Belinda Lee; 5th/6th was Jennifer Kraber and Ming Ng.  4th place would go to Ricki Lee Casper, her highest tour finish ever; always a contender and strong player who we are sure she will continue with her winning ways.  3rd place was Amanda Lampert who sought her revenge win against Ricki who put her on the one loss side.
In the finals match, it was a replay of the hot seat with Lisa Marr and Tara Williams.  Both ladies were not only vying for the win, but the tournament winner would also be crowned the tour champion in the close point race.  Tara would have to beat Lisa twice for the win, but it would not happen, Lisa bested Tara in one set with a score of 7-5.  Tara Williams finished in 2nd place her last 3 tour events, including this stop, for the 2011 year, showing very consistent shooting and strong year end finish to boot.   With this 1st place finish, Lisa went on to become tour champion for the 4th time in a row.  Lisa went through some challenges this year while enduring shoulder surgery which caused her to not finish as high as she would have wanted.  But always the fighter and her "never quit" attitude, she was able to overcome all obstacles and prevail once again as the tour champion.  Congratulations to all tour players for an excellent tour year.
Main Event tournament winners and payouts: $3000 monies added; 28 players – 100% payback
1st – Lisa Marr – $850
2nd – Tara Williams – $630
3rd – Amanda Lampert – $455
4th – Ricki Lee Casper – $295
5th/6th – Jennifer Kraber, Ming Ng – $185
7th/8th – Yvette Reyes, Belinda Lee – $110
9th/12th – Monica Anderson, Kim Pierce, Orietta Strickland, Julie Stephenson – $75
13th/16th – Natalie Mans, Deedra Trammell, Shayla Neris, Melinda Bailey – $55
17th/24th – Amber Stone, Shirley Fields, Tracie Voelkering, Rebecca Riley, Tami Dearman, Michelle Prince, Kathy Knuth, Becky Jones – $35
25th/28th – Lucille Donahue, Diana Cardona, Jennifer Pavlovick, Lisa Henderson-Major – $20
OB Cues Ladies Tour Special Year End Awards:
2011 OB Cues Ladies Tour Champion – Lisa Marr – 4-time winner – receives 2012 paid tournament entry to all stops + trophy
2011 OB Cues Most Improved Player – Julie Stephenson – receives 2012 paid tournament entry to all stops + trophy
2011 OB Cues Ladies Tour Best Sportsman – Tracie Voelkering – receives (1) 2012 paid tournament entry + trophy
2011 OB Cues Ladies Tour Perfect Attendance Winner – Monica Anderson – receives $200 cash – 3-time winner
A Second Chance tournament was held on Sunday with 15 players and $200 added monies; $350 total
1st – Kathy Knuth – $125
2nd – Melinda Bailey – $85
3rd – Tracie Voelkering – $60
4th – Julie Stephenson – $40
5th/6th – Monica Anderson, Michelle Prince – $20
Other Tournament Winners:
Three Mobile Gas Cards ($50 value) – Becky Jones, Amanda Lampert, Rebecca Riley
Three Starbucks gift cards ($25 value) – Tami Dearman, Michelle Prince, Jennifer Pavlovick
Free Entry ($30 refund) – Shirley Fields
Poison T-Shirt – Melinda Bailey
Pool Dawg Key Chain – Lisa Henderson-Major
Vitality Day Spa Lotion – Jennifer Kraber
Pool DVD by The Monk – Kathy Knuth
OB Cues Raffle Winners:
Natalie Mans – winner of OB Cues Ladies Tour Player raffle drawing
Suzanne Walkuski – Casper's Customer/also OB Cues Ladies Tour Player
Thank you to all OB Cues Ladies Tour players, supporters, fan, sponsors, host sites, everyone!  It was a great 2011 year and looking forward to a bigger and better 2012 year.  Be sure to check out our website for 2012 Tour Calendar updates.  www.obcuestour.com
Good Pool, Good Friends, Good Times!!!