Kelly Fisher, Yalin World 10-Ball Champion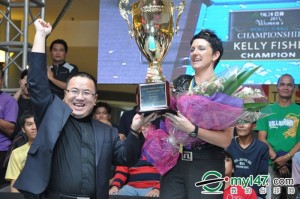 Newly crowned World Champ Kelly Fisher is congratulated by Yalin President Eric Ding
pics by Karis Ren of wwwmy147.com and Li Xiaolong of www.top147.com
Manila, Philippines-  Great Britain's Kelly Fisher accomplished her life goal of becoming the World Champion in pool. Fisher maintained her undefeated run in Manila to race to the Yalin World Championship title with her 10-4 dismantling of Taiwan's Pei Chen Tsai. Fisher excelled in a field that had 70 pro players worldwide vying for the title, and fought for 5 days winning 9 matches in a row in the sport's hardest tournament to win.
Full brackets and results at www.womensworld10ball.com
Kelly Fisher  took down the first game 1-0 but Tsai leveled it off the next frame. Fisher kept the lead but saw it tied again at 3-3. The table was playing tight, and Fisher used a controlled break while Tsia cannoned her break each time. Neither players having much success on the break, which is common in 10-Ball. Fisher then capitalized on a miss from Tsai and proceeded to win the next 6 games in a row. Both players getting opportunities, but Fisher making the most of it, defeating Tsai tactically the majority of the time. Tsai was able to mark one more game up on her side, but the lead was too insurmountable by then. Fisher clenched her fists over her cue and threw her hands up in the air as she pocketed the final ball
.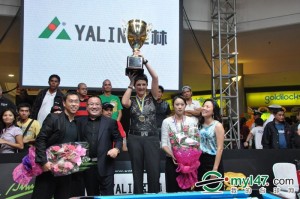 Kelly Fisher will enjoy a 12 month reign as the World Champion
The Yalin Women's World 10-Ball Championship is additionally sponsored by ABS-CBN Sports, Robinson's Galleria, Predator Cues, Pool & Billiard Magazine, Top147.com, Simonis Cloth, Aramith Balls, Magic 89.9, and Crown Plaza Galleria Ortigas. The event will be airing on ABS-CBN and internationally on ESPN Star Sports. The event will be broadcasted live for all five days of the main event with 25 hours of broadcast television coverage.  Stories, complete info and updates will be on www.WomensWorld10Ball.com .
With these global network and media partners the Yalin Women's World 10-Ball Championship is still the biggest and most watched women's billiard event in the world.