The two Fishers both overcame the odds on favorite Chinese to reach the finals together for England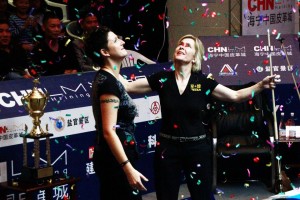 The two Fishers both overcame the odds on favorite Chinese to reach the finals together for England
Haining, China-    15 times World Champion Allison Fisher finally snapped off her first win in China at the 2011 Haining Cup. She defeated friend and fellow top Brit Kelly Fisher. The event hosted all the top stars of China including World 9-Ball winner Bi Zu Qing, Fu Xiaofang, and the sensational Chen Siming. Foreign stars such as Ga Young Kim and Yu Ram Cha also participated.
Allison crushed the field including wins over recent World 9-Ball Champ Bi Zhuqing(CHN), demolished former World Champ Liu ShaSha(CHN), and devastated Tsai Pei Chen 9-2 in the semi-finals. On the other side, Bi Zhuqing crushed Korea's Yu Ram Cha, before succumbing to Allison. Kelly Fisher overwhelmed everyone in a surprising 9-2 win over Siming Chen.
In the finals, Kelly Fisher took on Allison Fisher in their 5th match play in the past 12 months. Allison had won the previous four meetings. Kelly took the lead at 4-2, but then it was all Allison as she won the next 7 of 9 games to win the tournament 9-5. This was Allison's 3rd finals in China in little over a year, but her first triumph in the finals.
"I've been close both times before at the World 9-Ball and the China Open, but this is really important for me to win finally here. Kelly and I were delighted to have done so well to get to the finals, though at times our match was shaky," said Fisher.  Allison is sponsored by Star Tables, a top table manufacturer in China.
Between both Fishers, they eliminated almost all the top China bets in the event, proving that Western women's pool still has alot of bite. And more importantly for Allison Fisher, that after over two decades of play, she is still a deadly force to be reckon with.
"In today's women's pool, the competition is by far stiffer than ever in history by a landslide. In modern times the Taiwanese dominated, the Koreans had their moments, and now China. And still Allison , the sport's most decorated veteran still competing, comes out on top. Three finals in China of all places in 12 months? It's incredible how she always still rises to the top", said Charlie Williams, Allison Fisher's coach and manager through Dragon Promotions. He adds, "There's no doubt, she is still a top,top contender even today. Players still fear the Duchess of Doom."
Fisher flies to Manila, Philippines tomorrow along with her fellow top pro women for the Yalin Women's World 10-Ball Championship. For Allison, it's good timing with a nice momentum built from China.
Allison Fisher has been sought after for shows,sponsorships and speaking engagements. She is also an experienced commentator and sports analyst for television including shows on ESPN, ESPN Star Asia, and ABS-CBN. Fisher has instructed in pool schools, clinics, and given private lessons. For information on booking Ms.Fisher please contact Dragon Promotions at 1-407-782-4978 or e-mail dpsportsmanagement@yahoo.com . More complete info on Allison can be found at www.AllisonFisher.com where you can join her fan club and receive her latest news and appearance calendar info.  Dragon Promotions is one of the leading producers of billiard programming in the world today. In a span of over 10 years, Dragon Promotions has produced over 100 international events airing on networks worldwide. DP also represents an elite class of champion players. www.DragonPromotions.com and join DP Facebook at www.facebook.com/dragonpromotionsnews