Orcollo/Alcano through as USA tumbles out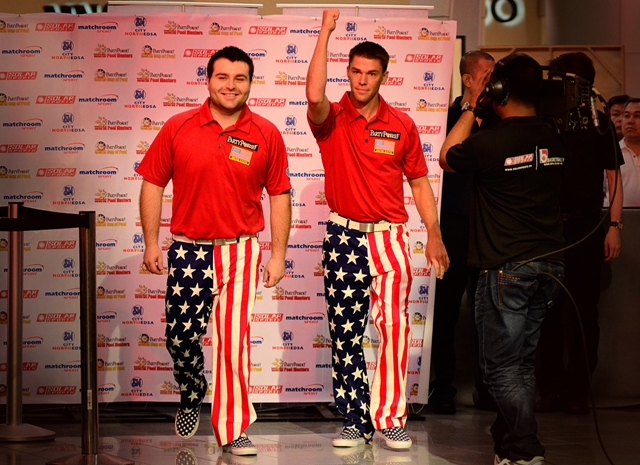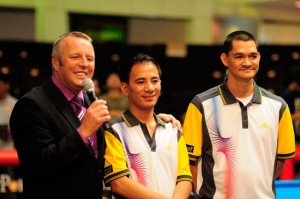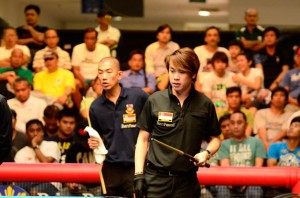 7th September
2011 PartyPoker.net World Cup of Pool
Orcollo/Alcano through as USA tumbles out
Round 1 Results
Singapore 8 – 7 USA
Philippines A 8 – 2 Austria
Estonia 8 – 6 England
Thailand 8 – 4 Holland
Germany 8 – 0 Australia
Malaysia 8 – 6 France
India 8 – 7 Finland
Philippines B 8 – 4 Kuwait
Korea 8 – 5 Spain
Japan 8 – 3 Croatia
Switzerland 8 – 5 China
Sweden 8 – 7 Indonesia
TEAM USA, sporting the most garish pairs of strides this side of John Daly, were shocked out of the PartyPoker.net World Cup of Pool as they went down to the wire with Singapore and came out second best at the SM Mall North in Manila.
Their exit followed on from the dismissal of England at the hands of Estonia, China by the Swiss and Holland by the Thais to leave the event wide open.
The American pair of Mike Dechaine and Corey Deuel looked the part in their outlandish costumes but soon found themselves in a fight as the Singaporeans took the game to them, as veteran Bernard Tey and Chan Keng Kwan were clearly not fazed by their more illustrious opponents.
The Singaporeans took a 5-1 lead which clearly sobered the Americans who duly put their heads down and won the next four games to leave the match poised at 5-5. They shared the next two to go 6-6 and the crowd were really enjoying the entertainment.
To add to the drama it went to hill-hill and Kang broke for the match. He nearly downed the 9 ball, but in the end it was partner Tey who did the business as another top seed tumbled out of the competition.
The PartyPoker.net World Cup of Pool takes place at the Block Atrium at the SM Mall North in Quezon City, Manila. It features 32 two-player teams representing 31 nations – hosts Philippines have two sides. The total prize-fund is $250,000 with $60,000 going to the winning pair.
In the second match of the evening, Philippines A – Dennis Orcollo and Ronnie Alcano – joined Reyes and Bustamante in round two as they won eight racks on the spin to oust Austria.
It wasn't exactly a dream draw for the Austrian pair of Jasmin Ouschan and Mario He, but they showed no nerves as they won the opening two racks to quieten down the crowd. However, that was to be it for them as Alcano and World No.1 Orcollo turned up the heat to sprint past them and book a round two spot against Malta or Canada.
The 2011 World Cup of Pool is sponsored by PartyPoker.net, the world's leading online poker school. Cloth is supplied by Iwan Simonis, Super Aramith balls by Saluc, tables by Star Xing Pai and the Official Cue is Predator.
Luke Riches, Matchroom Sport: luke.riches@matchroom.com  +44 7785 395688
Notes: Matchroom Sport are one of the world's leading producers of televised sport and are responsible for over 1,100 hours of original programming across a range of sports. Based in the UK and chaired by charismatic founder Barry Hearn, the World Cup of Pool is one of a stable of pool events that include the World Pool Masters and the Mosconi Cup.