MONICA WEBB AND BRITTANY BRYANT ARE ALL THAT STAND BEFORE AN ASIAN ONSLAUGHT AS THE WOMEN'S WORLD 9-BALL CHAMPIONSHIP IS DOWN TO 16.
ASIAN INVASION!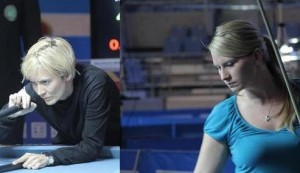 BY TED LERNER
Photos by Alison Chang for the WPA
As the knockout round of the final 32 players concluded at the Liaoning Hunnan Sports Training Arena Friday evening in Shenyang, northeastern China, the USA's Webb and Canada's Bryant find themselves  as the only non-Asian players remaining in what was, just a day earlier, a stellar field of 64 of the finest women pool players from 25 countries.
Of course it's not particularly important what country a player comes hails from. But in this case the handwriting is on the wall and it's printed in big, bold letters; 14 of the last 16 players in this year's Women's World 9-ball championship are from North Asia. More specifically, and perhaps more ominously, 10 out of those last 16 players are from China, where the women's game is wildly popular and government backed training regimes are producing seemingly endless streams of young and brilliant talent.
The fact that Asian players, and Chinese women in particular, are taking over the game, is not news to anyone who has followed the women's scene for some time. But what happened Friday in Shenyang felt like an exclamation point staking its claim at the end of a brutally cold fact.
As the knockout stages got underway at 6:30pm, two big names, world number 5 Allison Fisher and world number 6 Kelly Fisher, had already been shown the exits in the group stages.  Thus the  first match on the TV table held some significance as world number one and defending World 9-Ball champion Fu Xiaofang of China faced world number four Jasmin Ouschan of Austria.
A victory for the Austrian would have sent a loud and defiant message through the field, but Ouschan simply couldn't keep up with the steadier Fu. The contest was close midway but the 23 year old Fu proved the better player on this night and won going away, 9-5.
All five Chinese women won their round of 32 matches in the first session of the night, including China's massively popular Pan Xiaoting who easily defeated Turkey's Eyul Kybaroglu, 9-1. The once pioneering Pan, who's surely no longer a betting favorite in China,  will now face world number three  Ga Young Kim of Korea in what is sure to be a high profile glamour match on Saturday. Kim took down Miyuki Fuke of Japan, 9-3.
Chichuro Kawahara of Japan continued her fine play by thoroughly beating the Philippines Rubilen Amit, 9-4. Taiwan star Lin Yuan Chun kept her campaign going by defeating 15 year old Belgian Kamila Khodjaeva by the same score line.
The second session of the round of 32 saw what appeared to be a massive surprise result when Korea's Yu Ram Cha got hammered 9-4 by a relative unknown Chinese player, 16 year old Gao Meng. It turns out, however, that Gao is another one of these massive talents here that have been flying under the radar of bigger names such as Pan, Fu and Siming Chen.  Gao actually played in the Women's World Championship two year ago at the age of 14, where she knocked out Ouschan in a hill-hill thriller. The friendly Gao, who's still a high school student, lives in Shanghai  where she trains 6-8 hours every day under the guise of the local association.
Gao will now face China's 2009 World 9-ball champion and world number 7 Liu ShaSha, who kept the storyline running for the home side as she thrashed Tamara Peeters-Rademakers of the Netherlands 9-2.  17 year old Chinese star Siming Chen did her part and continued to look strong with a solid 9-3 win over Taiwan's Chan Ya Ting.
The USA's Webb was one of the few players to have little problem handling her Chinese opponent. Webb put in a strong performance and drubbed Chen Xue 9-4.  Webb admitted afterwards that she doesn't normally do well overseas and surely things aren't going to get any easier for the veteran American as she faces another strong Chinese player in the round of 16, Yu Han. Yu showed tremendous guts in coming back to defeat Taiwan's Tsai 9-7 in a TV table match.
Bryant was surely feeling lucky to walk out alive in her match with the Philippines Iris Ranola. At 8-8 the Filipino dogged a gimme 7 ball, which led to Bryant grabbing the victory and ending the Philippines last hope.  Bryant now goes up against another member in the Great Wall of China, Zhou Doudou, who blasted out Korea's normally tough Lim You Mi, 9-2.
The round of 16 begins at 10am Saturday(GMT + 8).  Each quarterfinal match will be played on the TV table and televised nationally by China's CCTV. Organizers here have said they expect close to 300 million people to tune in to watch the last two days of this year's championship.
All the matches from here to Sunday's conclusion will be a race to 9, alternate break.
The total prize fund for the 2011 Women's World 9-Ball Championship is $150,000 with $30,000 going to the winner on Sunday.
The WPA will be providing full coverage of all the action at the 2011 Women's World 9-ball Championship. Fans around the world can follow matches as they happen via our live scoring platform. The live scoring button can be seen on the front page of the WPA's website, www.wpa-pool.com . There you can also see the brackets icon which will give you updated standings from each group and the knockout stage.
In addition,  the WPA  will be providing insights and analysis with articles posted several times daily on the WPA home page. Fans can also follow the action via the WPA Twitter page, providing fans with instant updates, insights and scores  as they happen. The WPA's  Twitter user name is @poolwpa. You can go directly to our Twitter page at, http://twitter.com/poolwpa.
The World Pool Association(WPA) is the world governing body of pool. The 2011 Women's World 9-ball Championship is being sponsored by Chevrolet Automakers. Star  is the official pool table, while Andy is the official table cloth. The event is sanctioned by the WPA  and the Chinese Billiard and Snooker Association, (CBSA).
Results from the Final 32 Knockout Round. For the brackets of the Final 16, Click Here.
Fu Xiao Fang(CHN) 9 – 6 Jasmin Ouschan(AUT)
Ren Qiuyue(CHN) 9 – 7 Park Eun Ji(KOR)
Kim Ga Young(KOR) 9 – 3 Miyuki Fuke(JPN)
Pan Xiaoting(CHN) 9 – 1 Eyul Kybaroglu(TUR)
Lin Yuan Chun(TPE) 9 – 4 Kamila Khodjaeva(BEL)
Wu Jing(CHN) 9 – 5 Tingting(CHN)
Bi Zhu-Qing(CHN) 9 – 4 Line Kjorsvik(NOR)
Chichiro Kawahara(JPN) 9 – 4 Rubilen Amit(PHL)
Lui Sha Sha(CHN) 9 – 4 Tamara Rademakers(NED)
Gao Meng(CHN) 9 – 4 Cha Yu Ram(KOR)
Monica Webb(USA) 9 – 4 Chen Xue(CHN)
Yu Han(CHN) 9 – 7 Tsai Pei Chen(TPE)
Zhou Doudou(CHN) 9 – 2 Lim Yun Mi(KOR)
Brittany Bryant(CAN) 9 – 8 Iris Ranola(PHL)
Chou Chieh Yu (TPE) 9 – 7 Tan Ho-Yun(TPE)
Chen Siming(CHN) 9 – 3 Chan Ya Ting(TPE)