GTS/RACK TEAM RACKS UP A VICTORY FOR VETERANS IN ORLANDO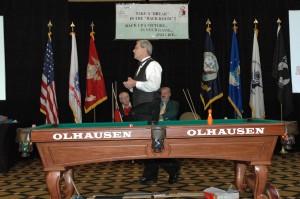 Photo by Spc. John L. Carkeet IV, Public Affairs Specialist,143d ESC
GTS/RACK TEAM RACKS UP A VICTORY FOR VETERANS IN ORLANDO
Tom "Dr. Cue"® Rossman, Steve Lillis, and Mike Massey Reunite as GTS/RACK Team; Perform Benefit to Honor Veterans and Armed Forces in Orlando, Florida
Tom "Dr. Cue"® Rossman, BCA Chaplain Steve Lillis, and Mike "Tennessee Tarzan" Massey combined their Artistic Pool talents with their inspirational stories of faith in a benefit performance to entertain, encourage, and honor Military Veterans and Armed Forces in Orlando, Florida on Saturday, August 13, 2011 at the Hard Rock Hotel® at Universal Orlando®.  Special guest, Rob "The Hurricane" Peacock, released days earlier from the hospital and still recovering from critical injuries sustained in an auto accident several months ago, performed a brief Trick Shot segment and shared his compelling testimony with the audience.  Canine Companions for Independence® supported the event with a presentation on their Wounded Veterans Initiative Program that provides highly skilled assistance dogs to Disabled Veterans, free of charge.
Some of the Military, Veterans, and Disabled Veterans groups represented at the event were the US Army 143rd ESC; Paralyzed Veterans Association; Warriors Transition Unit-Orlando; AVET Project, Inc.; and Orlando VA Medical Center.  Veterans, Disabled Veterans, and Armed Forces from the wars in Viet Nam, Iraq, and Afghanistan, as well as from all branches of the military were in attendance.
The Veterans Affinity Group (Orlando) partnered with the Hard Rock Hotel® to present this event free of charge to all Military, Veterans, and guests.  All who attended received Welcome Gift Bags, free beverages and ice cream, prizes, and giveaways.  Dr. Cue®, Steve Lillis, and Mike Massey offered their time before and after the show to have photos taken, answer questions, demonstrate shooting techniques, and socialize with the guests.
Overall, feedback from the guests was consistently positive-for both the Artistic Pool skills demonstrated and the faith-based nature of the event.  Says one US Army Vet, whose husband is a US Navy Vet, and whose son is currently serving in the Navy, "Thank you once again.  My husband and I had a wonderful time today"¦ I truly do believe the Lord comes to us in many different ways and I have always listened very strongly to the messages He sends us and the way in which He sends them"¦ I felt as though today's talks were directed at "me""¦ It felt good."
Many sponsors from various genres joined together to make this event happen.  The Veterans Affinity Group, in partnership with the Hard Rock Hotel® received generous support from the following sponsors and donors:  Gospel Trick Shot Ministries, Inc.®; Dr. Cue® Promotions; Mike Massey; Olhausen® Billiards; Florida Game Rooms; APA of Central Florida; McDermott Handcrafted Cues; Poison by Predator Cues®; Nick Varner Cues & Cases; Carlton Hudson, General Manager, Hard Rock Hotel®; Vincent LaRuffa, Vice President Resort Marketing at Universal Orlando Resort®; Jill Lemaster at Hard Rock International®; Molly Hutchinson, Catering and Conference Manager, Hard Rock Hotel®,  Swank Audio Visuals; SGA Productions, Inc.; Fred Raimondi, Ministry of Illusion; Gregory Sparks; Moose Lodge #766; Rick Thompson Graphic Arts; Operation Safety 91; Scott Pruiksma; Bug-Free Backyards; Oscar De La Vega; Denise Leone; Gary D. Sladek, MD; Brenda Solomon; Ginny DeLoach; and Donald J. Bras.
The GTS/RACK Team is a combined realization of Gospel Trick Shot Ministries, Inc.® (GTS), founded by Steve Lillis, and RACK, an acronym for "Recreational Ambassadors for Christ's Kingdom," a vision held by Tom "Dr. Cue"® Rossman.  Gospel Trick Shot Ministries, Inc.®, a 501(c)(3) non-profit organization, started as an outreach concept within the billiard industry to unite Christians, and has evolved into Gospel Billiard Shows featuring Christian superstars in the billiard industry, who share their Christian testimony using their vast array of talents.
The Veterans Affinity Group is a 501(c)(3) non-profit organization consisting entirely of volunteers, whereby 100% of proceeds raised go directly to supporting the needs of Disabled Veterans in the Greater Orlando area and Armed Forces serving domestically and abroad.
# # #
If you would like more information about this topic, or to schedule an interview, please call Tom "Dr. Cue"® Rossman at (765) 795-4968, or email Tom at drcue@artisticpool.org