Delta-13 Trick Shot Video Contest Awards $20,000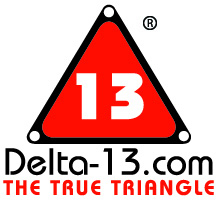 Delta-13 Trick Shot Video Contest Awards $20,000
DENVER, CO/September 1, 2011/Executive Billiards/, manufacturer of the Delta-13 billiard ball rack, announced today that they are hosting a pool trick shots contest for novice and amateur players on "YouTube." "The Delta-13 International Amateur Trick Shot Contest" will give away over $20,000 in quality billiard accessories, including a 7′ Diamond Sport pool table. Four winners will also receive airfare plus three nights stay in Las Vegas from May 11-12, 2012.
Pool Tricks Add Excitement to Home Recreation
"We are promoting artistic pool and trick shots during the four month contest to expose the home recreation market to this exciting sport. Young and old alike, who have access to a pool table, will find trick shots are a terrific activity to entertain family and friends," says Terry Taggart, President of Executive Billiards.
The process for competing in the contest requires 4 easy steps:
1. Read the complete contest rules at www.delta-13.com.
2. Record a video of your trick shot.
3. Upload the video to YouTube.
4. Register your video on the delta-13 web site.
Trick videos will be judged and graded with a maximum point potential of 10 for each of five categories; Degree of difficulty, creativity and originality, execution, presentation, and video quality. World renowned professional trick shot artists will perform the judging. Florian "Venom" Kohler – France, Stefano " Mr. Trick Shots" Pelinga – Italy, Paul "Professor-Q-Ball" Frankel – USA, and Tom "Dr. Cue" Rossman – USA, will be using their many talents to grade the registered videos.
According to ESPN & World Masters Trick Shot Champion Tom "Dr. Cue" Rossman, "The Delta-13 International Amateur Trick Shot Contest should become a landmark competition for the sport of artistic pool. Players from around the world may showcase their artistic skills in 2 presentation categories, which will surely take trick shots to a new level in billiard excellence and magnetic fan appeal."
All qualifying trick shot videos must include a Delta-13 regular or elite ball rack. The entire "Rules of Eligibility" can be found at www.delta-13.com.
Winners will be announced on February 13, 2012.
Many thanks to our Gold Sponsors who made this contest possible:
http://www.simoniscloth.com/, http://www.saluc.com/html/billiard/index.php,http://www.playbca.com/, http://www.poisonbilliards.com/, http://www.diamondbilliards.net/,http://www.drcuepromotions.com/, http://www.kamuitips.com/, http://www.poolprodigystore.com/,http://www.generationpool.com/, http://www.tagteamdesign.com
Please Visit www.delta-13.com/video_contest.htm for more details