A/D Nine Ball Tri-State event at Gotham City Billiards
Daniel Dagotdot wins his second victory in the 2011-2012 Tri-State season at Gotham City Billiards' A/D 9 Ball event.  Daniel remained undefeated throuhout the day, although he won a couple of cliffhangers.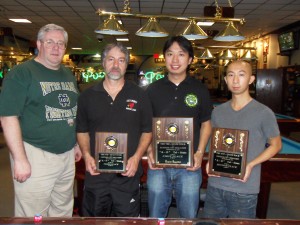 His tournament trail included wins over Bogie Uzdejczyk 7 – 5; Harry Lau 7 – 4, new comer Bill Suden 7 – 6; Carl Yusuf Khan 7 – 2; Gary Murgia 7 – 6; and Alan Chan 8 – 5 for the Hot Seat. Alan who after winning five tough matches before suffering a loss for the Hot Seat, sat eagerly awaiting  another shot at the Finals.
In the meantime Tony Ignomirello, who suffered a first round loss, was fighting his way back with nine straight wins to face-off with Alan Chan. Alan came out on top and earned a rematch with Daniel Dagotdot; however, both players weary from battle called it a day with Daniel securing the win.
Congratulations also belong to Tony for his great performance as well as to Alex Gilvarg for a strong 7/2 win – loss record. Many thanks belong to Kevin and Isabel Buckley, owners of Gotham City Billiards, who always go out of their way to generously support the players with ever increasing Addeds, excellent equipment, good food and, a warm friendly environment.
Please provide a thank you to Sterling-Gaming, Ozone Billiards, Ron Tarr Cues, Kamui Tips, Phil Capelle, BlueBook Publishing, Human Kinetics for their sponsorship leading to this event. Please leave tournament staff names out of this article, comments and credits to remain general. Thank You
Payouts
1st
$920.00
2nd
$650.00
3rd
$400.00
4th
$260.00
5th – 6th
$160/$160
7th – 8th
$120/$120
9th – 12th
$90/$90/$90/$90