Girdpool Claims His Second Vegas Tour Stop Title at 4Kaz Snooker Club
Stop #8 on the 2011 United States Snooker Association (USSA) Tour, sponsored by Aramith Billiard Balls and Strachan West Of England snooker cloth, was won by Joe Girdpool who claimed his second Las Vegas tour win of the year, including this one at his host room, 4 Kaz Snooker Club & Bar, May 21-22.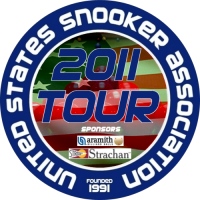 Half of the entries flew in from Houston, Texas, to practice up for their upcoming snooker stop at Champion Snooker Houston over Memorial Day weekend (see below). following some hard fought snooker in the round robin stages the top player in group A , Henry Nogiec (Las Vegas, NV) faced the runner up in group B , host Joe Girdpool (Las Vegas, NV), in a sudden death semifinal. After falling behind 2 frames to nil, Girdpool won three straight frames to eliminate Nogiec by a 3-2 margin.
In the other semi-final Muslim Sarfaraz (Houston, TX) – runner-up in Group A – eliminated Group B winner, Chris Sheerin (Las Vegas, NV), also by a 3-2 margin.
In the finals between Jor Girdpool and Muslim Safaraz, Girdpool was in no mood to relinquish his undefeated record on home soil. Match opportunities presented some break building snooker from Girdpool of 32 , 38 ,42, enabling Joe to take the title match 3-0
The USSA would like to offer its thanks to Joe Girdpool and Piya Potanan , owners of the 4 Kaz Snooker Club and to all the participants for their kind support towards this new event on the USSA Tour.
The USSA Tour now moves to Houston, Texas for the ninth and final stop on the 2011 USSA National Snooker Tour at the new Champions Snooker Club which takes place over Memorial Day weekend.
GROUP A RESULTS:
1.            Henry Nogiec (Las Vegas, NV)   2 Match Wins    1 Match Loss
2.            Muslim Sarfaraz (Houston, TX)  2 Match Wins    1 Match Loss
3.            Piya Potanan (Las Vegas, NV)    2 Match Wins    1 Match Loss
4.            Syed Hassan (Houston, TX)        0 Match Wins    3 Match Losses
GROUP B RESULTS:
1.            Chris Sheerin (Las Vegas, NV)   3 Match Wins    0 Match Losses
2.            Joe Girdpool (Las Vegas, NV)    2 Match Wins    1 Match Loss
3.            Sulaiman Moton (Houston, TX)  1 Match Win     2 Match Losses
4.            Kalim Qureshi (Houston, TX)     0 Match Wins    3 Match Losses
SEMI-FINALS:
Joe Girdpool defeats Henry Nogiec 3-2
Muslim Sarfaraz defeats Chris Sheerin 3-2
FINALS:
Joe Girdpool defeats Muslim Sarfaraz 3-0
FINAL RANKINGS:
1st          Joe Girdpool (Las Vegas, NV)       – $250
2nd       Muslim Sarfaraz (Houston, TX)     – $150
3-4th    Chris Sheerin (Las Vegas, NV)      – $50
Henry Nogiec (Las Vegas, NV)      – $50
HR     Chris Sheerin [48]                          – $80
Remaining 2011 USSA National Snooker Tour Schedule –
Stop #1: Brooklyn, NY – Prince Snooker Club – February 26 -27, 2011 – WINNER:  PAUL CARBIN
Stop #2: San Mateo, CA – ACE Snooker Club – March 26 -27, 2011 – WINNER:  AJEYA PRABHAKAR
Stop #3: Las Vegas, NV – Las Vegas Cue Club – April 2-3, 2011 –  WINNER: JOE GIRDPOOL
Stop #4: Brooklyn, NY – Club 147 – April 9-10, 2011 – WINNER:  PAUL CARBIN
Stop #5: San Leandro, CA – E-1 Entertainment – April 16-17, 2011 – WINNER: DEO ALPAJORA
Stop #6: Mountain View, CA – Shoreline Billiards – April 30 -May 1, 2011 – WINNER: AJEYA PRABHAKAR
Stop #7: Mountain View, CA – California Billiard Club – May 14-15, 2011 – WINNER: AJEYA PRABHAKAR
Stop #8: Las Vegas, NV – 4 Kaz Snooker Club & Bar – May 21-22, 2011 – WINNER: JOE GIRDPOOL
Stop #9: Houston, TX – Champion Snooker Houston – Contact Mani (Tel. 713-498-8813)
May 27-29, 2011