(BEF) Junior National 9-Ball Championships
2012 BEF Junior National 9-Ball Championships Underway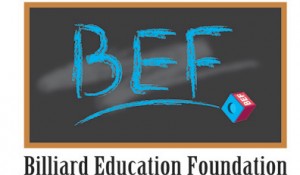 The 24th Annual Billiard Education Foundation (BEF) Junior National 9-Ball Championships is currently underway at Romine's High Pockets in Greenfield, Wisconsin. Junior billiard athletes, ages 8 – 18 years old, traveled from 28 states to participate in this prestigious event. Players are competing for scholarship funds, prizes and an opportunity to represent the United States at the 2012 World Pool-Billiard Association (WPA) World Junior 9-Ball Championships.
Romine's High Pockets is one of the premier billiard rooms in the country, featuring forty-two (42) pool tables, eighteen (18) of which are nine-foot Brunswick tables that are draped with pristine Simonis Cloth to make a grand arena for the event.
The one hundred twenty nine (129) participants earned an entry through a BEF qualifier or were nominated through their billiard league to be eligible to participate in the 4 division event: 18 & Under Boys, 18 & Under Girls, 14 & Under Boys, and 14 & Under Girls.
Over 300 guests attended the banquet on Thursday evening, including special guests, Jerry Briesath, BCA Master Instructor; Mark Wilson, professional player, instructor and billiard coach at Lindenwood University; Terry and Nikki Romine, owners of Romine's High Pockets; Stevie Moore, top ranked men's professional player; and Roy Pastor, BEF Board of Director. BEF Executive Director Laura Smith acknowledged the volunteers and staff who help make the event possible, including: Earl Munson, tournament director; Rick Doner, National Head Referee, Justin Ballou, National Referee; Jamie Strait, National Referee; Tammy Jo and Mel Leonard, event assistants.
Women's Professional Billiard Association's (WPBA) number one (1) ranked player and fifteen (15) times World Champion, Allison "Duchess of Doom" Fisher, was the guest speaker at the BEF annual banquet. Fisher was an inspiration and expressed a deep appreciation for her family and coaches who supported and encouraged her as a young billiard athlete. She encouraged the juniors in attendance do the same. The "Duchess of Doom" shared a late evening of challenge matches and instruction with players, parents and fans.
An impressive sixty (60) billiard student-athletes were recognized for their excellence in the classroom and in competition. Those players in attendance that earned at least a 3.5 grade point average were honored with the "Viking Cue Academic All-American" award.  All recipients received a medal, certificate and Valhalla Jump Cue.
The 2012 BEF Junior National 9-Ball Championship sponsors include: Billiard Congress of America (BCA), Simonis Cloth, Romine's High Pockets and Viking Cue as sponsor of the Academic All-Americans.
To view the tournament brackets and live streaming, go to www.BilliardEducation.org. The tournament will continue through Sunday afternoon.
About Billiard Education Foundation
The Billiard Education Foundation (BEF) is a 501(c)(3) non-profit organization that is committed to promoting education and encourages the development of life skills through youth billiard programs. The BEF funds academic scholarships, produces the Junior National 9-Ball Championships, supports billiard athletes to attend the WPA World Junior 9-Ball Championships and promotes "Pool In School" programs. For more information, please visit www.BilliardEducation.org or call 303.926.1039.
Aiming for a Future Kids Can Bank On!