Dechaine is Story of Day 4 at the 3rd U.S. Open 10-Ball Championship
(Photo of Mike Dechaine Courtesy of Dale Shank of ShankShotMedia.com) 2 versions Med Rez. and OP for WEB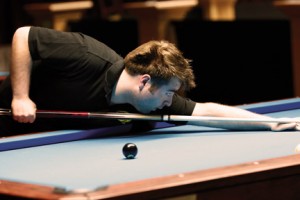 Dechaine is Story of Day 4 at the 3rd U.S. Open 10-Ball Championship
Going into Friday morning at the 3rd Annual U.S. Open 10-Ball Championship the story on everyone's lips was the outstanding performance by currently #1 U.S. ranked player "Fireball" Mike Dechaine. As the field gets smaller, the matches get tighter. Although moved to the one loss side earlier in the week by Kenichi Uchigaki, Dechaine has fired through the one loss side with a vengeance. After eliminating Earl Strickland during the 6 pm Thursday round, Dechaine then defeated "The Scorpion" Johnny Archer 8-0 in the 11 pm round, running seven consecutive racks to close out the set. Friday morning Dechaine then went on to defeat Jeremy Sossei 8-4 and Raj Hundal 8-5.
Arizona's Mitch Ellerman is also sitting pretty after squeaking out a hill-hill win against Mike Davis. Ellerman broke and ran on the hill to advance. On the feature TAR table, "The Magician" Efren Reyes was struggling against Jonathan Pinegar. He found himself down 7-3. He claimed one more game to make it 7-4 and appeared to be coming back until he made the fatal error of bumping the 8 ball into a tricky position. He attempted to bank it in the side but left the shot and match for Pinegar. Reyes will now face Spain's David Alcaide for a chance to stay alive.
"The Lion" Alex Pagulayan took an early exit settling for 13th- 16th place after losing to Darren Appleton. This was after Pagulayan defeated California's Corey Harper after arriving late to his match and receiving a one game penalty, then being down 5-0 and 7-3. Appleton meets up with Germany's Ralf Souquet next. Souquet had to forfeit his winner-side match against Corey Deuel due to a minor car accident earlier in the day.
On the right side of the bracket, Shane Van Boening and Scott Frost will face off in the hot seat match. Frost has played consistent all week knocking to the one-loss side: Darren Appleton (8-4), Tony Robles (8-5), David Alcaide (8-4) and Charlie Williams (8-5). Van Boening also had a near flawless record on his way to the hot seat match tossing Donny Mills (8-4), Danny Harriman (8-3), CJ Wiley (8-3), Brandon Shuff (8-0) and Dennis Haar (8-5).
For the complete brackets of both the 35th BCAPL National 8-Ball Championships and the 3rd U.S. Open 10-Ball Championship visit the CSI CueSports Tournament System at www.ctsondemand.com. The Action Report (TAR) is providing PPV live streaming at www.theactionreport.com.
The events are sponsored by Mueller Recreational Products, McDermott Cues, Diamond Billiard Products, Simonis, Aramith, the Magic Rack, Billiards Digest and BreakRAK with BCAPL tournament direction by Bad Boy Billiard Productions and U.S. Open 10-Ball tournament direction by CSI Director of Rules and Referees Bill Stock with Ken Shuman from California and John Leyman from New York.
CueSports International is dedicated to creating more choices for all players. CSI is the parent company of the BCA Pool League and the USA Pool League. CSI also produces independent events such as the U.S. Bar Table Championships, the Jay Swanson Memorial, the U.S. Open One Pocket Championship and the U.S. Open 10-Ball Championship. Visit www.playcsipool.com, www.playbca.com and www.playusapool.com for more information about CSI and its divisions.
By CSI Staff