TAP National Event – Las Vegas, NV – BALLY's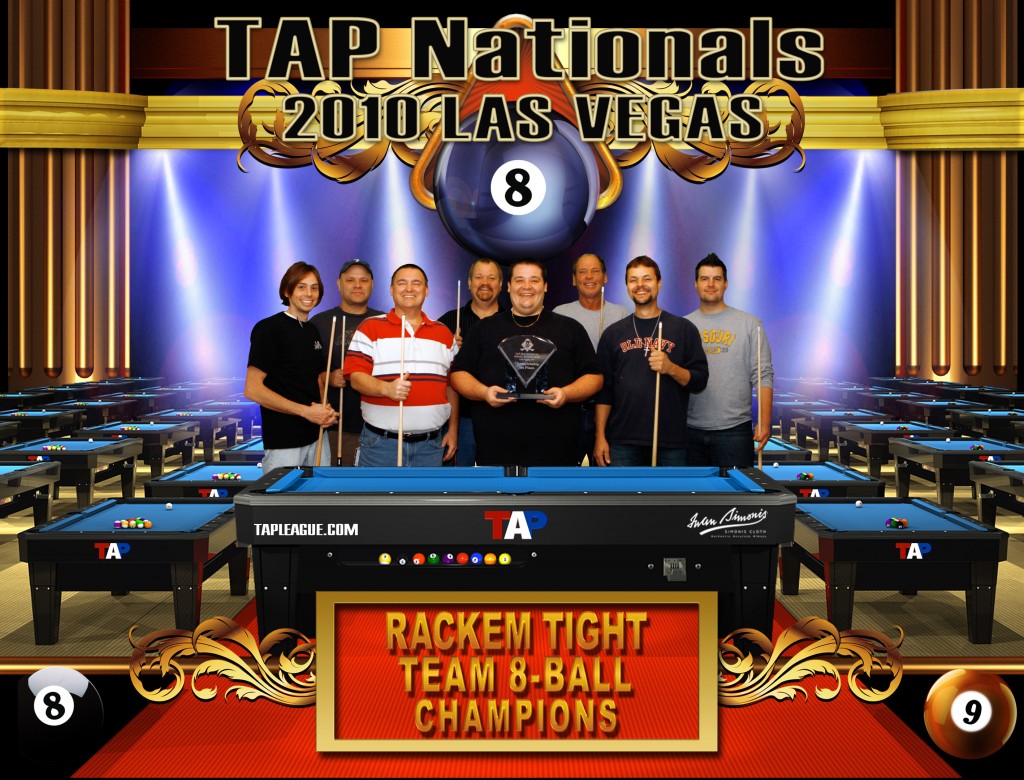 What happened there didn't stay there, TAP comes home from Nationals with rave reviews!
Little River, SC, Nov. 15th, 2010 – Planning an event from one coast, to be held on another coast was just the beginning. At the conclusion, licensees and players alike returned from the show held at Bally's – in Las Vegas, NV – with an overall 5 star review.
This National event was not only the biggest and best, but was a historic event for TAP. It was a full house with record numbers hit for the total number of 8 and 9 ball National teams, total number of licensees in the TAP family and the highest player attendance.
For the first time a new event, Rally at Bally's, was unveiled. Like it's big brother event, Rally in the Valley held in March each year in PA, this dream team buy in event was the first west coast event of its kind. Between the pair, this brought the dream team concept to both coasts for the first time, in one year.
Bally's provided an event center with the largest space to play, a bang up job on its location within the facility and a staff that was great to work with. At TAP, we go places and this one was one enjoyable place! Many TAP staff and players got to see Vegas for the first time, which added to the overall excitement.
The best bet for success of this event was the hardworking and committed staff that TAP is proud to have. Made up of not only management, but also licensees and league representatives, this well rounded group deserves recognition of their countless efforts.
Starting with the Chief Administrative Officers, Celeste and Kristen Schonter start the planning process with all the behind the scenes administration. By doing all of their preliminary work from conference calls to contracts, these ladies set the ground work for a great event to be built upon.
Kelly Senior, Operations Director and her operations staff provide set up of events, player registration, data entry, and support to all departments throughout the event. Senior stated, "the best way to describe our job, is we get the car ready for the trip, we provide the keys to the National Director and he takes the players as his passengers, for a cruise. If they need air conditioning, gas etc. – we get it for them. When the trip is over, we get the keys back and put the car back in the garage, until the next time." Senior and her staff come from Keystone TAP, PA.
Bruce Williamson, National Director and his crew of tournament directors run the events. Williamson who has been the National Director for TAP for a number of years, has tournament directors for each event. Adrian Trochta as the Head Referee and his team of referees also report to Williamson . Rob Owens is the 8 Ball Tournament Director. Chris Turow and Pete Emann are the Mini Tournament Directors. All are from TAP Canada.
Sam Rullo and Buddy Winward, head up the Singles as Tournament Directors. Rullo owns and operates Laurel Highlands TAP, PA and is the TAP Sales Director. Winward is the owner / operator of Buddy's Billiards TAP, PA. Mel & Marilyn Locke, Sooner TAP, OK and Ed Jackson / Joyce Jones of Tigerland TAP, LA are the 9 Ball Tournament Directors. Heading up Rally at Bally's as the Tournament Directors were Charlie Brocklehurst owner / operator of MidAtlantic TAP, MD and Kristen Schonter, TAP Corporate.
All of these staff members and several other licensees who are starting to get involved as staff, are greatly appreciated for their efforts, as this year this was the biggest compliment of all. This staff was like pulling that lever to put the machine in motion and cha-ching you hit the jackpot !
Where was the idea man? The guy that owns that car and the garage? The hand that rolled the dice? Loyd Schonter, TAP Founder and Owner was busy undercover as the TAP Photographer, running the TAP Apparel stand. That is how he rolls. Amongst the players is where he likes to be. In the background, there to guide and suggest and help the staff guide their way through the road bumps, recognizing no trip no matter how well planned will ever be perfect, but was impressed with how close we came this time. And lets not forget about his opening party ! Wednesday night all National players were given at registration a national gift bag and a party to include food and beverages ! This is one of TAP's biggest hits.

And if all of this wasn't enough – also, new to this event was the Tournament handicap and AutoFlag system that Pool Net offers. At TAP, players handicaps do not move up at events. In the planning stages, the system now audits all players and assigns a tournament handicap which includes weekly play, local tournament play and National tournament play and table size of play at each. After the tournament module is initiated, the handicaps are generated. During the event, scoresheets are entered into the system. AutoFlag lists all players that played two levels above their handicap. If a player plays two levels above their handicap twice, they are disqualified from the event. With the entry of data at a local and national level, over the next couple of years, TAP will have the most solid handicaps based upon all performance of the player. This along with no manual manipulation by licensees of the handicap will also provide a national based universal system for all territories. At this event, TAP had to disqualify less than 1% of the total number of players. With the goals and direction TAP is taking in this area, this is not a bad starting statistic.
Our mission and vision are clear. At TAP, we are for serving the player. Providing a sportsmanlike and competitive environment. We don't leave that up to lady luck. And from the feedback so far, we are continuing to provide both our mission and vision to our players.
We also appreciate the support we get from the industry.
Thank you to Ed and Jason Hagan, Billiards Across America for their hard work in providing pool tables for the event.
Thanks to our event sponsors at the Predator Group / Poison and AZ Billiards.
Omega Billiards for their player badge sponsorship and player discount;
D & D Cue Repair for their continued services and additional support of this event; and our other vendors Cue Safe Guard and Speed Break for their first time participation.
Thank you to Rusty and Cindy Williard, North Texas TAP, for running the TAP licensee tournament and Ian Brock, Riverside TAP CA for coordination of the digitized photography and TAP player, Steve Dittmar's apparel line, Pool A Holic.
Locally in Las Vegas, thank you to Mickey's Cues and Brews; Rum Runners; Sunshine Café; Author Jackie Shirley, Las Vegas Monorail, and TAP Las Vegas.
Interested in the results of our event? Who won and where are they from? Want more information about TAP? Check out our website, www.tapleague.com and contact us, through our corporate office, at the Live Help desk, via email or IM. We are also on Facebook. Join the countless others that have been checking us out. We look forward to hearing from you ! Until then, TAP ON !