9-Ball Championships N.W.P.A
On October 29th 14 players came together at "The Rack" in Memphis, Tn to play in the 9-Ball Championships Sponsored by N.W.P.A They were 2 events that taken place during the weekend.
Main event  won by Terry Guess of Albany MO.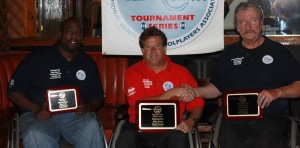 From left to right -3rd Johnny Holland, 1st Terry Guess ,2nd Bill Frisby and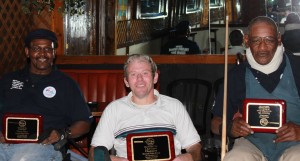 Dan Hall won the Second Chance tournament.
left to right –3rd Houston Lewis,  1st Dan Hall, 2nd James Winston.
"The Rack"  showed true hospitality all through the event. Thanks to Jerry Ramey (Owner) Professor-Q-Ball and Don Samples for their donations, plus National PVA.
Also thanks for all the Veterans that played that made this event successful and fun.
Looking forward to next year
Sports Program Manger:
Houston Lewis