Bogies Billiards & Sports Bar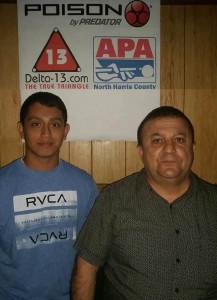 Torres Triple Play
In an amazing display of talent beyond his young years, 14 year old Houston local Joey Torres blazed through a field of 37 players, going undefeated to win the Poison by Predator Tour Open 8-Ball event on June 8th, 2014, held at Bogies Billiards & Sports Bar in Houston, Texas. This was a third consecutive tournament win for Torres, winning two previous Lone Star Tour amateur events, upgrading Torres to "open division" player status.
From start to finish Torres played incredible, ousting a plethora of talent including Nick Hood, 4-0, Sonny Bosshamer, Marvin Diaz, 4-2, Danny Roland, 4-3, finishing up with contender Erik Renteria for the hot seat, 4-0. With a purse nearing $3,000, the event kicked off around 2:30pm along with the PxP Tour live stream and a string of deafening upsets. In the second round Bob McFerren defeated #2 ranked PxP player, Rafael Martinez, 4-3. Danny Roland leveled the playing field, taking a bite out of Ernesto Bayaua, 4-3, and Manny Chau, 4-1. Finding himself in the finals more often than not, Erik Renteria beat Kevin Clemons, 4-1, Kevin Bivens, 4-2, and David Taylor, 4-3, while former Lone Star Tour Champion Danny Lee won his bid for the final four with wins over Derrell Taylor, Bill Fain, 4-2, and Will Felder, 4-0. In the winners' side final four, Renteria slid by Lee while Torres escaped Roland, by the same score, 4-3. Torres' momentum proved insurmountable for Renteria who lost the hot seat match, 4-0.  On the one loss side, Chau defeated Dalton Riley and Danny Lee while Martinez set the chart on fire with 8 consecutive wins, including knockouts over tour veterans Sonny Bosshamer and David Taylor. Martinez ended a great run by Roland, eliminated Chau, 4-1, and moved on to Renteria. In the first game, Renteria set the tone with a break and run. Martinez was down 2-1 until an unforced error by Renteria propelled him to a 4-2 victory. Torres and Martinez teed off for the final match. From start to finish Torres held complete control leaving Martinez a total of 3 offensive shots the entire set. Torres swept Martinez, 4-0. Aside from his tournament earnings, Torres won a paid 9-ball entry ($75) into the Space City Open to be held December 4th-7th, 2014 at Bogies Billiards & Sports Bar in Houston, Texas. For more information, visit www.facebook.com/spacecityopen.
The Poison by Predator Tour would like to recognize Delta-13 as its official rack and the APA of North Harris County as its official league. Become a PxP Tour Player, membership is free! For more information visit www.PxPTour.com.
1st Joey Torres $500/$600
2nd Rafael Martinez $350/$400
3rd Erik Renteria $220/$200
4th Manny Chau $140/$100
5th-6th Danny Lee, Danny Roland $70 ea.
7th-8th Dalton Riley, Sonny Bosshamer $35 ea.