Tsai #1 Seed: Eun Ji Park Eliminates Fisher at Yalin Women's World 10-Ball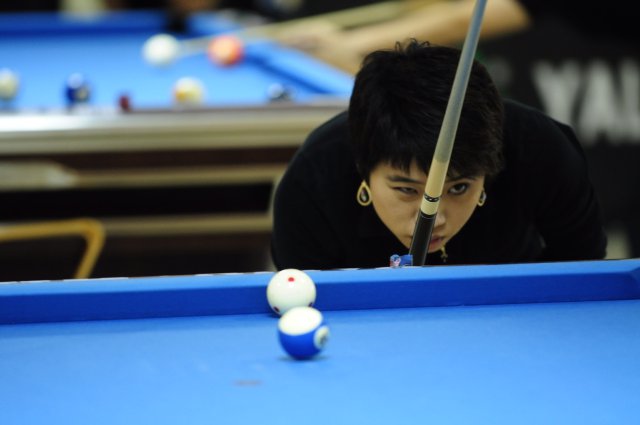 pics by Emille "BiBoy" Soriano
Korea's Eun Ji Park eliminated World #1 Allison Fisher from the Yalin World Championship
Manila, Philippines- Relatively unknown Eun Ji Park of Korea made the biggest upset of the event by keeping 4x World Champion Allison Fisher from pursuing a 5th World Championship. Fisher , currently ranked #1 in the world, was a heavy favorite and needed this win to advance to the next round. Park was able to withstand the pressure of the moment in front of a 2000+ crowd on live TV and run the final rack in a 6-5 thriller over Fisher. The round robin stage of the 2010 Yalin Women's World 10-Ball is not complete. The Dragon Promotions produced event eliminated half the field on Wednesday. The event took place at Nuvo City Lifestyle Center with the televised portions at Robinson's Galleria.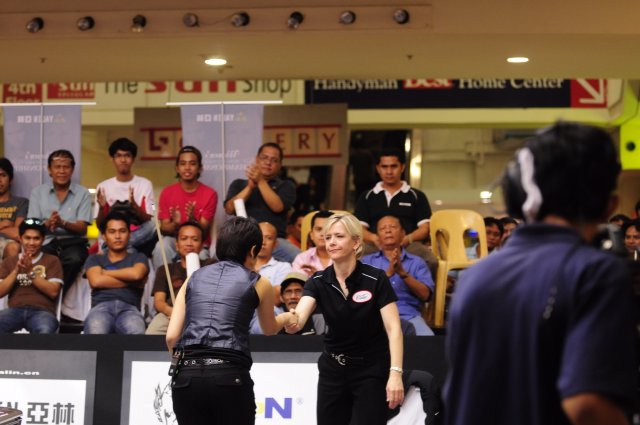 Fisher will have to wait till 2011 to have a shot at the next World 10-Ball….
In Group 1, Taiwan's Pei Chen Tsai went undefeated in her group, including a sound 6-2 defeat of Rubilen Amit, the defending champion from the Philippines. Jasmin Ouschan of Austria, Kelly Fisher of England, and Han Yu of China also went undefeated. But Tsai had the best record of all the players which will put her at #1 seed in the next stage giving her a bye into the next round and also play one of the lower ranked players.
Group 5 was interesting as four of the six players all had a tie record of 3 wins and 2 losses. Yu Ram Cha of Korea was the pre-favorite to win the group but faced elimination in her final match to Amalia Matas of Spain. If Matas defeated her, Cha would be out of the event. The two players had played twice before back when they were junior players with both splitting match wins. This time however, Cha defeated Matas 6-2 and instead of being eliminated, Cha won her group gaining the coveted #1 spot which enables you to skip the next match,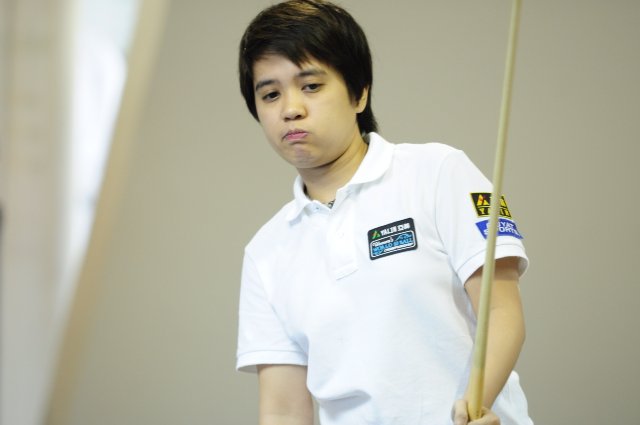 Amit didn't finish #1 in her group, but still advanced keeping Filipino hopes of a 2nd World Championship alive
Group 3 was won by England's great Kelly Fisher who went undefeated. Fan favorite Gillian Go, the 13 year old from Philippines, didn't fair well this year but was able to end her event with one win in her last match.
Stories, complete info and updates will be on www.WomensWorld10Ball.com and Brackets will be hosted by www.AZbilliards.com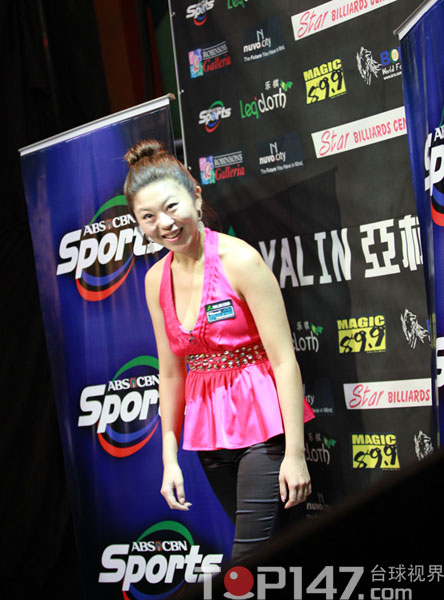 Ga Young Kim looking for her 1st 10-Ball World Championship
The Yalin Women's World 10-Ball Championship is sponsored by BCN Balls, Leqi Cloth, Crown Plaza Galleria Ortigas, Predator Cues, Magic 89.9, Philippines Star, Nuvo City, and Robinson's Galleria. The event will be airing on ABS-CBN and internationally on ESPN Star Sports. The event will be broadcasted live for all five days of the main event on ABS-CBN with 25 hours of broadcast television coverage. Www.Top147.com will also be giving it live daily coverage in China.
With these global network and media partners the Yalin Women's World 10-Ball Championship will be the biggest and most watched women's billiard event in history.