Ouschan Hands Defending Champ a Loss: Archer #1 Seed at The World Tournament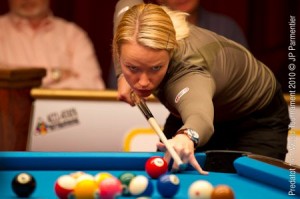 photo by JP Parmentier
Clifton, New Jersey- The field has been cut in half at the Predator World Tournament of 14.1 as the round robin stage of the event is finished. After the smoke has cleared, it's the "Main Man" from Atlanta, Georgia Johnny Archer who has earned the #1 seed into the next stage of the event. At the same time, the last woman standing Jasmin Ouschan won a convincing match against defending champion Stephan Cohen to win her group. Archer and Jasmin join 6 other players who went undefeated, but no one could top Archer's performance of keeping his opponents to the smallest margin of points. This week 48 players worldwide are vying for the Predator World Tournament title in straight pool. This is the 70th edition of the event, making it the world's oldest tournament.
The World Tournament is being played on beautiful Brunswick Gold Crown tables and using Simonis Cloth. The event started play on October 6,2010 and ends on Columbus Day October 11th. The greatest straight pool players from around the world have arrived on USA's east coast again to New Jersey, and vying in this prestigious event to win the coveted title of World Straight Pool Champion. The event is co-sponsored by Amsterdam Billiard Club, Master Chalk, Aramith Balls, www.Ultimate10ball.com, and Accu-Stats.
Archer ran 100&out in three of his five matches, completely blitzing his opponents. Dave Daya (USA), Jasmin Ouschan(AUT), Mike Sigel(USA), Ralph Eckert(GER), Lo Li Wen(TAI), Danny Barouty(USA), and Oliver Ortmann(GER) also went undefeated with perfect 5-0 records in their groups. These players all earned a bye in the next stage of the event and will be further rewarded to face a low seeded player afterwards.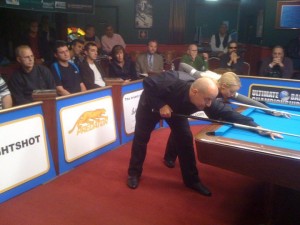 The big match of the evening was Jasmin Ouschan versus defending World 14.1 Champion Stephan Cohen of France. Ouschan played a steady game but gave chances to Cohen in their TV match for Accu-Stats. But Cohen could not take advantage of his opportunities and did not play the solid pool that won him the title last year. To the applause of the crowd ,clearly pulling for the young lady, Ouschan finished off Cohen 100-61.
The round robin stage of the event is over, and today begins the double elimination stage of the event. The races will now goto 150 points. After today, the final 16 players will be set into a single elimination race to 200 points knockout.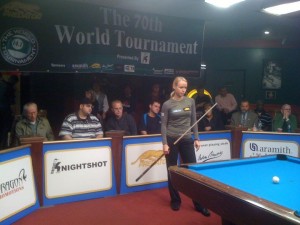 Live scoring and brackets will be hosted by www.azbilliards.com and live streaming of the event at www.accu-stats.com
Additional coverage at www.DragonPromotions.com Info contact worldstraightpoolchampionships@gmail.com
The 2010 Predator World Tournament is proudly sponsored by straight pool aficionados Dr.Louis Pannullo of NYC, Bill Austin of UT, Harold Siegel of NYC, Stu Mattana of NYC, and Badi Nazhat of Curacao. Other significant patrons include Dr.Michael Frank, and Ralph Rubin. Co-Contributors we like to recognize include Dennis Walsh, Bill Marapolus, Peter Burrows, Richard Klein, James Heller, and Jeff Mohl. For more information on player registration, sponsorship, or if you would like to submit a comment, please email worldstraightpoolchampionships@gmail.com or contact Dragon Promotions at 1-407-782-4978.
Full event info is at www.dragonpromotions.com