Ortmann Wins The World Tournament: Becomes Historic 3x World Champion

photos by JP Parmentier
Ortmann has become the first European to ever win three World Championships
The World Tournament was played on beautiful Brunswick Gold Crown tables and using Simonis Cloth. The event started play on October 6,2010 and ended on October 11th. The greatest straight pool players from around the world arrived on USA's east coast again to New Jersey, and was vying in this prestigious event to win the coveted title of World Straight Pool Champion. The event was co-sponsored by Amsterdam Billiard Club, Master Chalk, Aramith Balls, www.Ultimate10ball.com, and Accu-Stats.
Earlier in the day, Ortmann defeated Netherland's Huidji See in the semi-finals 200 to 126. It was not a pretty match as neither player could get on a long run. Huidji had previously lost to Ortmann in the finals of the 2007 World Tournament. In the other semi-finals, Immonen cruised over former World 14.1 Champion Thorsten Hohmann 200 to 65. This would be Immonen's second consecutive finals at The World Tournament, and third final four appearance.
In the finals, the audience and players were informed in the announcements that history would be made today. One of the two remaining players would have a record three World Championship wins. In addition, Immonen could win his first 14.1 World title, or Ortmann could become the first non-American to win two World 14.1 titles.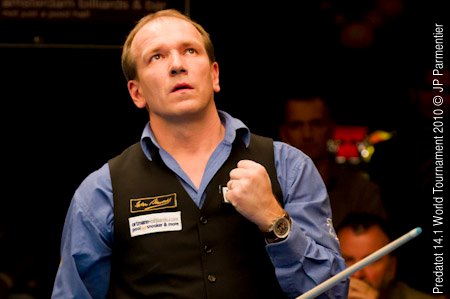 Immonen won the lag and let Ortmann break. Immonen attempted a tough shot after the break and made the ball but scratched off the cluster. Ortmann charged him a high price with a 82 ball run. Immonen got back to the table after Ortmann missed a break shot, but missed a lukewarm difficult shot and was sent back to the chair. Ortmann charged an even higher price with a 102 ball run and needed only 16 balls to win the match. Fortunatley for Immonen, Ortmann missed and gave Immonen another chance.
Immonen faced the prospect of losing 200-0 in the finals, but then came with his own run but was stopped short on a miss at 66. Ortmann ran the rack and in the final rack Immonen threw in his towel conceding the match to the new World Champion.
Ortmann covered his face with his hands in a sea of emotion. He walked back to his chair and tried to wipe the tears from his eyes.
"Oliver is a champion. I even admitted before the match, that I think he is the greatest straight pool player in the world", said Immonen in his speech. he added humorously, "Maybe I jinxed myself!"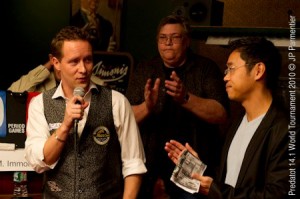 World #1 Immonen was gracious in acknowleding Ortmann's historic achievement
One of the event's promoters, Charlie Williams, made the final announcements and closing remarks from the finalists. Williams announced that this event was even more special because Ortmann's mother had been diagnosed with cancer, and this burden laid heavy on Ortmann's heart during the week. Ortmann had just finished his weeping, then lightly threw a towel at Williams as he became overwhelm with tears and emotion again.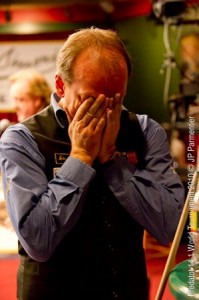 An emotional Ortmann dedicated this win to his ailing mother fighting cancer
"As Charlie was saying, this World Championship is very special to me. My mother is fighting cancer, but we all have mothers and we know sometimes this is part of life," said Ortmann still teary eyed." I just want to say Mika is one of the greatest in the world, and it is an honor to have this win."
"I think it's fitting Oliver has made history once again for Europeans. He was the first European to come over and make noise internationally with his win at the US Open 14.1 years ago, and now he completes a circle with a historic third World Championship. No doubt, he is one of the greatest ever. He deserves to be in the Hall of Fame", said Williams.
How will this event impact Oliver's life?
"My mom's a real fighter. I guess that's where my killer instinct comes from. She told me you've done your job, and now I will do mine and beat this thing. I really wanted to win for her this week, to give her positive energy and hope."
Ortmann asks that the billiard world prays for his mother.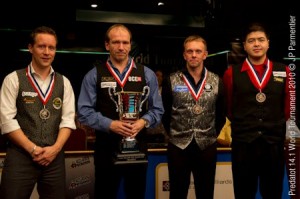 Brackets were hosted by www.azbilliards.com and live streaming of the event at www.accu-stats.com
Additional coverage at www.DragonPromotions.com Info contact worldstraightpoolchampionships@gmail.com
The 2010 Predator World Tournament is proudly sponsored by straight pool aficionados Dr.Louis Pannullo of NYC, Bill Austin of UT, Harold Siegel of NYC, Stu Mattana of NYC, and Badi Nazhat of Curacao. Other significant patrons include Dr.Michael Frank, and Ralph Rubin. Co-Contributors we like to recognize include Dennis Walsh, Bill Marapolus, Peter Burrows, Richard Klein, James Heller, and Jeff Mohl. For more information on player registration, sponsorship, or if you would like to submit a comment, please email worldstraightpoolchampionships@gmail.com or contact Dragon Promotions at 1-407-782-4978.
Full event info is at www.dragonpromotions.com