Champions Crowned at 2010 Ozone Billiards US Amateur Open
Champions Crowned at 2010 Ozone Billiards US Amateur Open
By June Kim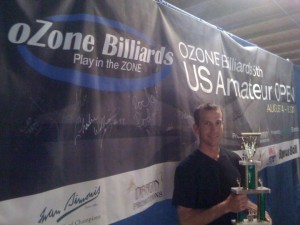 Jeff Beckley of Indiana
New Iberia, Louisiana- The 5th Annual Ozone Billiards US Amateur Open crowned a new set of champions this year in its 8-Ball and 9-Ball divisions. Players from Las Vegas all the way to Tampa,Florida came to be crowned the Ozone US Amateur Champion. 155 entrants vied in all the events to capture their share of the $20,000 purse available. The Dragon Promotions produced event coincided with the Poison DP Pro Classic and was hosted by Emerald Billiards, Louisiana's biggest poolroom with 35 tables and a full restaurant and bar. Sponsors of the events included Poison Cues, Brunswick Billiards, Bonus Ball http://www.playbonusball.com/, Master Chalk, Simonis Cloth, APA Acadiana, and Aramith Balls.
In the 8-Ball Open, Louisiana's Keith Fremin went undefeated in the field taking out Indiana's Jeff Beckley in the winner's side and then again in the finals. The Ladies Open was won in straight sets by undefeated Louisiana resident Ashley Kline. The Seniors Open was won by Joe McNamara. Fremin was so thrilled he parlayed some of his winnings and entered the 10-Ball pro division of the Poison DP Pro Classic and got the chance to play against World Champion Mika Immonen.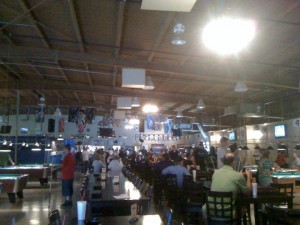 Ozone Event players flocked to Emerald Billiards' huge million dollar facility
By the weekend even more players showed up to compete in the 9-Ball Open events. Jeff Beckley decided he would redeem himself from his runner-up finish and take home the Gold as he defeated Florida's Mike Delawder in two matches to become the US Amateur 9-Ball Open Champion. Ashley Kline maintained her dominance as she went undefeated once again and won the Women's 9-Ball Open over Texas Rose Mcrory . Rene Romero defeated local Louisiana favorite Carlton Broussard for the Seniors Championship. Finally the Texan team of Brent Thomas and Rose Mcrory won the Mixed Doubles 9-Ball Open.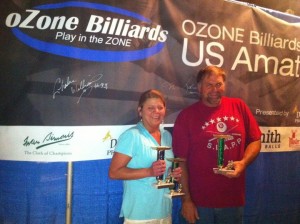 Kline & Romero
All the Ozone Tournament players and fans enjoyed competing in the events and watching the world class pros all in the same building. A ton of autographs and pictures were taken with stars such as Johnny Archer, Mika Immonen, Shane Van Boening, Thorsten Hohmann, Shawn Putnam, Rodney Morris, and Charlie Williams.
Ozone Billiards will be awarding the champions of the 2011 Open events a free entry and expense paid trip to a Dragon Promotions pro event.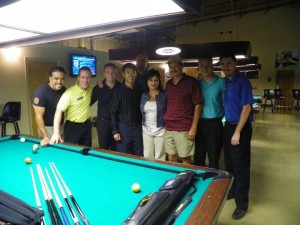 The pros pose with APA Acadiana owners Preston & Lisa Granger
Next year's event is already being planned for Emerald Billiards which will be even bigger and better with close cooperation with APA Acadiana. Numerous qualifiers for different APA skill levels will be done for the Ozone US Amateur Events and Poison DP Pro Classic. Ozone Billiards wishes to thank all the players who attended the events.
Ozone Billiards has been providing pool players with top quality billiard products for nearly a decade. Its commitment to customer service has helped Ozone Billiards grow to be one of the largest retailers of billiard supplies in the United States. For more information about Ozone Billiards and its product lines, visit www.ozonebilliards.com