The thirty-ninth stop on the 2009-2010 Lucasi Hybrid All American Tour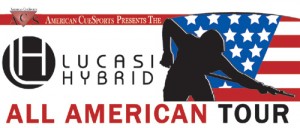 The $500 added event featured a 30-player field in a double-elimination 8-ball format in races to 3/ Masters to 4. Trey Jankowski (Port Charlotte, FL) had the hottest hand on this weekend, as he concluded his march to the hot seat by defeating Tony Groza (Port St. Lucie, FL) in the A-side finals. With eight players remaining, Justin Kovalsky (Palm City, FL) and Jeff Hughes (West Palm Beach, FL) ended the day at 7th place for Jon Callahan (West Palm Beach, FL) and Jason Jenkins (West Palm Beach, FL) respectively. Jerry Sotelo (Palm Beach Gardens, FL) then joined Doug Tittle (Port St. Lucie, FL) in respectively ousting Kovalsky and Hughes at 5th place. Jerry Sotelo kept up his hot streak to eliminate Doug Tittle at 4th place and Tony Groza at 3rd place. The finals were one race to 5, and undefeated Trey Jankowski cooled off Sotelo quickly by a 5-1 margin for the title!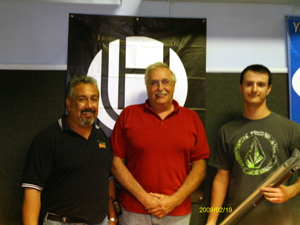 (L-R): Jerry Sotelo (2nd), Willy Peat (owner) and Trey Jankowski (1st)
By virtue of Trey Jankowski being the highest-finishing ACS member in the event, he qualified for a free 9-Ball singles entry into the ACS Nationals in Las Vegas  courtesy of the ACS. The ACS wishes to thank sponsors Lucasi Hybrid Cues, Championship Billiard Fabric, Nick Varner Signature Cases, Ozone Billiards and Pool Cue Guru for their support in donating "Value-In-Kind" product for this and all stops on the Lucasi Hybrid All American Tour. All entries in the Tour are also entered into a drawing in June for $950-$1,000 Lucasi Hybrid Cues, courtesy of Ozone Billiards. Sponsorship opportunities and tour stop openings are still available for the 2009/2010 All American Tour by contacting the ACS.
The Tour ends in two weeks with the 40th and final stop highlighting the Houston Billiard Open on the weekend of June 19-20 at Slick Willies in Houston, TX (contact 832-283-6853 or http://hbo.iblhouston.com for details), Further information, entry details and schedules for the 2009-2010 Tour are available at www.americancuesports.org
Final Results:
1st Trey Jankowski (Port Charlotte, FL) $500 + Free Singles entry to ACS Nationals
2nd Jerry Sotelo (Palm Beach Gardens, FL) $350
3rd Tony Groza (Port St. Lucie, FL) $210
4th Doug Tittle (Port St. Lucie, FL) $165
5th Justin Kovalsky (Palm City, FL) $100
6th Jeff Hughes (West Palm Beach, FL) $100
7th Jon Callahan (West Palm Beach, FL) $50
8thJason Jenkins (West Palm Beach, FL) $50