CHALLENGE THE STARS "¦ play pool with the pros in Las Vegas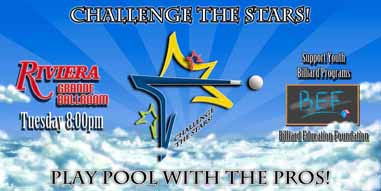 CHALLENGE THE STARS "¦ play pool with the pros in Las Vegas
The Billiard Education Foundation (BEF) will host the annual Challenge the Stars benefit in conjunction with the BCAPL National 8- Ball Championships and the 2010 U.S. Open 10-Ball Championship in Las Vegas on Tuesday, May 18th. Diamond Billiard Products will provide the tables for the festivities which will take place in the Grande Ballroom of the Riviera Hotel & Casino at 8:00 pm. This benefit gives all players and spectators an opportunity to support youth billiard programs while mingling with and competing with top pros from all over the world.
Over 100 pros will be invited to participate, including, Shane Van Boening (USA), Efren Reyes (PHI), Jasmin Ouschan (AUS), Ga Young Kim (Korea), Kelly Fisher (ENG), John Schmidt (USA), Dennis Orcullo (PHI), Ralf Souquet (GER), Johnny Archer (USA), Charlie Williams (USA), Tony Robles (USA),  Francisco Bustamante (PHI), Mika Immonen (FIN), Melissa Little (USA), Sarah Rousey (USA), Thorsten Hohmann (GER), Tom"Dr. Cue" Rossman (USA) and many more. Challengers can select 3 options of play: the BEF Challenge, $20 donation, challenger plays one game of 9-ball with designated pro, the Pro Challenge, $40 donation, shoot one game of 9-ball with one of your three top choices, based on availability, or the Ultimate Challenge, $100 donation, play three games of 9-ball with one of your three top choices, based on availability. All challengers will receive an autographed certificate and a souvenir photo taken with their pro.
Spectators and amateur players can also share in the fun by bidding on an array of prizes and participating in the raffles. Whether you challenge a pro, participate in the auction or make a donation, you can make a difference in youth billiard programs. Admission is FREE.  Step up to the challenge.
About Billiard Education Foundation
The Billiard Education Foundation (BEF) is a 501(c)(3) non-profit organization which is committed to promoting education and encourages the development of life skills through youth billiard programs.  The BEF funds academic scholarships, produces the Junior National 9-Ball Championships, sponsors billiard athletes to attend the WPA World Junior 9-Ball Championships and promotes "Pool In School" programs. For more information, please visit www.BilliardEducation.org or call 303.926.1039.